Guam's sharpshooters added more medals to tally for Guam after the ladies grabbed Silver in the 25m pistol event. Amalia Duenas, Maria Cenzon, and Hope Delos Reyes were the three women team to grab Silver. The medal count for Amalia is her third total medal of the Pacific Games with Hope and Cenzon grabbing their second.
GUAM BASKETBALL
Guam 91, American Samoa 75 – (MEN)
Tai Wesley's late game heroics was the highlight of the Pacific Games thus far and he once again cashed in a well-rounded performance with 18 points and 8 boards. Joe Blas added 14 along with double digit performances from Willie Stinnett and Kyle Husslein.
The men's team has now made it out of the first round of the PNG playoffs and are three wins away from a Pacific Games medal.
Guam 100, Solomon Islands 72 – (WOMEN)
After suffering two tough defeats, the Guam ladies bounced back in a big way by defeating Solomon Islands by 28 points in the first round of the playoffs.
Guam's women's team owned the individual stat lines led by Destiny Castro who is currently leading all scorers in PNG with an average of 26.3 points per game. She has the highest scoring average for any player, male or female.
Guam's center Kathyn Castro is doing great work in the paint, averaging 10.7 boards per game which is 3rd overall. Jocelyn Pardilla is doing her duties as point guard dishing out 4.7 assists per game which is currently tied for 3rd.
Other notable stats:
3-point percentage:
Joylyn Pangilinan, 3rd – 33.3 percent
Most blocks:
Brianna Benito, tied for 1st – 3 total blocks
In the men's division, Joe Blas is averaging 18.0 points per game which is currently 4th in the Games. Big man Jonathan Galloway is tied for second in field goal percentage making 70.4 percent of his attempts and he is also the Games' leader in total offensive rebounds with 14 boards. Here are other stat rankings thus far:
Most blocks:
Jonathan Galloway, tied for second – 8 total blocks
Points scored
Joe Blas, 4th – 72 points
Free throws made:
Willie Stinett III, 4th – 17
Joe Blas, 5th – 16
Total 3-pointers made:
JP Cruz, 2nd – 10
Swimming Results
50m Butterfly Prelims (F) – Pilar Shimizu 10th (32.16)
50m Butterfly Prelims (M) – Jagger Stephens 8th (26.35), Chris Duenas 11th (27.72)
50m Butterfly Finals (M) – Jagger Stephens 5th (26.06)
200m Breaststroke Finals (F) – Pilar Shimizu 2nd (1:16.05)
200m Breaststroke Prelims (M) – Benji Schulte 2nd (2:25.55)
200m Breaststroke Finals (M) – Benji Schulte 3rd (2:22.29)
200m Individual Medley Prelims (M) – Benji Schulte 1st (2:11.47), Jagger Stephens 10th (2:28.64)
200m Individual Medley Finals (M) – Benji Schulte 1st (2:09.22)
Benji Schulte didn't bring in a Gold medal in the highly anticipated 200m Breaststroke, but he did grab a Gold medal in the 200m Individual Medley. Schulte grabbed a bronze medal in the 200m Breaststroke.
Pilar Shimizu continued to medal for Guam as well grabbing a Silver in the 100m Breaststroke.
Men's Rugby
(Guam Rugby ) – Thursday's first match was against Solomon Islands.  Guam made a much better showing here and held the Solomons to 14-0 just before the break only to allow a runaway try to take the score to 21-0 at the half.
In the second half, Guam played with more purpose.
Strong running from Paul Eustaquio had Guam attacking the Solomon's team.  A shocking tip tackle (lifting a player off his feet and dropping him dangerously) saw the Solomon Islands reduced to 6 men for two minutes and that advantage, combined with the substitution of Ezra Sablan and Johnny Borja, saw Guam play more attacking rugby.  The Solomons were unable to stop the forward drives and resorted to giving away penalties. Ezra Sablan took advantage of one penalty with a good drive from five yards out while Chris Sgro also scored.
The final result was 21-12 but Guam were a lot more satisfied with this performance.
Tennis
Josh Cepeda and Charlayne Espinosa lost to Tuvalu 6-7(3), 5-7
Andrew Chung and Camdyn Nadler lost to Solomon Islands 2-6,3-6
MEDAL COUNT
3 Gold, 4 Silver, 5 Bronze

Foody's 5 Fun Facts
NFL Fan Edition: Sherwin Paet
DID U KNOW?
Four of the six starters on the 2020 Middle School Volleyball Champion Untalan Wildcats met for the first time since winning a title together as the Tiyan Titans took on the Okkodo Bulldogs in the first game of the ISA Boys Volleyball Season. (#7 Samuel Carino, #9 Lance Mupas, #15 Nicholas Santos, #17 Nash Ericsson)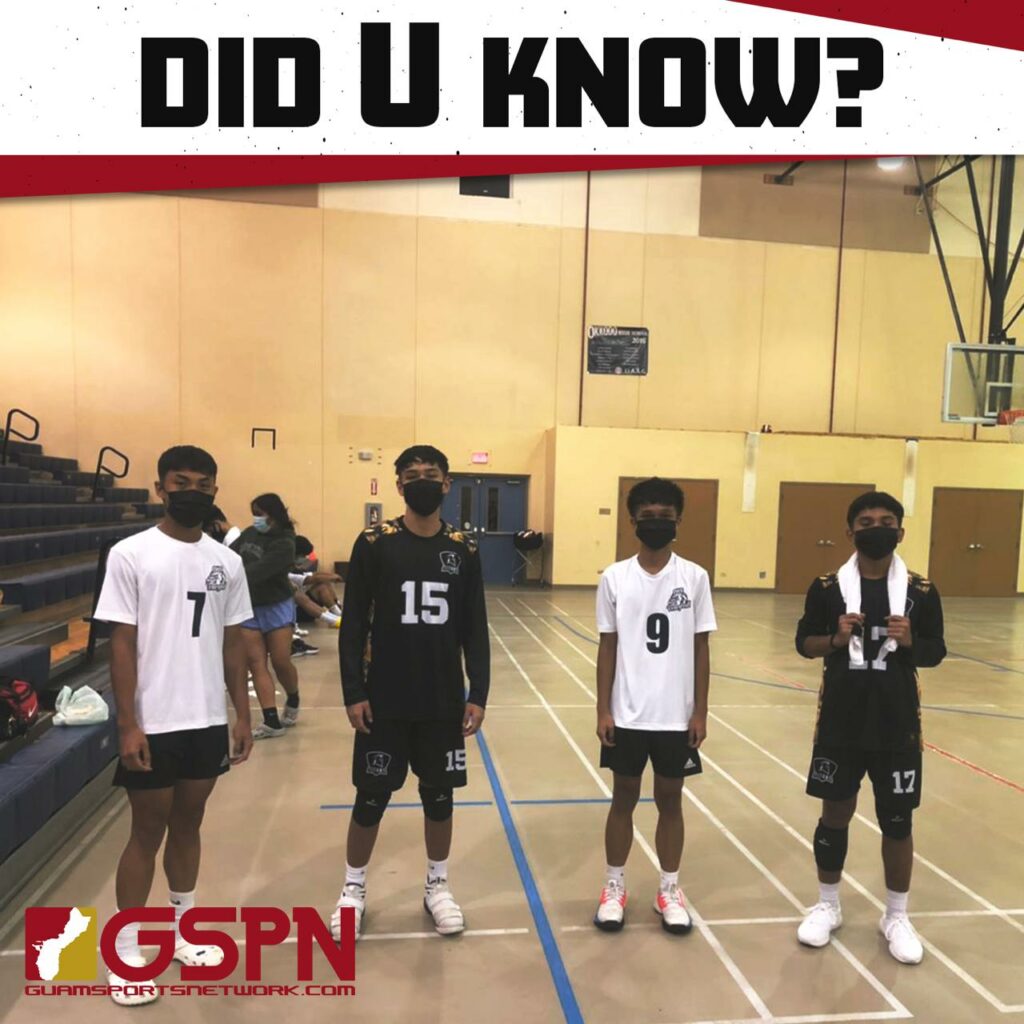 COMING SOON …
ISA Girls & Boys Volleyball
IIAAG Beach Volleyball
ISA/IIAAG Cross Country
ISA/IIAAG Tennis
QUICK HITS
Roque Martinez will face off against Josh Parisian on June 19th!