Buzzer beater alert! As the famous quote by Paul Pierce states: "I didn't call bank, I called game."
Tai Wesley saved the day for Team Guam Men's Basketball after he sank a three-pointer at the buzzer in overtime to help his team advance with the 75-72 victory at the Pacific Games in Papua New Guinea. With the game tied in overtime at 72-72, Guam head coach EJ Calvo called a timeout to get his offensive players in and draw up a play with just two seconds left.
The 6'7″ Wesley popped out to the top of the key where he received the inbound pass and threw up a shot that banked in for the win.
Game surrenders big lead in the 4th
Guam looked to cruise to victory in regulation, going up 45-31 in the third quarter. But Fiji came back in the 4th quarter with a huge offensive outburst to stun Guam by taking a 66-64 lead with 30 seconds left.
With 7 seconds left in regulation, Guam's JP Cruz provided the assist to Wesley to tie the game at 66-66 to force overtime.
In overtime, Guam had a chance to pull away once again from Fiji but the team was unable to make a free throw going 0-5 from the charity stripe in the OT period. Fiji took full advantage and tied the contest at 72-72 with 2 seconds left.
Wesley, who missed 3 of those free throws in OT, stepped up big time and sank the game winner as Guam celebrated victory. Guam will go against American Samoa tomorrow at 1pm.
"We got sloppy with the ball and missed free throws, giving them a chance to come back in the 4th," head coach EJ Calvo said. "We held our composure in OT and got a big stop to get the ball back with two seconds on the clock. I thought Tai would get the double team, so we tried to spring Joe Blas open for the attempt, but Joe drew the double team and Tai came to the ball for the game winner. 
"We are happy for the win, but not satisfied. We need to finish better and still clean up a few things in next two games."
The women's team will also play tomorrow, they face the Solomon Islands next.
SWIMMING RESULTS
(Chef de Mision Joey Miranda) – Pilar Shimizu said all she wanted was to medal in the Games.  With this her wish was granted in the women's 50m breaststroke at the Taurama Aquatic Center in Port Moresby.  Shimizu touched the pad at 33.35 seconds as she finished in second, 74/100ths of a second from New Caledonia's Adeline Williams while Papua New Guinea's Barbara Vali Skelton finished in third clocking in at 34.60.
Shimizu was awarded the silver medal in the event that witnessed her post a new games record during the preliminaries.  Pilar touched the pad at 33.88 seconds to beat the previous record, however in the pursuing race, New Caledonia's Adeline Williams posted a time of 32.50 that placed her name in the record books.
Pilar swam a superb race as she posted a new personal best in both the preliminaries and finals.  We are very proud of her accomplishments during the games and wish her and the Team Guam swimmers continued success during the Games.
Benjamin Schulte missed out on the medal podium by 0.5 seconds in the men's 50m breaststroke finishing in fourth with a time of 29.61.  In the mixed 200m freestyle race, Guam's Jagger Stephens, Christopher Duenas, Pilar Shimizu and Amanda Poppe also finished in fourth place.
50m Breaststroke (F) Prelims: Pilar Shimizu 2nd (33.88), Amanda Poppe 12th (43.42)
50m Breaststroke (F) Finals: Pilar Shimizu 2nd (33.88)
50m Breaststroke (M) Finals: Benji Schulte 4th (29.61)
100m Backstroke (F) Prelims: Mineri Kurotori Gomez 13th (1:23.19), Amanda Poppe 16th (1:27.40)
100m Freestyle (M) Prelims: Jagger Stephens 7th (52.59), Chris Duenas 10th (54.52)
100m Freestyle (M) Finals: Jagger Stephens 6th (51.88)
400m Freestyle (M) Prelims: Benji Schulte 4th (4:17.32), Tommy Imazu 8th (4:43:76)
400m Freestyle (M) Finals: Tommy Imazu 8th (4:41.10)
PRESS RELEASE – Rugby Sevens World Champions Fiji too much for Guam in Pacific Games
Guam took on the might of Fiji in their first match of the 2015 Pacific Games Men's Rugby Sevens tournament in Port Moresby on wednesday afternoon in fine and hot conditions.  This was a big ask for Guam as Fiji are the current World Rugby Sevens Champions and were coming off a lackluster first match against hosts Papua New Guinea.
Guam started with captain Rob Leon Guerrero, Brian Ramiro, Vinson Calvo, Eddie Calvo, Paul Eustaquio, Gerard Aguon and Chris Sgro determined to continue the form that saw the National team earn promotion (and a 12 place jump in ranking) in the recent Asian Rugby Championship in Jakarta.
The match started with a Fiji taking their own kick off and, with two quick steps and sheer pace, they flew in to score.  This pattern continued with Guam seemingly shell shocked with Fiji having too much experience and skill running in 6 tries. The score at the half was 40-0
The second half started better for Guam with possession being contested and tackles being made.  Fiji managed a try to take the score to 47-0.  Johnny Borja joined the scrum in the middle  of the second half and showed good strength but the Fijians continued to apply pressure and scored two further tries.  The final  score was 59-0 to Fiji.
To their credit, Guam did not back off the Fijians but had little response to the power, skill, and speed of the Flying Fijians.
In the nightcap, Papua New Guinea blanked Guam 53-0.
MEDAL COUNT
2 Gold, 2 Silver, 4 Bronze

QUICK HITS
3rd place: Big ups to the Para Todu Rugby Club for finishing 3rd out of 16 teams in the Manila 10's Rugby Tournament today. Biba Guam Rugby!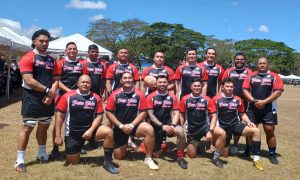 ——————————————
Guam MTB National Championship: Edward Oingerang and Jennifer Camacho are your 2023 MTB national champions. Oingerang finished the course in 1:13:24 while Camacho won her second straight title in 54:08.