By John Baza
Justice II defeats Justice I (74-58)
In a game that saw intense action from the start, it was the speedy Justice II that would take the game against their bigger counterparts in Justice I.
In the first couple minutes of the first half, both teams battled it out to gain the early advantage, after a strong layup from Justice II's Jay "Peso" Casimiro and three courtesy of Shawn "Poacher" Perez, II went up 18-11 with just 9 minutes remaining in the first half.
In an effort to get an offensive rhythm for his team, Justice I's Sunga would score in straight possessions; he would be aided by fellow teammate Derrick Royster on the defensive end who swatted shots all night long.
Despite the run, Justice II's Brian Aflague was a thorn in the effort of Justice I's comeback as he would spark a 7-point run late in the first half, highlighted by an "and-one" play (28-16).
Justice I's Oscar Espinosa hit two 3-pointers down the stretch to keep his team in it, but closing out the half on a strong note for his team was Justice II's August Sotelo who had strong drives to the basket to further the lead to (38-28) at the half.
Wasting no time to get things heated was "Poacher" Perez as he drained a three from the wing in the first minute. Following up was Sunga of Justice I who scored on a tough drive.
But costly turnovers from Justice I translated to steals and opportunities for Justice II as Aflague hit a three and worked the ball to his teammates in a display of fancy ball work that saw Sotelo scoring in transition (46-30).
Looking to get things going for Justice I were the Charfauros brothers of Roque and Jay who scored on straight possessions. They were followed up by teammate Espinosa who also scored on good looks to the basket.
Despite the score, both teams played with intensity and sense of urgency throughout the game as each knew each other's capabilities, but it would be the streaking Justice II squad pulling off the convincing victory.
Leading their team throughout the night was Perez with 23 points and Aflague with 18, each hitting five three-pointers. In the loss, Espinosa and Sunga dropped 12 points apiece with Roque Charfauros contributing 11.
Docomo defeats Coldstone (71-50)
In the loser's bracket, it was Docomo who were able to use an offensive surge to hold off the tough Coldstone squad and advance in the bracket.
Leading his team in the win was Docomo's Jason T. who scored 18 followed by Jan F. who chipped in 17. In the loss, Coldstone's Kurt Silva dropped 18 points followed by teammate Dinnerz L. who had 14.
PHOTO GALLERY:

QUICK HITS
Guam MTB National Championship: Edward Oingerang and Jennifer Camacho are your 2023 MTB national champions. Oingerang finished the course in 1:13:24 while Camacho won her second straight title in 54:08.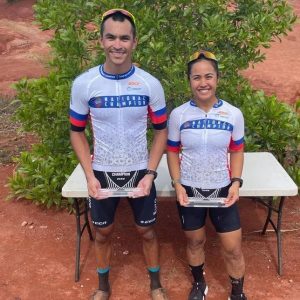 ——————————————
Kobe Miyashita, with St. John's coach Arvin Flores, was named the 2023 IIAAG Middle School Boys Volleyball MVP!