PRESS RELEASE – The Matao's resounding success in its first ever matches of FIFA World Cup Qualifiers held at home last month catapulted Guam to its highest-ever FIFA/Coca-Cola World Ranking to date, No. 154 in the world, a 20-spot jump in the latest listing updated by FIFA July 9.
With the rise in rankings Guam also enters the top 30 countries in Asia for the first time, tied for the No. 26 spot in the continent with Hong Kong. Additionally, Guam is in fifth place in the East Asia region, which includes Asian heavyweights Japan, Korea Republic, and China.
"This is definitely one of the proudest moments for Guam Football Association and our men's national team, which not only had achieved some of its best results to date, but also the international recognition we deserve," said Richard K. Lai, President of GFA. "So far, it's been quite a remarkable year for us and I look forward to what more we can achieve. On behalf of GFA, I'd like to express my appreciation for all the support we've continued to receive from FIFA, AFC, EAFF, all of our local business sponsors and the community throughout the years.
"I'm pleased that we can share this journey with all of our supporters," Lai added.
The Matao's meteoric rise to its highest ranking followed its first-ever wins in FIFA World Cup Qualifiers – a 1-0 shutout of Turkmenistan on June 11 and a 2-1 victory over India June 16, which was covered extensively by local media. The feats also caught the attention of international media, including FIFA.com, the-AFC.com, EAFF.com, BBC.co.uk, CNN, ESPN, Fox Sports, the Wall Street Journal, the Guardian, FourFourTwo, Eurosport, and many other publications worldwide. Over 25,000 households around the world tuned into each of the matches via Live Stream and television broadcast made possible by the joint collaboration of Docomo Pacific, KUAM, Express Sports Tokyo, and Shooting Star Productions. Before the July 9 FIFA/Coca-Cola World Rankings update, Guam previous highest world ranking was No. 160 in the world in February 2014.
"Given the hard work and efforts by all the players and staff that have contributed to our football success on the international stage, I'm not surprised that we've achieved a new milestone that once again raises the standard and profile of Guam's national program," said Gary J. White, head coach of the Guam men's national team. "I am very pleased with this achievement, but the reality is that there is so much more to accomplish as the team continues its journey to the 2018 FIFA World Cup and the 2019 AFC Asian Cup in upcoming joint qualification matches.
"None of this would have been possible without the continued support and belief in Guam's national program by GFA President Richard Lai, GFA Executives and staff, Guam Local Organizing Committee Chairman and GFA Vice President Joe Cepeda, GFA General Secretary Tino San Gil, our generous local business sponsors and the local community. The entire Matao team and staff are all elated to be recognized for our recent achievements – the team has definitely earned it," White added.
The Matao will next play Sept. 3 against I.R. Iran in Tehran and after, will return to Guam to play Oman on Sept. 8. Guam currently is the No. 1 team in Group D rankings after the team's first two fixtures in Round 2 of the Qualifiers.
Information on ticket sales for the upcoming Sept. 8 match against Oman will be forthcoming from GFA.

QUICK HITS
Guam MTB National Championship: Edward Oingerang and Jennifer Camacho are your 2023 MTB national champions. Oingerang finished the course in 1:13:24 while Camacho won her second straight title in 54:08.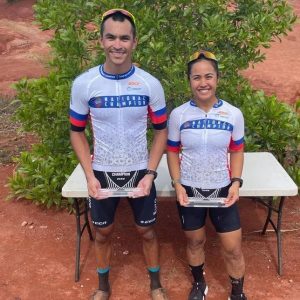 ——————————————
Kobe Miyashita, with St. John's coach Arvin Flores, was named the 2023 IIAAG Middle School Boys Volleyball MVP!