By Robert Balajadia
Slingstone 80, DFS 69
Slingstone's Sam Setik went 4-of-5 from the three-point line in the second half to help lift his squad over the scrappy DFS team. Holding on to just a 36-33 lead at the half, Setik went hot from the right corner hitting all his threes from that spot on the floor.
Septic connected on bcak-to-back three pointers to give Slingstone their largest lead at 60-47. Setik finished with 25 points with five three pointers in the scoring spree.
Merwin Martin hat the hot-hand early for DFS scoring the teams first eight points. Martin scored 16 first half points, but he was held to just two points in the second half with the defense marking him at all times down the floor. Matt Duenas scored 22 points to lead DFS.
James White added 22 points to also pace the scoring for the leading Slingstone as they move on to face UOG in the GHRA leagues conclusion next week.
Justice 66, MVP Stars 60 – (Losers Bracket)
A furious late rally by the MVP Stars in the final three minutes down 58-44 made a game out of a seemingly already decided game. Stars Earvin Jose nailed two three pointers and free throws from Rashaun Blas got the Stars within four points 60-56.
A full-court defense and a few missed layups by Justice allowed the Stars back in the game.
Roke Charferous scored 19 points to lead Justice in the win while Jose netted 21 for the Stars.

2022 GSPN I MÅS METGOT COMPETITION
I Mås Metgot Athlete Spotlight: Tim Nauta
2022 GSPN I MÅS METGOT COMPETITION
I Mås Metgot Athlete Spotlight: Tim Nauta
2022 GSPN I MÅS METGOT COMPETITION
I Mås Metgot Athlete Spotlight: Tim Nauta
QUICK HITS
Guam boys Kekoa Toves and Matias Calvo went head-to-head on the rugby pitch as American International College took on Dartmouth College, both top-ranked men's rugby programs in the country.
Calvo (FD) is the captain of Dartmouth and scored, but Toves (Sanchez) and his AIC squad came away with the win in Springfield, Mass.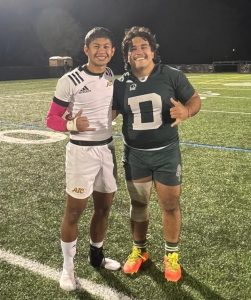 ———————————————–
1LT Belizabeth Nicole V. Rengiil is known to be the first female from Guam and Palau to make the All-Army Women's Rugby Team. She is an active duty Signal Officer with the US Army and is stationed at Joint Base Lewis-McChord in Washington.
Her team won the Armed Forces Women's Rugby Championship with a 4-0 record.
Belizabeth is the daughter of Edwin and Juliana Rengiil with siblings Johanna and Edwin-Isaiah Rengiil from Mangilao.