By Jay Leon Guerrero
The Sharks Club improved to a 2-2 record in the GYBA Drug Free 18-and-under boys basketball division Wednesday after defeating the Malesso Red team 37-23 at the Guam Sports Complex gym.
In a battle of north vs south, the Sharks built an early lead and never looked back. GSPN high all-star John Buan controlled the transition game for the Sharks to help his team cruise to victory.
The Sharks quickly built a 10-2 lead led by 6 early points by Buan. The Reds' Nolan Paras ended the run after a timeout with a baseline jumper.
Evander DeGuzman hustled on both ends of the court for the Shark's Club to close the half recording 2 steals and scoring 4 points with a comfortable 18 point lead.
"We wanted to work on good ball movement and execute on our plays," said De Guzman of their game plan.
Coming out of halftime, Cody Aflleje and Seth Surber each hit 3-pointers for the Reds to trim the Shark deficit to 12 points. The Sharks' Anthony Castro made the "and 1" lay-in and converted on the free throw to halt the Reds' momentum. In the final period, Chris Yerten and Buan answered every basket by Malesso to close out the game.
"We are a small team but we work really hard and our goal is to just do our best and have fun," said De Guzman.
Buan led all scorers with 15 points, he also had 6 rebounds and 3 assists. Yerten had 7 points, De Guzman had 4 points, 8 rebounds and 3 steals for the Sharks.
Surber led the Malesso Reds in scoring with 13 points, making two 3-pointers. Paras scored 5 points for the Reds who fall to 0-3 for the season.
In other games, the Barrigada Crusaders remained undefeated with a 50-40 victory over the Malesso Black. Kobe Sotelo and Jacob Frias combined for 24 points to help the Crusaders improve to 2-0 for the season. Barrigada opened up the game with 20-8 lead after the first quarter and never looked back. Frias, Colevito Merfalen and RJ Rokop set the tone early for the Crusaders and the Malesso Black were unable to recover.
Diallo Cruz scored 19 points to lead all scorers for the Malesso Black squad. De'Aundre Cruz chipped in 7 points for the Malesso Black squad.
In the last game of the evening, the Mavericks held on to defeat Asan Gold 58-52.

QUICK HITS
Guam MTB National Championship: Edward Oingerang and Jennifer Camacho are your 2023 MTB national champions. Oingerang finished the course in 1:13:24 while Camacho won her second straight title in 54:08.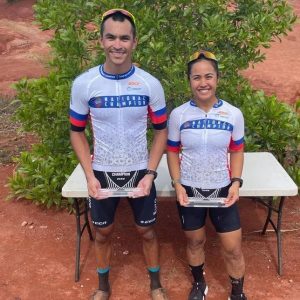 ——————————————
Kobe Miyashita, with St. John's coach Arvin Flores, was named the 2023 IIAAG Middle School Boys Volleyball MVP!