By Nate San Nicolas
"These are the ladies who win the gold, not me," said Eddie Pelkey.
Pelkey is the head coach of the Guam Women's National Basketball team, and although the ladies put the points on the scoreboard, the vision set by their head coach might be the leading factor of motivation for this team to excel in the 2015 Pacific Games held in Papua New Guinea.
"This is the best group of women Guam has ever had." A confident statement by Pelkey is an example of the winning mindset this experienced coach puts forth for his squad of talented ladies.
However, at a quick glance, one would want to question such a statement due to the large youthful skillset. Preparation to compete at the international level takes a great deal of mental strength, dedication, and sacrifice; each of which takes experience and time to build such a strong character in a player.
But the guidance and leadership from veterans like Jocelyn Paradilla and Derinn Santos help fine tune what the young guns lack.
The Vision
"A challenge this team, like any other, is learning to play with each other. The veterans aren't ready to take a back seat and let the younger ones take over," said Pelkey, "The internal competition is good, brings out the best, but it's a learning process for them to see how dangerous they can be as a team collectively."
As an any competitive athlete, the goal is to strive for the best; to out-run, out-lift, and out-play the other guy. This team has dangerous weapons individually, from the experience and smarts from Paradilla and Santos to the explosiveness and fresh talent from high-schoolers Destiny Castro and Kali Benavente. Every player on that roster is talented in their own respects individually, and the vision Coach Pelkey sees is the picture perfect image of each dynamic player working together to create a dangerous squad.
Upon talking to Santos, this vision of a collective team effort is already taking into effect.
"Throughout the games, there will be many matches played, and we know that court time has to be shared if we want to make it through past pool play and still be able to compete in the playoffs," replied Santos.
Fitness plans from Luis Blanco of The Pound and Chris Fernandez are well-designed to help these ladies climb to their peak fitness performance, but even the fittest person in the world needs a break. That's why a team effort is an important aspect for the future success at the Pacific Games; no one player can win that gold medal on their own.
The Odds
The last time Guam medalled was in 1999, taking the bronze as the host and when the Pacific Games were called the South Pacific Games. The competition internationally is fierce; the ladies are just as talented, fast, and strong as Guam.
"The odds are stacked against us, but that is what drives me," said Coach Pelkey, "The women's (basketball) program does not get a lot of attention, but that's what I want to change. I've only been a coach for FIBA for three years, but I'm not a new coach to this game."
Underdogs. The mindset to win despite the odds. Some would call it confidence mixed with tenacity. To be called an underdog, one must own it; confidently stating they're not the favorites, but they still believe. Walking into the gym during their practice, you can feel that type of swagger; an atmosphere flowing with dedication to prove to themselves and to every opponent that they can do it. Because at the end of the day, it is not about the size of the lion that matters, it is about size of the fight within the lion that prevails.
The vision versus the odds; only time will tell the outcome. And if you ask me, the vision is something worth looking out for in Papau New Guinea.
The Ladies
1. Maree Pelkey
2. Briana Benito
3. Kali Benavente
4. Derin Santos
5. Jocelyn Pardilla
6. Kathryn Castro
7. Joy Pangilinan
8. Alison Bowman
9. Destiny Castro
10. Alina Bonto
11. Charice Bola Aquino
12. Sonja Sanchez
PHOTO GALLERY:

2022 GSPN I MÅS METGOT COMPETITION
2022 GSPN I Mås Metgot Competition Recap
2022 GSPN I MÅS METGOT COMPETITION
2022 GSPN I Mås Metgot Competition Recap
2022 GSPN I MÅS METGOT COMPETITION
2022 GSPN I Mås Metgot Competition Recap
COMING SOON …
Sat: Origin Power Lifting Meet 
ISA Girls Volleyball/Boys Soccer Finals
QUICK HITS
Guam runners complete London Marathon. Former Guam top runners Charlie Epperson and Aysha Perez Epperson along with Cameron ONeal completed the 42nd London Marathon.
Charlie 2:47:56
Cameron 2:59:49
Aysha 3:51:04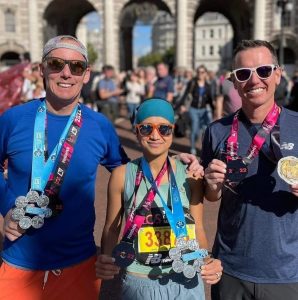 ———————————————–
Trevin Jones drops a unanimous decision 30-25, 30-27, 30-27 to Raoni Barcelos in UFC Fight Night 211 in Las Vegas.