By Kylon Eckert
A spirited mood filled the Harvest Family Life Center this past Friday as the 1st Annual Harvest Christian Academy Alumni vs Varsity Basketball games provided plenty of fun competition for both current and former Harvest students.  New relationships were built, and old bonds were remembered.
Both the men and women Harvest Alumni played their varsity counterparts providing valuable experience for the younger generation and a much needed New Year's workout for their elders.
"This was something I've been waiting for since the gym was built," said alumnusBrianne Romo.  "It's been on a lot of our minds, and I'm glad Harvest has a desire to reach out to our alumni here on island and those back home for a visit.  The Harvest sports program has come a long way from where it started: an outdoor court and intramurals."
Both the men's and women's games were tightly contested with physical play and lively trash talk (mostly from alumni).  Not all conversation stayed basketball-related as recounted memories of teachers and school years gone by brought smiles to many.
In the end both varsity teams prevailed over their seniors (Men 38-30, Women 18-9) while calls of "Rematch!" and "Next year!" sounded as soon as the final buzzer went off.  The event was a decidedly successful first attempt at bringing the Harvest alumni together.
The Alumni vs Varsity games ended with new relations made between the current alumni and those soon-to-be: a new tradition Harvest will hope to develop in years to come.

Foody's 5 Fun Facts
Harvest Eagle Trinity Terlaje
DID U KNOW?
FD senior Matt Fegurgur first dunked a basketball in his freshman year when he was 6'4″. The now 6'9″ center looks to dominate high school hoops.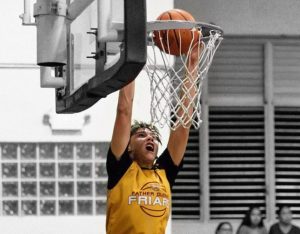 COMING SOON …
– FIBA Asia Cup: Guam vs. New Zealand, Feb 23
– Rizin 21: Aguon and Martinez
– Zach and Larry Return to Guam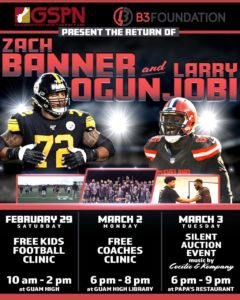 Brawl MMA March 13
QUICK HITS
190 runners took part in the 48th Hafa Marathon (half marathon).
Here are the top 5 finishers:
Ryan Matienzzo 1:13:17
Kris Lawrence 1:24:12
Taiga Sato 1:25:05
Chris Rasmussen 1:26:48
Carlos Leon Guerrero 1:28:46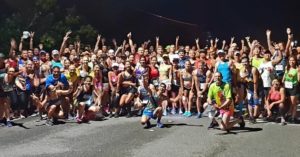 —————————————————-
Guam flags were waving in Clearwater, Florida in support of Bubba Nickles and Team USA in their Pre Olympics Softball Tour.