By Michael J.A. Nauta Jr.
After being away from home for quite sometime, Guam welcomed back "The Juggernaut" Baby Joe Taimanglo a few days ago. Not wasting any time upon his arrival, the mixed martial arts standout went right to work and began a first of three planned seminars Saturday afternoon.
At the iFit Guam Gym in Tamuning, Taimanglo played host to about 20 kids in the iFit B4School Student Self Defense Seminar. Wanting to share his experiences from the time he was a kid all the way through his current success, Taimanglo hoped to pass on the message of positivity, safety, and respect for all.
"First I have to say that it's very good to be back home," said Taimanglo. "Taking this opportunity to share my experiences as well as pass on positive messages to our younger generations is truly an honor. To be here with one, two, or twenty participants is a start in the right direction. These kids are the future of our island."
The two hour event was filled with small lessons combine with some hands-on action. With the recent happenings going on around our schools and underground fighting, Taimanglo began the seminar covering issues on bullying, fighting, and how to deter away from such issues. Immediately sharing his encounters during his younger years, "The Juggernaut" acknowledged that even during his time he was picked on a teased by peers.
"Growing up, I was picked on, teased, made fun off for many different things," mentioned Baby Joe to the young crowd. "Trying to get past that hurdle was a challenge, but with the help of family I found many different ways whether it was through sports or simply just learning to walk away."
Keeping the kids in tuned the entire time, Taimanglo put his words into action as well as he gave the participants a few self-defense techniques to work on, but not before a proper warmup. Midway through the seminar, Baby Joe had everyone working on basic movement, jabs, and an array of exercises. While going through all the lessons, a constant reminder was alway instilled into the kids, "safety first".
"This was a very fun thing for us to do and learn," said 11-year old Jannilese Quintanilla. "I wish we had a little more time because I'm sure there could've been more that we can learn, but we will take what we know and share it with our friends and family."
Despite being a self defense seminar, Taimanglo continued to send positive messages to his "Little Juggernauts" in attendance. Messages like stay positive, be respectful, grow and learn to be what you want to be. When all was said and done, the two hour event had kids with smiles on their face and many leaving with a strong sense of positivity. Here's what others had to say about the event.
* "I had a good time and I learned that fighting isn't the answer to anything. The group learned from Baby Joe that there are many other things out there that we can do," said 12-year old Dysseus Quintanilla. "One of the biggest thing I'll walk away with today is how to stay positive, be safe, and stay away from trouble."
* "It was fun, I learned how to jab and defend myself," said 12-year old Shadriana Taimanglo. "If I could do another class like this I would, there is a lot we can learn from this."
* "iFit Guam is extremely happy to have Baby Joe here to work with our kids and share his experiences with everyone," said iFit Guam president Manju Daryanani. "We look forward to having more of these types of seminars."
* "We learned things that can help us to defend ourselves," said 9-year old Naiyah Taimanglo. "It was fun, exciting, and tiring all at the same time."
PHOTO GALLERY:

Athletes Birthdays by W5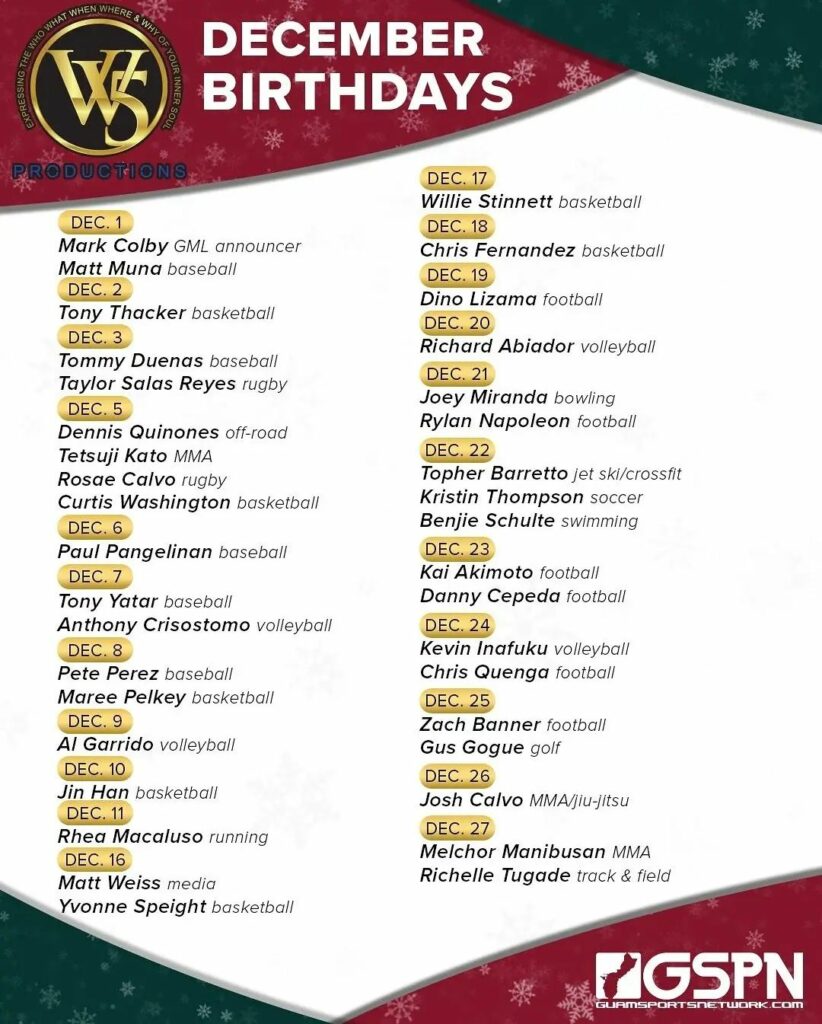 GPS Sports Calendar
SU

MO

TU

WE

TH

FR

SA
Events for December
5th
No Events
Events for December
6th
Events for December
7th
Events for December
8th
No Events
Events for December
9th
Events for December
10th
Events for December
11th
06:00 AM - 08:00 AM
Umatac
Events for December
12th
No Events
Events for December
13th
No Events
Events for December
14th
No Events
Events for December
15th
No Events
Events for December
16th
Events for December
17th
Events for December
18th
19

20

21

22

23

24

25
Events for December
19th
No Events
Events for December
20th
No Events
Events for December
21st
No Events
Events for December
22nd
No Events
Events for December
23rd
No Events
Events for December
24th
No Events
Events for December
25th
No Events
26

27

28

29

30

31

1
Events for December
26th
No Events
Events for December
27th
No Events
Events for December
28th
No Events
Events for December
29th
No Events
Events for December
30th
No Events
Events for December
31st
No Events
National Guard Athletes
Scott Eclavea
Scott Eclavea is a jiu-jitsu black belt and an accomplished MMA fighter. The Guard has given him an outlet in combatives to display his martial art skills, where he's become a head instructor for that program. Eclavea has served since coming out of high school and the Guard has only changed his life for the better.
COMING SOON …
LIVE FOOTBALL ON GSPN
Championship Game – FD vs Guam High @ 7 pm
GSPN Preseason Basketball Tournament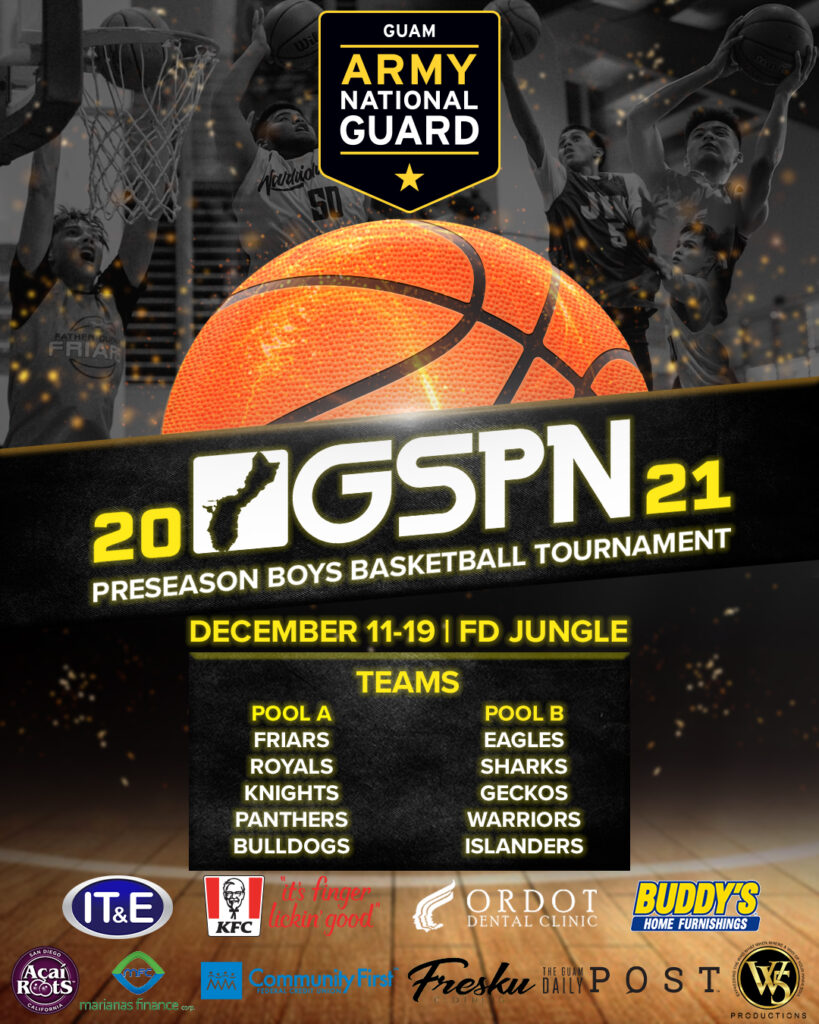 QUICK HITS
Robert Artero Maley recently captured the 182-lb. division of the Costa Mesa Classic, winning via pin in 4 out of 5 matches. Robert is a 4-year varsity wrestler at San Clemente HS (Tritons) and is currently ranked 15th in California's high school scene. He is the son of Jacque Artero Maley (AOLG 1991).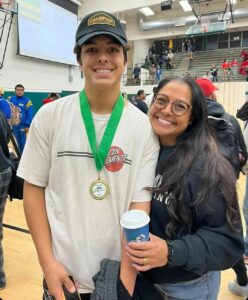 ——————————————–
Pat Taitano and Rich Abiador, teammates on the 1995 SPG volleyball team, have led their high school girls volleyball teams to the Washington State Championships in Yakima, Wa.
Taitano coaches Mt. Rainier High while Abiador leads North Creek High.
There for support is Dr. Mark Perez, a health professor at Central Washington University and a former UOG volleyball player.