By Robert Balajadia
The madness in March is over, but don't be fooled in the first week of April, basketball is still going to get a little crazier with in the final four set to play out Thursday.
Kentucky vs. Wisconsin and Michigan State vs. Duke in the NCAA don't happen until this weekend? Yes, but the Harmon Loop Dental Boys Middle School Basketball Tournament is set conclude Saturday with the on-island final four ready to duke it out. (pun not intended)
The FBLG Hawks had to survive a late scare by the Untalan Wildcats, nearly pulling the chair on the Hawks big lead. The Hawks top three scorers Jahmar White (11 points), Isaiah Malig (8 points), and Harold Gaerlan (8 points) did enough to propel FBLG to a 36-24 win.
FBLG will face BMS 2 on Thursday at 5:30 pm and the winner will move on to face Jose Rios later that evening at 7:30 pm. Waiting for all three of those teams to figure it all out are BMS 1, who defeated Jose Rios in a championship preview Tuesday.
FBLG took a strong 16-7 lead into the half with their full-court pressure defense putting the 'wild' in the Wildcats offense still trailing 26-14.
Turnovers plauged the trailing Wildcats, but the boys in orange flipped the script in the 4th quarter and managed to force the Hawks into bad turnovers which allowed Untalan to claw back into the game.
"We tried to push the ball up-court and kill the clock, but we started making turnovers and that's how they came back. Towards the end, we settled down, pulled the ball back out, and started to attack the basket," said Hawks coach Mel Jamindang.
Wildcats Nico Bonita converted on two layups off steals to trim the lead 30-24, the closest Untalan ad been since trailing 7-3 in the 1st quarter. Bonita led the Wildcats with 8 points.
A quick timeout by Jamindang had the Hawks correct their defense, and the camo-blue boys would squash the comeback by hitting free throws to close out the contest.
The tough task lies ahead for FBLG or BMS 2 who will have to win out during Thursdays game at 5:30 pm, and then come back to face off Jose Rios for a possible title shot. For tomorrow, It's all back to the basics for the Hawks and Jamindang.
"The main thing now is execution. We missed a lot of free throws tonight and we just need to execute better and play better defense," stated Jamindang.
PHOTO GALLERY:

QUICK HITS
Guam MTB National Championship: Edward Oingerang and Jennifer Camacho are your 2023 MTB national champions. Oingerang finished the course in 1:13:24 while Camacho won her second straight title in 54:08.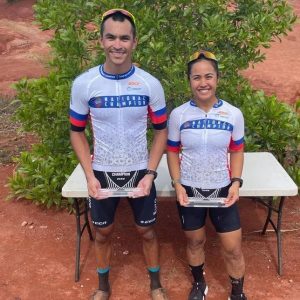 ——————————————
Kobe Miyashita, with St. John's coach Arvin Flores, was named the 2023 IIAAG Middle School Boys Volleyball MVP!