PRESS RELEASE – Singapore saved its skin in front of a home crowd with a late goal to force a 2-2 draw with the Matao in a FIFA international friendly match Tuesday at Jalan Besar Stadium in Singapore.
Singapore, a country that had topped the ASEAN region of the Asian Football Confederation as four-time champions of the AFF Suzuki Cup, played catch-up to Guam the entire match, leaving a new level of respect for Guam by home fans and global football critics.
"Being forced to settle for a draw, especially with a late goal by your opponent to even the match, feels like a loss at the final whistle, but I'm happy with the way the team played in Guam's first-ever match against Singapore," said Gary White, Guam national team head coach. "The team, with six players earning just their second international cap for Guam, had improved from our first friendly match against Hong Kong three days before, showing that the program is moving in the right direction. With these past two international friendly matches now under our belts, I have the arduous task of evaluating all players and choosing Guam's final roster for the upcoming 2018 FIFA World Cup qualifiers.
"I would like to thank Guam Football Association President Richard Lai and the Executives for continuing to support the team by securing these two friendlies ahead of the FIFA World Cup qualifiers, and also to the Football Association of Singapore for inviting us to compete against their "A" team in their home stadium," White added.
The Matao dictated the tempo of the match from the opening whistle and quickly exposed Singapore's porous defense that struggled against Guam's speed. The first ten minutes included two Matao breakaway opportunities and a handful of set plays within striking distance to the goal.
Shawn Nicklaw officially opened Guam's scoring book for 2015 with a goal in the 38th minute finishing a Shane Malcolm pass from the right side for the 1-0 advantage held through to the halftime whistle.
Singapore later managed to level the match about 10 minutes into the second half with a close-range strike from Faris Ramli, but Guam continued its attacking strategy, taking advantage of its front line speed that forced desperate measures from Singapore's last line of defense throughout the match.
After a John Matkin run up the left flank was stopped with the ball poked out of bounds, captain Jason Cunliffe took the ensuing throw-in to his chest and curled his volley into the goal to the unsuspecting Singapore goalkeeper Izwan Mahbud in the 72nd minute for the 2-1 lead.
Singapore later overcame enormous pressure from coaches and the home crowd to level the match again with a late shot from Baihakki Khaizan in the 80th minute to force the eventual draw. In the closing minutes, Guam attempted earnestly to find the game-winner, but it was lost on both sides of the field.
"After our 2-0 loss to Thailand, we had difficulty finding our rhythm in today's game – in the first 15 minutes, we had another change in the central defense … there were some gaps and some holes and we were a little bit struggling," said Bernd Stange, head coach of Singapore. "Unfortunately, we received a one-nil (deficit) and from that moment, it was very, very difficult for our team to continue to play attacking football because this team (Guam) was strong enough to hit us today.
"We are not down, but all questions (about) Guam are answered by the strength of this team today – it's really a good team and the last results are not surprising if you see these kinds of players.
"(The draw) means you don't see me very happy, but finally relaxed because we did our job and we came back. If a team gives everything over 90 minutes in a match, you shouldn't be too disappointed as a coach," Stange added.
Before the match, a one-minute moment of silence in the center circle was observed in honor of former Singapore Prime Minister Lee Kuan Yew, considered the founding Prime Minister of Singapore, who passed away Mar. 23. All players, including the Matao, wore black armbands during the match in respect to the former political leader. The 7:30 p.m. kick off time was delayed by 30 minutes following a lightning advisory.
Guam's next international fixtures will be the upcoming FIFA World Cup qualifiers beginning in June. The official draw for the qualifiers will take place April 14, where Guam will learn of its group-stage opponents, which could range from East Asia powerhouse Japan to countries as far as Qatar in West Asia.
PHOTO GALLERY:

QUICK HITS
3rd place: Big ups to the Para Todu Rugby Club for finishing 3rd out of 16 teams in the Manila 10's Rugby Tournament today. Biba Guam Rugby!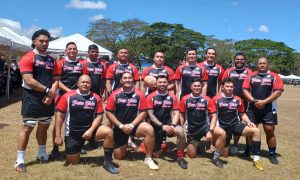 ——————————————
Guam MTB National Championship: Edward Oingerang and Jennifer Camacho are your 2023 MTB national champions. Oingerang finished the course in 1:13:24 while Camacho won her second straight title in 54:08.