[useful_banner_manager_banner_rotation banners=72,74 interval=10 width=120- height=600 orderby=rand]
By Michael Cruz
Quintin Iriarte's journey in football started on Guam in the GNYFF. From 2010 to 2012, he was a quarterback on the Raiders under Coach Paul Blas. Next, he moved to the Falcons playing QB and even played defense to help the team out. After youth football, Quintin won the starting position his sophomore year for the JFK Islanders in 2013. The Islanders were coming off a 1-6 season.
He threw for his first touchdown in debut win over Okkodo 14-6. Quintin next dueled it out with Friars QB Tyler Okiyama. Iriarte went 10 for 18 for 97 yards and one interception in the loss. The rest of the season was a learning process as the Islanders struggled to a 2-6 season. Iriarte was selected as an All-Island honorable mention QB.
Cal Camp 
Quintin was able to visit the states the summer before his junior year. He attended Cal's summer football camp and enjoyed himself where he then started to consider playing college football. Quintin had gained valuable experience in youth and high school in Guam. He felt though that in order to reach the next level, a move was a possibility. Tyler Okiyama had made the move to California for his senior year. With Okiyama leaving and Guam High's LJ Aguon graduating, a new QB to lead the league would need to step up.
Iriarte with one year as a starter returned to JFK for his junior year. Under offensive coordinator Mike Pangelinan, the Islanders started off with three straight wins over FD, Okkodo, and Guam High. Quintin started to find more success in the passing game. He then faced off against his former youth football rival in GW QB Brendan Santos.
The Geckos came out on top and went on to win the championship. Iriarte continued to lead his team and JFK finished 5-1 earning 2nd place for the regular season. Quintin next led JFK to its first playoff win as their starter over Guam High. The Islanders lost to FD in the semifinals and finally a close game loss against Okkodo in the third place game.
The Move
Quintin made the move to Hawaii after the football season. He enrolled at Radford and even played during the baseball season. Iriarte got in contact with Marcus Mariota's QB mentor Vince Passas and started to develop his passing game. He also participated in his first spring football camp in high school. The QB position was up for grabs as it was him and one other QB. Quintin brought some knowledge of the game from youth and high school from Guam.
However, his coach Fred Salanoa played Division 1 college football as quarterback and has coached a handful of quarterbacks who are now playing college football. Salanoa's first impression was he needed more work not just physically but mentally on his game. Iriarte could have made excuses and been prideful of his past accomplishments,  but instead, he used every opportunity to get better. His nutrition improved and he started to work with Kenny Patton who is a strength and conditioning coach.
By June, Quintin was ready to get noticed by colleges. He participated in the Maximum Exposure Combine and was one of 11 participants from Guam. Quintin competed alongside with JeJuan King from Guam High and star QB McKenzie Milton who has an offer from Hawaii in the quarterback group. He continued to work to get better throughout the summer and his knowledge of the game improved. By August practice, he showcased his skills and performed well in a scrimmage versus Aiea School throwing for 4 TDs. He was named the starter for Radford's opening game.
Quest for the State Title
The Radford Rams have had to play all their games this season on the road. Their track is being renovated which effects the use of their home field. Despite no home field advantage, the Rams are 12-0 and ranked #2 heading into the State Tournament Championship versus #1 Kapaa. Quintin has been part of this run. He has had highs and lows this season. His best regular season game was against Kalani. Iriarte threw 4 TDs, rushed for 2 TDs, and had 307 yards from scrimmage. His worst game was passing for 12 yards and 2 INTs against Waialua in the first game of the playoffs.
The Rams had to rely on the run when the passing game stalled and solid defense. Quintin's next game involved two big plays of him catching a TD and a big run off a QB draw. Radford won the OIA Division II championship with a 28-6 win over Kaimuki at Aloha Stadium. The stage was set against Big Island champion Konawaena. Before the game Quintin was named as OIA Division II 2nd team QB. The game versus Konawaena was a classic offensive shootout. Iriarte was 18-for-32 passing for a season-high 288 yards. He tossed three first-half scores and was picked off twice. The Rams held off a near comeback winning 48 to 46 and setting a state playoff record for combined points.
Quintin has aspirations of playing college football. About year ago he wrote a goal statement on his NCSA profile to one day play in college. He is currently taking college prep courses and has taken the ACT scoring a 20 the first time. He plans on taking the test one more time and possibly the SAT. He was selected for the HFC Bowl in Hilo and will one of two Guam players participating (Guam High's Trip Chauret was selected). Iriarte was also selected for the Polynesian Bowl watch list.
The Rams (12-0) will meet Kapaa (9-0) in the title game of the First Hawaiian Bank/Hawaii High School Athletic Association Division II Football Championships at Hawaiian Airlines Field at Aloha Stadium this Friday. Iriarte's family is from Piti and Sinajana.
Quote
"I would especially like to thank my mom along with the rest of my family, and the whole island of Guam for supporting me through this journey. I would also like to thank Coach AJ Quitugua for constantly helping me out with everything."
Quintin Iriarte's Highlights, Videos, and Articles
http://scoringlive.com/story.php?storyid=13568
http://scoringlive.com/story.php?storyid=13563
http://www.hudl.com/athlete/5113852/highlights

QUICK HITS
3rd place: Big ups to the Para Todu Rugby Club for finishing 3rd out of 16 teams in the Manila 10's Rugby Tournament today. Biba Guam Rugby!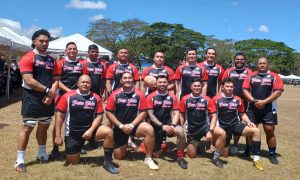 ——————————————
Guam MTB National Championship: Edward Oingerang and Jennifer Camacho are your 2023 MTB national champions. Oingerang finished the course in 1:13:24 while Camacho won her second straight title in 54:08.