[useful_banner_manager_banner_rotation banners=72,74 interval=10 width=120- height=600 orderby=rand]
By Robert Balajadia
Rainy weather didn't slow down the soccer showdown between the FD Friars and JFK Islanders with both teams playing to a 3-3 tie Wednesday evening.
Friar Jake Benito had a pair of goals to give the teams offense a much needed boost after the team has had troubles scoring this season.
"The weakest part of our game is goal scoring. We got three goals today and tied against the defending champions, so that was pretty big for us," said Friars Shane Healy.
JFK got each of their goals from three different scorers, but none bigger than forward Tyler Pangelinan's strike in the 71st minute to knot the game at 3-3, the teams second tie this year after just recently tying the Harvest Eagles Monday.
Pangelinan was in as in as a brief  substitute for forward Kyle Perez and Pangelinan made the most of his minutes after using a through ball to kick home the equalizer in the second half.
"We just never gave up. We played hard and took as much shots as we could to keep the pressure on them," said Inochi Recella. "Our chemistry isn't that good yet
FD spent majority of the game in the lead with JFK in an unusual position having to play catch up. Friar forward Vincent Cruz scored the games first goal at the 15th minute inside the box.
JFK responded fairly quick nine minutes later with Noah Duenas scoring the game tying goal. Duenas took a pass from the outside, used one move to get free, and rifled his kick past Friar goalie Cameron Miles.
Benito then checked into the contest scoring his first goal four minutes later after using his breakaway speed to create a one-on-one with the Islanders goalie. Benito's shot was too far left and out of reach for the JFK goalie to react, giving FD the 2-1 advantage into the half.
The Islanders came out strong in the second half as defender Aljurell Grape took leaped in for a header off a corner kick to tie the game at two goals each. Grape was the beneficiary of a header off a teammate before his header hit net for the game tying score in the 45th minute.
Benito once again responded in just four minutes after taking a deep shot from the right side of the field for a score-splitting 3-2 lead in the 49th minute.
After a series of great defensive stops from both sides, Pangelinan powered home the Islanders third goal in just six minutes of play. Pangelinan checked back out of the game for Perez in the games final eight minutes.
"It was surprising that [Tyler] was taken out of the game almost right after scoring. I mean, he just got us a goal," said Recella.
For the Friars, letting the Islanders back into the game was not a breakdown of any sorts, but instead a slight wear on stamina.
"We were pretty fatigued out there with most of us playing the whole 80 minutes. Chemistry isn't an issue with these guys, we've all been playing together for a long time now. We just needed to play smart and not commit silly fouls," added Healy.
NOTES: The game was played in an above average physical manner. A lot of hand checking when fighting for the ball, but nothing out of the ordinary in a soccer match between two great teams. There appeared to be added frustration involving certain Islanders and Friar after the conclusion, even so that parents and students were getting into verbal barbs in the parking lot at games end. No fists were thrown and situation appeared to diffuse after forced distance between parties involved, but it's apparent the situation involving the disgruntled Islander student(s) might not be entirely over.
PHOTO GALLERY BROUGHT TO YOU BY:

QUICK HITS
Guam MTB National Championship: Edward Oingerang and Jennifer Camacho are your 2023 MTB national champions. Oingerang finished the course in 1:13:24 while Camacho won her second straight title in 54:08.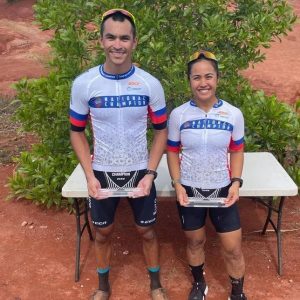 ——————————————
Kobe Miyashita, with St. John's coach Arvin Flores, was named the 2023 IIAAG Middle School Boys Volleyball MVP!