Starting with Guam's highest skill level gymnast, Aisha Tangi (level 8), competed in 2 different competitions, "Gymnastics in Paradise Meet" in Honolulu on Jan. 11th, and also the "Aloha Gymfest Meet" in Kailua, Hawaii on Jan. 17th. Both competitions she placed 2nd All-Around in her Level 8 age group division.
Aisha Tangi's "Aloha Gymfest" scores were 2nd All-Around 36.275, (2nd Vault 9.025, 4th Bars 8.575, 2nd Beam 9.475, 4th Floor 9.20).
Aisha Tangi is a senior at Harvest Christian Academy and this was her last year competing for Guam before she leaves for college in the states. Aisha will always be known for Guam's first gymnast to compete abroad in an International meet back in the year of 2011 when she went solo to Hawaii.
Today, multiple gymnast go every year abroad to compete for Guam along with Aisha. Aisha has advanced every year competing in a higher level then the year before. Some of her highest skills she performed in this meet was the Tsukahara on the Vault, and on the Uneven Bars she performed a "Level 8" release move, called the "Straddle Back".
This move is done by releasing your grip from the high bar and flying over the low bar and catching it with a straddle kip-up and then finishing the rest of your routine without stopping! Aisha has placed Guam in the "competition world of gymnastics" and her teammates and coaches will miss her very much.
Results for the rest of the gymnasts that competed in the "Level 4" category at the "Aloha Gymfest" meet on Jan. 16th in Kailua, Hawaii:
Isabella Kebreau (10yrs.) 1st All-Around 37.550 (1st Vault 8.90, 1st Bars 9.70, 1st Beam 9.650, 1st Floor 9.30).
Qaydenz Montgomery (12 yrs.) 4th All-Around 36.05 (3rd Vault 9.10, 4th Bars 8.60, 3rd Beam 9.250, 2nd Floor 9.10).
Eileen Mamczarz (11yrs.) 6th All-Around 35.00 (6th Vault 8.20, 5th Bars 9.00, 4th Beam 9.00, 7th Floor 8.80).
Lillian McClellan (8 yrs.) 8th All-Around 34.90 (Vault 8.30, Bars 8.70, Beam 9.15, Floor 8.75).
Celina White (10 yrs.) 9th All-Around 33.65 (Vault 8.20, Bars 8.30, Beam 8.55, Floor 8.60).
Coaches are: Derrick(Ric) and Melinda Heath, and Monique Williams-Duenas.

QUICK HITS
3rd place: Big ups to the Para Todu Rugby Club for finishing 3rd out of 16 teams in the Manila 10's Rugby Tournament today. Biba Guam Rugby!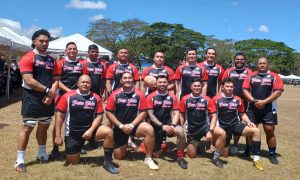 ——————————————
Guam MTB National Championship: Edward Oingerang and Jennifer Camacho are your 2023 MTB national champions. Oingerang finished the course in 1:13:24 while Camacho won her second straight title in 54:08.