By Michael Cruz
The 3rd Annual GSPN High School Cup standings is used to determine the best all-around athletic program in the IIAGG for the 2014-2015 season. The Cup counts football, cross-country, golf, volleyball, soccer, basketball, baseball, wrestling, softball, tennis, rugby, track & field, and paddling (not counted was flag rugby or junior varsity sports).
The JFK Islanders championship wins in softball and basketball pull them slightly ahead of the GW Geckos as the Cup leaders! The two schools are in a race for the top spot with just one more quarter to go.
Southern made a lot of noise in the 2nd quarter capturing the baseball and basketball titles, but they still find themselves at 3rd place, well behind the Islanders and Geckos.
The point system is as follows 5 points for All Island Champions and 1-point per playoff victory.
1st Quarter Results
Football- GW 7, FD 2, Okkodo 2, JFK 1
Boys Cross Country- JFK 5
Girls Cross Country- JFK 5
Boys Golf- St. Thomas 5
Girls Golf- St. Thomas 5
Girls Volleyball- GW 8, AOLG 2, Notre Dame 2, Southern 1
2nd Quarter Results
Girls Basketball- Southern 8, Okkodo 2, JFK 2, AOLG 1
Baseball- Southern 8, GW 2, FD 2, OH 1
Boys Wrestling- Sanchez 5
Girls Wrestling- Sanchez 5
Boys Soccer- JFK 8, Harvest 2, FD 2, GW 1
3rd Quarter Results
Boys Tennis- FD 5
Girls Tennis- St. John's 5
Boys Rugby- GW 8, FD 2, Southern 2, Sanchez 1
Girls Rugby- GW 8, Okkodo 2, Sanchez 2, JFK 1
Boys Basketball- JFK-8, FD-2, Okkodo-2, GW-1
Softball- JFK-8, AOLG-2, Sanchez-2, Guam High 1
Standings after 3rd Quarter
1st Place: JFK 37 points. The Islanders secured 16 points winning the basketball and softball titles.
2nd Place: GW 35 points. The Geckos gained 16 points sweeping the rugby titles.
3rd Place: SHS 19 points. Southern earned two points winning the boys rugby 3rd place game.
4th Place: FD 15 points and Sanchez 15 points. FD wins the tennis title and made the title game in rugby and basketball. Sanchez earns some points from rugby and softball teams.
5th Place: STA 10 points. The varsity season ended for St. Thomas after golf title. Still good enough for 5th place.
6th Place: Okkodo 9 points. Bulldogs win the 3rd place game for basketball and made title game for girls rugby.
7th Place: St. John's 5 points. Lady Knights tennis team wins title and earn five points.
8th Place: AOLG 5 points. Academy made the title game for softball.
9th Place: Harvest and Notre Dame 2 points.
10th Place: Guam High 1 points. Lady Panthers pick up first point for Guam High athletics with softball playoff win.

QUICK HITS
Guam MTB National Championship: Edward Oingerang and Jennifer Camacho are your 2023 MTB national champions. Oingerang finished the course in 1:13:24 while Camacho won her second straight title in 54:08.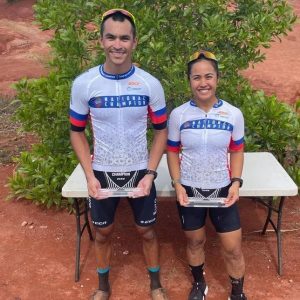 ——————————————
Kobe Miyashita, with St. John's coach Arvin Flores, was named the 2023 IIAAG Middle School Boys Volleyball MVP!