PRESS RELEASE – (Leo Palace Resort)- The Bud Light Women's Fast-Pitch Queen of the Diamond Championship game matched up undefeated Bottomed Out vs Juice who was battling out of the loser's bracket in the double elimination format.
Juice would get the scoring started against Bottomed Out starting pitcher Tiff Miner starting it up with three runs in the top of the first inning. RBI sac fly by Joyce Bukikosa-Blas and rbi single by Tomisha Fejeran gave Juice an early 3-0 lead.
Latoya Mojica would get Bottomed Out on the board against Juice starter Alexis Aguerro in the 2nd inning.  Mojica would double to drive in a run and Maynesha Villagomez would follow with an RBI single to tie up the game at 3-3.
Tiara Santos would rally Juice in the top of the 5th inning with an RBI single scoring two runs.  Bukikosa-Blas would add another RBI single to give Juice a 7-3 lead.
Bottomed Out would of course answer in the bottom of the 6th inning.  Aunie Chaco would deliver a two RBI double and Maynesha Villagomez a RBI single to tie the game up at 7-7.
Alexis Aguerro would single to lead off the Juice half of the 7th inning and advance to third on a passed ball and stolen base.  With two outs Fejeran would come up big with an rbi single to score Aguerro and give Juice back the lead 8-7.
In the bottom of the 7th inning Tomisha Roberto would get Bottomed Out started with a leadoff single.  Pauly Quintanilla would come up with another clutch hit doubling to score Roberto and tie up the game 8-8 with the winning run on 2nd base and no outs.
Juice would turn to Collen Cruz out of the bullpen to try and extend their season.  After a walk to Sasha Hudson, Larissa Dirige would ground into a fielder's choice for one out.  Latoya Mojica would then single to right field and when the ball got away from the field Hudson would attempt to score.  A strong throw from Aldan would nail Hudson at the plate for the second out and keep the game tied.  Cruz would get the final out on an infield pop up to keep the game tied up at 8-8.
In the top of the 8th inning Juice would ride the momentum for a seven run rally to take a 15-8 lead.  Bukikosa-Blas would add another RBI single and Devonna Palomo had a RBI single as Juice looked to put the game out of reach.
In the bottom of the 7th Bottomed Out would rally but come up short with only two runs to give Juice the 15-10 win a force an IF game for winner take all.  Joyce Bukikosa-Blas gets Strike Zone Player of the Game going 3 for 3 with a run and four RBI.
The Championship IF Game was moved to Monday due to weather and both teams were primed to continue their budding rivalry in the winner take all final game.  With their last two matchups being last inning one run wins this final matchup of the season was sure to be a good one.
With Aguerro starting on the mound for Juice, Pauly Quintanilla would get the scoring started, driving in a run with a sac fly.  Mojica and Dirige would follow with RBI singles and Mojica and Dirige and Bottomed Out would take an early 3-0 lead.
Bukikosa-Blas would get Juice on the board against Bottomed Out starter Tomisha Roberto driving in a run with an RBI groundout.  Bukikosa-Blas would come around to score on an error and Tiara Santos would keep the rally going with a RBI single to give Juice a 4-3 lead after two innings.
In the top of the third inning Bottomed Out would take back the lead 5-4 capped off by a RBI single by Aunie Chaco.
Juice would rally in the fourth taking advantage of a couple errors and RBI singles by Palomo and Santos putting Juice back on top 9-5.
It was Bottomed Out turn to rally in the 5th inning with Larissa Dirige clearing the bases with a bases loaded triple and Amanda Castro "stealing" home to give Bottomed Out a 10-9 lead.
Down to their final at bats Juice would rally in the bottom of the 7th inning.  With one out Danielle Camacho would walk and Santos would go in to courtesy run for Camacho on 1st base.  Santos would steal 2nd base and Fran Blas and Colleen Cruz would walk to load the bases.
Villagomez would come out of the bullpen for Bottomed Out and the first pitch would go to the backstop to score Santos and tie up the game 10-10.  With the winning run at 3rd base Devonna Palomo would single to right to score Blas and give Juice back to back Bud Light Women's Fast Pitch titles.
Devonna Palomo picks up Strike Zone Player of the Game going 2 for 4 with the game winning hit.  Tiara Santos had three hits and was named the 2015 Bud Light Women's Fast-Pitch Most Valuable Player going 12 for 21 (.571) and leading the Juice offense in the playoffs.  Juice would like to thank their sponsors AM Insurance, 671 Motorsports and Fokaii for their great support.
Guam Amateur Baseball would like to thank all the players, fans and sponsors for a great Women's Fast Pitch season! A special thank you to Ambros and the crew at Leo Palace Resort for their support.  For more information on the Fall Women's Fast-Pitch League visit Facebook/Amateur Baseball Guam or call Strike Zone Batting Cages 649-9663

Athletes Birthdays by W5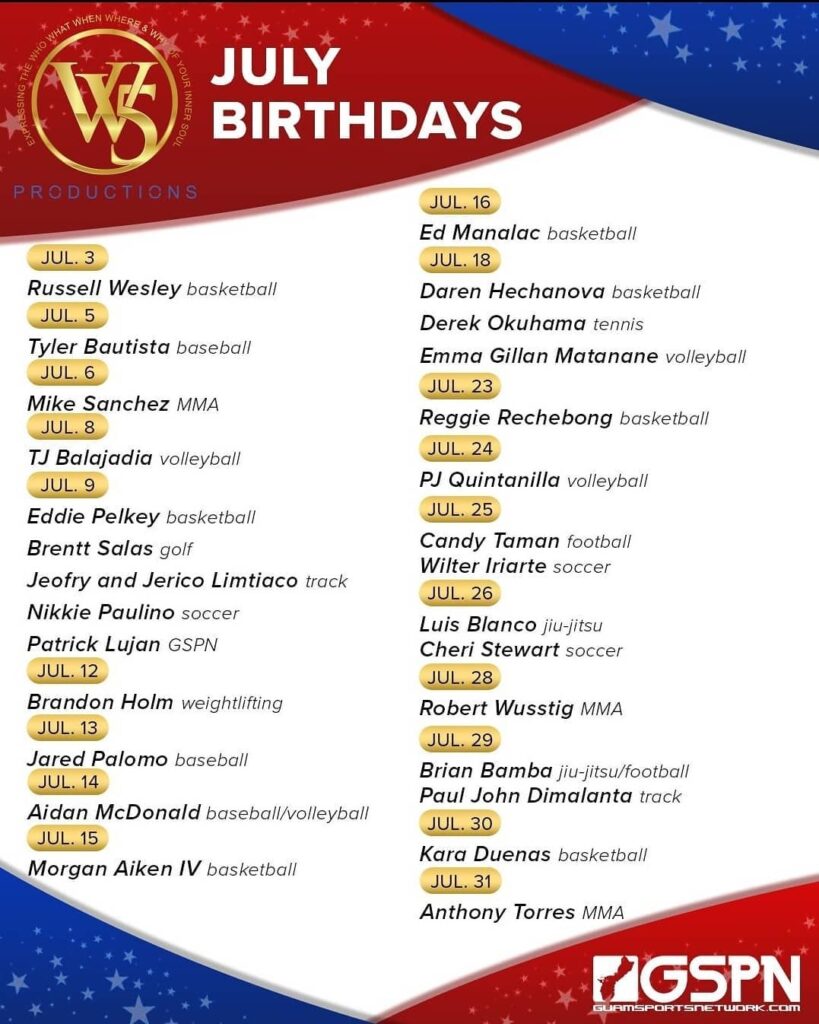 Foody's Fun Facts
Favorites From Year 2
COMING SOON …
2020 Tokyo Olympics
UFC Fight
Aug 1: Trevin Jones vs. Tony Kelley
QUICK HITS
——————————————————–
Guam's Joey Miranda met up with Chamorrita Softball Star Bubba Nickles and Olympic Teammates Dejah Mulipola and Aubree Munro out in Tokyo as we approach the Olympics!
Photo credit: GNOC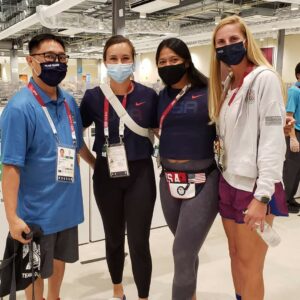 ——————————————————–
Former Guam resident Tre Taylor has committed to play cornerback for the Southwestern Junior College Jags.
Turner attended Harvest and FD before transferring to Hawaii where he played for Saint Louis, the 5th ranked team in the nation.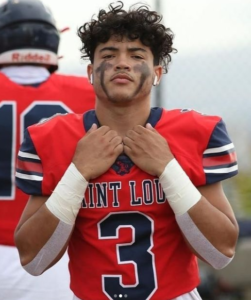 ——————————————————–
The big man Zach Banner getting to throw out the first pitch earlier today for the Pittsburgh Pirates!