PRESS RELEASE – The Budweiser Soccer League returns to action Saturday evening at the Guam Football Association National Training Center after taking a two-week holiday break.
Immediately before the break, the Rovers (6-1) secured its first-place spot in league standings by defeating front runner contender Guam Shipyard (5-2) with a 3-1 victory. Ian Mariano, Natsuki Recella, and David McCallum scored one each for the winning team. Andre Gadia scored Shipyard's goal.
Shipyard, the only team to have defeated the Rovers this season, needed at least a draw to nab first place going into the league's two-week break; however, in the teams' most recent fixture, Shipyard was without its top scorer Cameron Giles and the Rovers added back Ian Mariano, the league's Golden Boot front runner, and Jason Cunliffe in their lineup. The pair took a break from the team's first match-up with Shipyard, a 2-1 loss.
The Strykers FC lead the three-way tie for second place based on goal differential, followed by Quality Distributors FC and Shipyard, respectively. The Southern Cobras are in fifth place, followed by Doosan FC and the Paradise Fitness Sidekicks.
In Division II play, the Rovers FC DII team lead the pack with a perfect 7-0 record going into the break, followed by league newcomer, Islanders FC (5-1-1). The Pago Bay Disasters (4-2-1) currently are in the bronze position followed by Tumon (4-3) and FC Beercelona (3-3-1). Big Blue, Shinko Siheky FC, Strykers FC DII, Crushers FC and United Masters follow in division standings, respectively.
Family FC (5-1) leads the Masters Division with a slight edge over the Rovers FC Masters (5-2). Big Blue is next, followed the Strykers Masters and IT&E/IP&E, respectively.
New to the league this season is a transfer window available to players who wish to move to another team or to another division in the league. The transfer window is open only until Jan. 31, and the required form, as well as rules on the procedure can be found online at http://www.guamfa.com/all-leagues-mens-regular-rules Guam Shipyard will take on the Strykers FC 7:30 p.m. Saturday in the league's first Division I match after the two-week break. Masters Division matches also will be played Saturday evening featuring Family FC against Big Blue at 7 p.m., followed by the Strykers Masters taking on IT&E/IP&E.
Division II officially resumes Jan. 14 with FC Beercelona taking on Tumon at 7 p.m., followed by the division's top two teams – Rovers FC DII and the Islanders FC duking it out beginning at 9 p.m.
League schedules and statistics are available online at http://www.guamfa.com/all-leagues-mens-regular-results

Athletes Birthdays by W5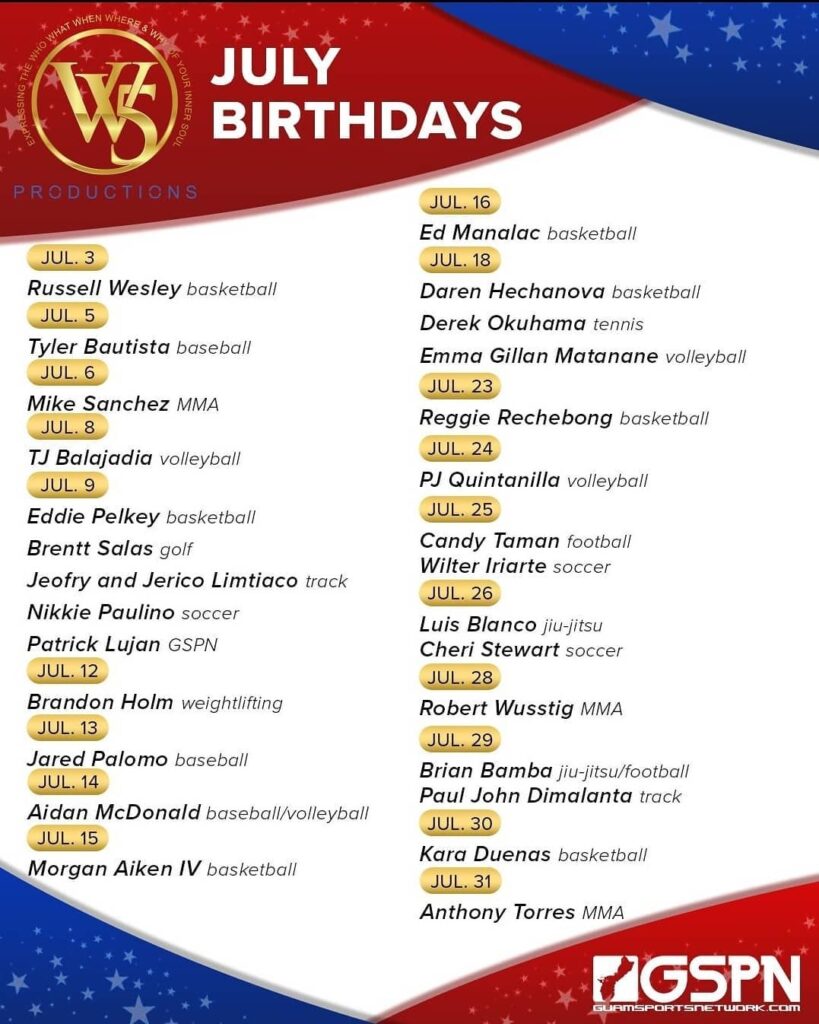 Foody's Fun Facts
Favorites From Year 2
COMING SOON …
2020 Tokyo Olympics
UFC Fight
Aug 1: Trevin Jones vs. Tony Kelley
QUICK HITS
——————————————————–
Guam's Joey Miranda met up with Chamorrita Softball Star Bubba Nickles and Olympic Teammates Dejah Mulipola and Aubree Munro out in Tokyo as we approach the Olympics!
Photo credit: GNOC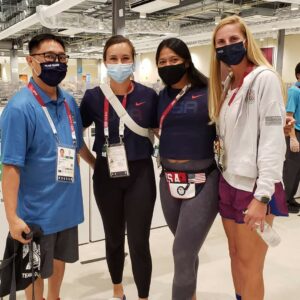 ——————————————————–
Former Guam resident Tre Taylor has committed to play cornerback for the Southwestern Junior College Jags.
Turner attended Harvest and FD before transferring to Hawaii where he played for Saint Louis, the 5th ranked team in the nation.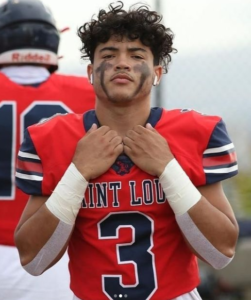 ——————————————————–
The big man Zach Banner getting to throw out the first pitch earlier today for the Pittsburgh Pirates!