By Patrick Lujan
They always say you can take the boy from the island, but can't take the island from the boy.
For first cousins Joe Gogo and Baby Joe Taimanglo, the sport of mixed martial arts has taken them away from Guam, but Guam is always where the heart is.
Both fighters returned home this past summer not only to spend time with family and friends, but to give back to the community they grew up in. Both participated in numerous campaigns to include anti-bullying, fitness at home and the workplace and others.
"It was awesome educating people about the importance of fitness and also teaching them styles of workouts that can be done even at home," Gogo said before returning to work and training in San Diego. "I came back home and hung out with family, did a little work with the Guam Muay Thai club, and ate all the good food. It was awesome to come home and just be a Chamorro: say our style of jokes, use the old coconut as mosquito coil, hit the beaches, and hangout with the pars at Camachile (Tree Store in Yona)."
Gogo is coming off a MMA title in Mexico and a Muay Thai title fight as well, while Taimanglo (21-6) is riding a two-fight win streak in Bellator.
"We really took a break from talking about martial arts while on island," Gogo said about his time spent with his cousin BJT. "It's awesome to come home and really see that people appreciated what I'm trying to do. I'm not just trying to put Guam on the map, many people have already done that. I want to be Guam's first Chamorro World Champion."
As for the changes on Guam, Gogo said some things have changes, some things haven't.
"Guam was so beautiful on this trip – bright, green, and hot..haha. The water felt nice too because it's warm not like the mainland where the ocean is freezing. I like that some things don't change. But certain things did for the better. I went to Chamorro Village and its packed with tourists which is awesome for Guam, pumping money into the island. There are businesses popping up which means more jobs."

QUICK HITS
Guam MTB National Championship: Edward Oingerang and Jennifer Camacho are your 2023 MTB national champions. Oingerang finished the course in 1:13:24 while Camacho won her second straight title in 54:08.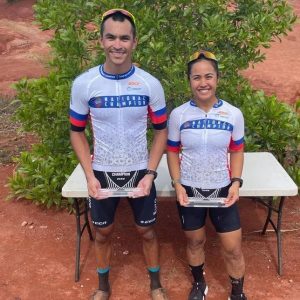 ——————————————
Kobe Miyashita, with St. John's coach Arvin Flores, was named the 2023 IIAAG Middle School Boys Volleyball MVP!