By GSPN Staff
In honor of National Women's Day (March 8th), GSPN wanted to recognize some of the island's most influential ladies in sports. The most influential ladies of yesterday, in Mona Rich, Marie Benito and Bobbi Quinata already have a lasting legacy. In today's new wave of powerful females, Mieko Carey, Linda Salas and Brogan Walker are doing big things for Guam.
Most Influential Yesterday
Mona Rich (Bodybuilding Legend)
By Patrick Lujan
"Women in particular are so vulnerable to society's expectations on how to live and dress. Sports helps us have balance. In the end we really can do whatever we please." – Mona Rich
For years, Mona Roberts has been a name synonymous with women's fitness on Guam. After marrying her new love, the newly-named Mona Rich is still reaching out to her loyal followers all the way from her new home in Texas.
"As a Chamoru woman I was raised with very old-fashioned ideals," Rich said. "I was expected to know how to cook, clean, be a wife BUT in our home, education was stressed. I had been skinny my whole life so exercise was not part of my lifestyle."
As many on island know, Mona built her fitness empire through World's Gym in Maite and multiple bodybuilding championships. She had fitness talk shows and countless print articles on diet and fitness – and of course, her ever popular Fitness Camp that drew local women in to hear her inspiring stories and guidance.
"When my competitive years ended I continued by educating others on healthier lifestyles. I am a survivor of domestic abuse and sexual abuse and have found that exercise helps me move beyond those negative parts of my past.
"In two years I will be 40 years closer to age 100! Wow. I still bodybuild daily, eat clean and may compete in the near future."
Despite being thousands of miles away from home, Mona still has the Guam woman on her mind, looking to keep inspiring.
"There are roughly 200,000 Chamorus left on this planet. We are intermarrying and our ancestry is slowly being washed out. I want to help leave a legacy of the female Chamoru warrior in another sense…. one of strength in body, mind and spirit and of perseverance."
Marie Benito (Running Legend)
By Patrick Lujan
She doesn't say much, but she doesn't have to.
Marie Benito makes her legs do the talking. The former long distance Olympic runner and multiple race winner spanning three decades, Benito's presence alone has been influential to women on Guam.
Simply put, women runners want to be her.
"I'm incredibly honored to be recognized when there are many strong female athletes on the island who are so deserving," said the 1996 Olympian. "Growing up, I wasn't particularly good at any sport, so that says volumes about being a late bloomer. It's really never too late. I've always loved to run, but it wasn't until I had a family and settled back on Guam that I found my passion for racing."
Coming from the prominent Calvo family, Benito's humility and humbleness stands out the most, but it's the accomplishments and willingness to help other runners that takes her to the inspirational level.
"The rewards of running allowed me to travel, represent the island, and make many friends. That was over 25 years ago and I continue to run because it is now a way of life. I think many people can relate to that. You run because you can! I feel blessed to be able to do so in a paradise like ours. If I have any influence, I hope others can share the benefits of staying physically active at any age!"
Thanks for the recognition!!! See you on the run!
Bobbi Quinata (Volleyball)
By Jay Leon Guerrero
Barbara (Bobbi) Quinata is well known for her contributions in girls volleyball for GW High School and for the Island. She coached the Geckos to a phenomenal 13 titles and she continues to push her girls to excel in the sport. Her program produces athletes that bring home medals in the regional tournaments.
Quinata has seen a rapid increase in women's sports throughout the years and she is pleased with the output.
"Women in sports was such 'low key' back in the day. It was rare to see women succeed in sports but when women in sports started to be televised; schools and village recreation centers started promoting sports for women," she said.
According to Quinata, female participation in volleyball and other sports increased on the island after locals started watching females excel on television at major competitions.
"Now, in my opinion, we're at the same level as men and just as competitive! So bring it on guys, here comes the all the 'sugar 'n spice' and all the 'pretty in pink' you can handle," said Quinata.
"Coaching is a craft that every coach has to develop and each coach has to wholeheartedly have a passion to coach. I think coaching girls has got to be the most challenging. Girls are very temperamental, moody, hormonal challenged, and the list goes on. What I want my girls to walk away with is that they absolutely feel good about how they performed on the court, that they have fun playing in each sport discipline they're in, and that they are humbled," said Quinata.
Despite seeing the increase in the past couple of decades in girls volleyball, Quinata still feels that more can be done to help increase participation.
"I would like to see more leagues being held on island to help with the development of the sport and I would like to see a lot more support from our island leaders," she suggested.
Most Influential Today
Mieko Carey (Triathlete/Professional Athlete)
By Jay Leon Guerrero
Mieko Carey is Guam's top female pro triathlete who won the Xterra Guam four times. Carey set the tone for females in her sport after she came in first overall in the inaugural Guam International Triathlon LeoPalace Cup last year, beating all the men competitors as well. The Japanese-born competitor continues to inspire female athletes and will compete next in the Tagaman Traithlon in Saipan later this month.
Carey is one of the most friendly athletes in all of sports, she opens her doors to help out others and encourages other ladies to excel in their respective sport.
"As a personal trainer, I'm working with one young tennis player who will attend college in the U.S. this summer and also another female triathlete who is just getting into the sport. It is my pleasure to share my experiences and what I've learned over the years with a new generation of women athletes," said Carey. She also recently put on some swimming courses for triathletes.
"I like the camaraderie at the finish line, everyone encourages each other and supports one another," said Carey.
Carey said she dreams of one day having off-road triathlons to be included in the Olympics and to see more women participating on race days. "Guam is the perfect place to train year-round, everyone gives you advice and is friendly," she said.
"I'd like to thank my all sponsors IT&E, Hornet Sports, Salomon and family & friends. I will never be able to get this point without their great support," said Carey.
Linda Salas (Women's Tackle Football)
By Robert Balajadia
"Pioneers, are not born, they are made. With that being said, they think of an idea and, by luck, they can be the first. With timing, they will excel and grow nationwide, and by that time reality has just become another level of true success of a leader and someone who believes in change for the greater good of women's health and athlete level wise," – Linda Salas
The fastest growing sport in the world is MMA, but the fastest growing sport on Guam is easily women's tackle football. The Guam Women's Tackle Football League could not have asked for a better pioneer in president Linda Salas, who has seen a simple idea transform into an island-wide phenomenon.
Salas says the love for the game is deeply rooted in her familia, and her love for the Pittsburgh Steelers. Salas goes to the beat of her own drum, and it's been beating loudly for the past four years and her passion is expressed through the time she puts in the league and in the community in what she calls a "LABOR OF LOVE."
"If I haven't seen it, played it, been a part of it, I'm going to make it happen and I'm going to make what I believe can happen become a reality. I want to be on my death bed knowing that nothing ever stops me from doing what I believe in and I lived my life with no regrets and true ambitions to accomplish goals.  I set my heart and mind for women in general that can benefit from my ideas as an athlete to excel in any sport". 
Salas' dreams aren't stopping at just running a thriving league on Guam, she's got bigger ideas for the sport along with a realistic and positive outlook on how to make it happen, even if it doesn't happen during her lifetime.
Some of her future dreams and goals include:
– Seeing women's football become as popular as the NFL, where women can become paid as professional athletes in the sport of football.
– Having the GWTFL games broadcasted on television and accessible to off-island viewers.
– Have women as young as 16 be eligible to compete in the women's football league.
– Have more women take up coaching or officiating duties, a feat she too hopes to get into one day.
– Select the leagues best talent and have them play for the IWFL or IFAF.
In being recognized as one of Guam's most influential women in sports, Salas wanted to thank Bud Light, the GWTFL's main sponsor, and PDN for giving her a Pigskin Prognosticators spot, along with editor Duane George, who has continued to support her success.
Salas has also been involved in the Special Olympics, repainting walls of schools in the Department of Education's Adopt-a-School program, participate in various waves such as the Victim Advocates Reaching Out (VARO) waves, RAW, donated clothes to the Mom's Helping Mom's organization, donating food and cooking for the homeless through the Kamalen Karidat, and participating in the Guam Liberation Day Parade for three consecutive years.
Brogan Walker (Muay Thai/Mixed Martial Arts/Jiu-Jitsu)
By Robert Balajadia
"I believe that it is my duty as an active practitioner/competitor and as a woman of the Mixed Martial Arts to share the passion I have for MMA, the importance of the lifestyle it comes with, the friendships that are made through competition, and the lessons that are learned through every win and every loss." – Brogan Walker 
Brogan Walker was the first ever female fighter from Guam to fight in front of a Guam crowd in a premier MMA event at PXC 45 last year. She's already got a well decorated background in Muay Thai, and her efforts in jiu-jitsu and promoting a true athlete lifestyle from everything she eats to how she trains are inspiring.
"It feels like living a dream. To be a pioneer in anything requires a lot of trial and error so that's where I am at right now. I'm working to gain experience and even more time in the cage. I'm working closely with some great local sponsors Fokai, Haga, IFit, 671MMA & RacersEdge who are helping me to accomplish the things I need in order to develop as a martial artist. Also, as a pioneer for women in this sport on Guam, I have a responsibility to be a positive influence so I'm doing my best there," said Walker on being seen as a pioneer for women's MMA.
Walker is on the young side of 25 years old, but her involvements in spreading Muay Thai as an instructor at Elite Muay Thai Camp on Guam rival those who have been teaching the sport for a much longer period. 
"I have ladies ages six all the way to almost 60 in my Muay Thai program who would surprise you with their technique!  Sharing the art of Muay Thai with the island is one of the best things that has ever happened to me and watching the progression in my students motivates me everyday," said Walker.
Brogan has not shied away from the all attention her MMA career has gotten her, so much so that she, and business partner Rebecca Tomada, have created a fighters blog to "share our experiences, our passion, our trials and endeavors, our successes and so much more to fellow MMA lovers, practitioners, and competitors of all skill levels around the world."
(Brogan & Rebecca's website: https://killabeefightersblog.wordpress.com)
What's next for Brogan? She intends to compete in the Marianas Open at the end of the month, a tournament she has competed in since moving to Guam, and an eventual trip back to the Mecca of all that is Muay Thai in Thailand to further her training in the sport and gain more ring experience.
All that, and she's more than open to get back in the PXC cage after claiming her first experience was a lot of fun.

QUICK HITS
Guam MTB National Championship: Edward Oingerang and Jennifer Camacho are your 2023 MTB national champions. Oingerang finished the course in 1:13:24 while Camacho won her second straight title in 54:08.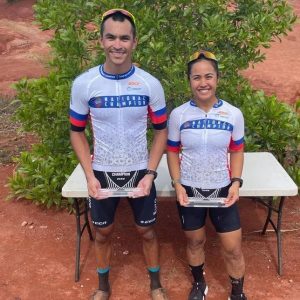 ——————————————
Kobe Miyashita, with St. John's coach Arvin Flores, was named the 2023 IIAAG Middle School Boys Volleyball MVP!