By Jay Leon Guerrero
Team Justice claimed the Golden Hoops 30-plus division basketball championship defeating the Bud Kings 73-48 Wednesday night at the Tamuning gym. Justice avenged their only loss of the tournament and dedicated their victory and season to the late Jason Muna, who had just passed earlier this year.
"The game is dedicated to our good friend Jason Muna. He played with the Phoenix Sons this season but he used to play for Team Justice for at least 20 years," said guard Jay Casimiro. Casimiro and his teammates huddled after the game and held up one last chant for their friend.
"We put on the uniform for him for this tournament. We lost one to them (Kings) and we came back by sticking together as a team," added Casimiro. Casimiro and Team Justice wore black tape on their jerseys in honor of their friend and co-worker.
The Kings came out cold and missed three easy lay-ins as Justice took a 13-3 lead to open up the contest. John Chaco hit two 3-pointers and Reggie Rechebong scored on two lay-ins during the early run.
The Kings started their comeback with less than 5 minutes left in the first half behind a three-pointer from Jun Navarro and an "and-1" lay-up from Will Davis to trail 28-21.
With 3:28 left, Justice got a huge lift off their bench players with Jerry Hinkle hitting two 3-pointers and Dean Manglona converting a tip-in from an offensive rebound to push the lead up to 16 points by halftime. Justice led 38-22 going into the final half.
The Kings continued to go to their man defense and played tight defense but Justice was just too hot from beyond the arc. Casimiro hit a 23-footer and Chaco followed up with a three-pointer of his own with the shot clock winding down. Despite the good King perimeter defense, Justice still drained their three-pointers hitting 9 total for the game.
The Kings were down by 20 points with 12 minutes remaining in regulation but still played hard with Navarro banking home a mid range jumper and Gail Santos hitting from inside the paint to cut the deficit to a dozen points. Darrick Bollinger also contributed to their late run but their deficit was just to much to overcome.
With seven minutes remaining, Rechebong hit a fast break lay-in and Joaquin Charfauros swished a three-pointer to go up by as much as 30 points. Justice cleared the bench with four minutes remaining as they celebrated early.
Rechebong and Chaco were voted the game co-MVP's. Rechebong scored a game high 21 points, Chaco had a double-double with 15 points and 10 boards.
Davis came off the bench to lead the Kings in scoring with 14 points, Navarro scored 13 points and dished out 4 assists.
Stats
Justice:
John Chaco – 15 PTS, 10 REB
Reggie Rechebong – 21 PTS, 2 AST
Joaquin Charfauros – 5 PTS, 7 REB, 11 AST
Jay Casimiro – 9 PTS, 3 AST
Oscar Espinosa – 9 PTS, 3 STL
Kings:
Jun Navarro – 13 PTS, 4 AST, 4 REB
Will Davis – 14 PTS, 2 REB, 1 BLK
Gerald Jones – 11 PTS, 7 REB
Darrick Bollinger – 4 PTS, 5 REB, 2 AST
Team stats:
Rebounds – Justice 30, Kings 30
Assists – Justice 22, Kings 13
Turnovers – Justice 5, Kings 10
3 pointers – Justice 9/26 (35%), Kings 1/11 (9%)
PHOTO GALLERY:

QUICK HITS
Guam MTB National Championship: Edward Oingerang and Jennifer Camacho are your 2023 MTB national champions. Oingerang finished the course in 1:13:24 while Camacho won her second straight title in 54:08.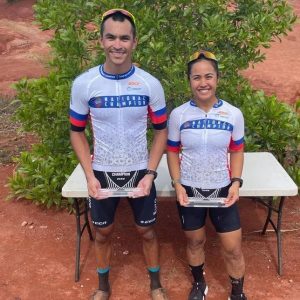 ——————————————
Kobe Miyashita, with St. John's coach Arvin Flores, was named the 2023 IIAAG Middle School Boys Volleyball MVP!