By Robert Balajadia
The JFK Islanders have punched their ticket to the big game thanks to a big showing from sisters Audrey (Senior) and Pillar (Freshman) George. The siblings led the charge for JFK in a 9-5 win over the Guam High Panthers at the Islander home field Wednesday afternoon.
Audrey, the Islanders starting pitcher, came up big in the final innings to hold down the upstart Panthers, and Pillar brought the sticks early, which has been a big point of emphasis in the Islanders attack all season long.
"It's a pretty good feeling," said Audrey on sharing the big win with little sis. "My team really picked me up today!"
The Panthers quickly responded in the 3rd inning after going down 2-0 in the bottom of the 2nd inning. Panthers' Jordyn Pulliam had the bases loaded and then unloaded for a 2RBI double to tie the game at two runs each. Panther Kayla Blend then came in to stick an RBI single to take a 3-2 lead.
The see-saw set of innings brought a final lead change in the bottom of the 3rd as Pillar cashed in on loaded bases to tie the game at three runs each with a single.
JFK then got another big bat from Janise Santa Romana who got a 3RBI single, but was able to advance to third base due to errors by the Panthers to go up 6-3. Guam High would commit another error which allowed another run to score to have JFK up 7-3 after three complete innings.
The freshman Pillar wasn't quite done yet as she continued her hitting streak, a streak she credits to coach Pat and his hitting clinic, in the bottom of the 4th inning, getting a 2RBI single to get a sizeable 9-3 lead.
"I was pretty off on defense today so I just wanted to make up for that with my hits. All week long we've been practicing our hits, credits to coach Pat's clinic, and I've just learned from it, we all learned from it and hit really helped us!," said Pilar on the evening performance.
Then, the pressure was on for her older sister Audrey to close out the game for the next three innings, and with help from her defense, the senior was able to secure the win allowing just a run in both the 6th and 7th inning, locking in her second trip to the finals since her freshman year.
Islanders To Face Cougars or Sharks
The Sanchez Sharks knocked the five-time defending champion Dolphins out of the playoffs in a 10-1 win, ending the Dolphins prodigious reign over girls softball over the past five years.
With a few days of rest until Saturday's big game, the Islanders still don't know who their championship opponent will be thanks to Tropical Storm Bavi's weather tantrum, postponing the Sanchez vs. Southern game by at least two more days.
The semifinals match between the Sharks and Cougars will be played at the GW field Thursday evening, and then the winner of that game will face off against the Islanders at the Leo Palace softball field Saturday afternoon.
Regardless of who the Islanders are facing, the George sisters say that their team just needs to focus on improving their game.
"We need to stay humble and just be ready for whoever we're facing," said Pillar.
"It's work hard or go home, that's it! We need to take the game one inning at a time and bring our sticks. Of course we need both offense and defense to win, but we really need to bring our sticks if we're going to win this years title. Our coach has been sending us quotes and videos for that extra motivation needed to win and our friends and family have been supporting us," added Audrey.
PHOTO GALLERY:

QUICK HITS
3rd place: Big ups to the Para Todu Rugby Club for finishing 3rd out of 16 teams in the Manila 10's Rugby Tournament today. Biba Guam Rugby!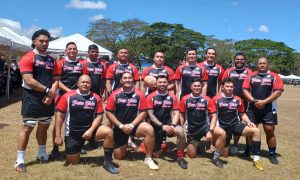 ——————————————
Guam MTB National Championship: Edward Oingerang and Jennifer Camacho are your 2023 MTB national champions. Oingerang finished the course in 1:13:24 while Camacho won her second straight title in 54:08.