[useful_banner_manager_banner_rotation banners=58 interval=5 width=200 height=200 orderby=rand]
Friars Survive Another Thriller
By Jay Leon Guerrero
Drama unfolded yet again at the Phoenix Center. After winning in overtime in the quarterfinals against the Sanchez Sharks, the Friars won 48-47 in a thriller against the Okkodo Bulldogs to stamp their ticket back to the IIAAG boys basketball championship game Tuesday night. First cousins Tristan Jose and Jason Santos came up huge in the final moments of the game to help the Friars secure victory.
With five ticks remaining and the game tied at 47, Jose gets fouled and hits the first of two free throws to put the Friars ahead 48-47. He missed the second free throw. Okkodo, with no time outs remaining and five seconds left on the clock, rebounded the ball. Vern Gustillo got the outlet pass from Aiden Ferrera and threw the ball up court to IIAAG co-MVP Karl Melencio. Melencio looked to have the sure lay-in but Santos' hustle barely gets his fingers on the ball to break up the play. Game over.
Santos tied the game with 1:27 left in regulation off a set inbounds pass from Jose to tie the game. "It was a play we have in our pocket, we have a couple of variations of it. We figured it was the right time and situation to run it," said FD coach Eddie Pelkey.
After FD tied the score, the Bulldogs missed a lay-in. Both teams then turned the ball over which led to FD having possession with 30 seconds remaining. Jose looked to hold the ball to the waning seconds and take his defender off the dribble but got fouled with five seconds remaining.
The pressure was on Jose at the free throw stripe, but he calmly swished the first one. "I just tuned everyone out and relaxed," said Jose. "I tried to make the second one knowing they had no timeouts left," he added.
Bulldogs start off good!
The Bulldogs came out biting in the first quarter taking the early lead with Melencio on the bench. Melencio did not start and worked his way into the game with a nagging ankle injury. Even with the MVP on the bench, the Bulldogs played solid in the paint with Aiden Ferrera and Nate Lorenzo converting for the 17-13 lead.
The Friars slowly chipped away at the lead behind Santos who dished out two assists on "no look" passes. Santos and center Jeno Aquino came off the bench to spark an 8-0 run, but the Friars still trailed 25-23 by halftime.
The Bulldogs got a lift in the third quarter from Vern "theVern" Gustilo, who catapulted his team to a 31-25 lead. Vern scored a fast break lay-ins and Lorenzo scored on a put back for the 31-25 lead to force FD to make quick substitutions early in the quarter. The Friars stayed within striking distance and took the lead off a buzzer beating three-pointer by guard Isaiah Sablan to take the lead 36-35 after three quarters.
Gustilo continued his aggressive play to open up the fourth quarter hitting a corner three-pointer and finding Ferrera down low to take momentum back. The Friars re-claimed momentum behind a three-pointer by Juan King Jr. to go up 40-39 with four minutes left. Both teams went back-and-forth until the two minute mark with Melencio hitting a pair of free throws to go up 47-45.
Melencio's free throws were the final points of the Bulldog season as they eventually surrender the lead to Santos' lay-in and Jose's free throw.
Ferrera played the entire game and had a double-double with 15 points and 14 rebounds. Melencio, who had his ankle heavily taped, still managed a double-double as well with 10 points and 10 rebounds. Jose led the Friars with 11 points, 11 rebounds, and 6 assists.
The Friars will now take on the JFK Islanders who they dropped their regular season meeting by three points. According to Jose, they must stop their fast paced offense and their big man.
"The most important thing we need to do is stop the ball, they play well on their transitin and we need to close out on their shooters. We need to rebound, limiting them to only one shot and start on our transition game," said Pelkey.
Championship game day is Friday at the GW gym, following the consolation game at 530 pm.
Stats:
Friars:
Tristan Jose – 11 PTS, 11 REB, 6 AST
Devin Sudo – 7 PTS, 1 3PM
Jeno Aquino – 6 PTS, 2 REB
Juan King – 5 PTS, 1 3PM
Okkodo:
Aiden Ferrera – 15 PTS, 14 REB, 1 BLK
Karl Melencio – 10 PTS, 10 REB, 1 BLK
Vern Gustilo – 12 PTS, 5 STL, 3 AST
Nate Lorenzo – 6 PTS, 8 REB
Team stats:
Rebounding – FD 39, Okkodo 36
Field goal percentage – FD 35%, Okkodo 37%
Assists – FD 16, Okkodo 9
Turnovers – FD 17, Okkodo 18
Islanders Punch Title Ticket Over Geckos
By John Baza
Semifinal action commenced as the JFK Islanders and the GW Geckos took to the court Tuesday night at the JFK gym. With both teams eager to get a shot at playing for the title, it was the higher seeded Islanders who were able to capitalize on the opportunity and come out with an 80-62 win over the Geckos.
"I just told them that we've got to just play our hearts out tonight and everything will fall into place, it starts on the defensive end and we played great defense tonight", replied JFK head coach Rey Serafico on his teams performance tonight.
Holding a 59-51 lead heading in to the 4th quarter, the Islanders knew the game was still anybody's to take and the Geckos knew that as well as Lester Gaitan hit an impressive and-1 shot to cut the deficit (59-54) in the opening minute.
GW looked to chip away at the Islanders' lead one possession at a time, but with every shot they took, the Islanders' Wayne Jesus had an answer, keeping JFK's lead at 8 points as the quarter neared the halfway mark.
Just as the Geckos saw hope with a Mat Soto lay-in down the middle (65-58), the Islanders' Grape sliced right through the defense for the wide open layup, much like he had been doing the whole game.
With time winding down, the Geckos looked for answers on both ends of the court but were only able to make one field goal off a layup from Ethan Alegre.
Behind the support from a loud home-crowd, the Islanders looked poised and under control, finishing the game strong with great passing and high percentage shots to build a commanding lead and walk out with the W.
"The game plan was to finish the game strong and just keep playing as a team, we did a great job of rebounding and running", replied Jesus on his team's game plan for the night.
Jesus along with fellow senior captain Pak were key factors in the 4th, as Jesus was able to cut any chances of a Geckos comeback and Pak went 5-of-6 from the charity stripe in the final minute to seal the win.
"We were really just trying to keep them off the boards, and I feel we did a good job of that but of course we could've done better", replied Pak on his team's focus for the game.
After hitting a buzzer-beating floater to tie the game 16-all at the end of the first quarter, the Islanders' Jan Pineda sparked a six-point run that helped his team claim the lead at the start of the second, forcing a Geckos timeout.
After gaining the lead, the Islanders never looked back as Grape and Chris Conner were in attack-mode for much of the quarter, constantly getting to the rim and finishing to end the half at 37-29 JFK up.
The Islanders will now have a shot at claiming the title from the Father Duenas Friars this Friday.
Stats:
JFK:
-Aljurrel Grape 17 PTS, 1 REBOUND, 3 ASSISTS
-Wayne Jesus 15 PTS, 5 STEALS, 4 ASSISTS
-Chris Conner 13 PTS, 9 REBOUNDS, 2 BLOCKS
-Jan Pineda 11 PTS, 3 REBOUNDS, 1 STEAL
-Ricky Pak 9 PTS, 8 REBOUNDS, 5 ASSISTS
-Billy Belger 7 PTS, 7 REBOUNDS, 2 STEALS
-Jaron Weilbacher 3 PTS, 1 BLOCK
GW:
-Devin San Agustin 20 PTS, 7 REBOUNDS, 2 STEALS, 1 BLOCK
-Nate Gaitan 13 PTS, 5 STEALS, 5 ASSISTS, 2 REBOUNDS
-Mat Soto 6 PTS, 5 REBOUNDS, 1 ASSIST
-Jacob Frias 6PTS, 3 ASSISTS
-Ethan Alegre 5 PTS, 6  REBOUNDS, 2 STEALS
PHOTO GALLERY:

GPS Sports Calendar
SU

MO

TU

WE

TH

FR

SA
25

26

27

28

29

30
Events for May
2nd
No Events
Events for May
3rd
Events for May
4th
Events for May
5th
Events for May
6th
Events for May
7th
No Events
Events for May
9th
No Events
Events for May
10th
Events for May
11th
Events for May
12th
Events for May
13th
Events for May
14th
No Events
Events for May
15th
Events for May
16th
No Events
Events for May
17th
No Events
Events for May
18th
Events for May
19th
08:00 AM - 06:00 PM
Events for May
20th
Events for May
21st
Events for May
23rd
No Events
Events for May
24th
No Events
Events for May
25th
Events for May
26th
Events for May
27th
Events for May
29th
30

31

1

2

3

4

5
Events for May
30th
No Events
Events for May
31st
No Events
Foody's Fun Facts
JFK Islander Track & Field Star Maria Calvo
DID U KNOW?
Four of the six starters on the 2020 Middle School Volleyball Champion Untalan Wildcats met for the first time since winning a title together as the Tiyan Titans took on the Okkodo Bulldogs in the first game of the ISA Boys Volleyball Season. (#7 Samuel Carino, #9 Lance Mupas, #15 Nicholas Santos, #17 Nash Ericsson)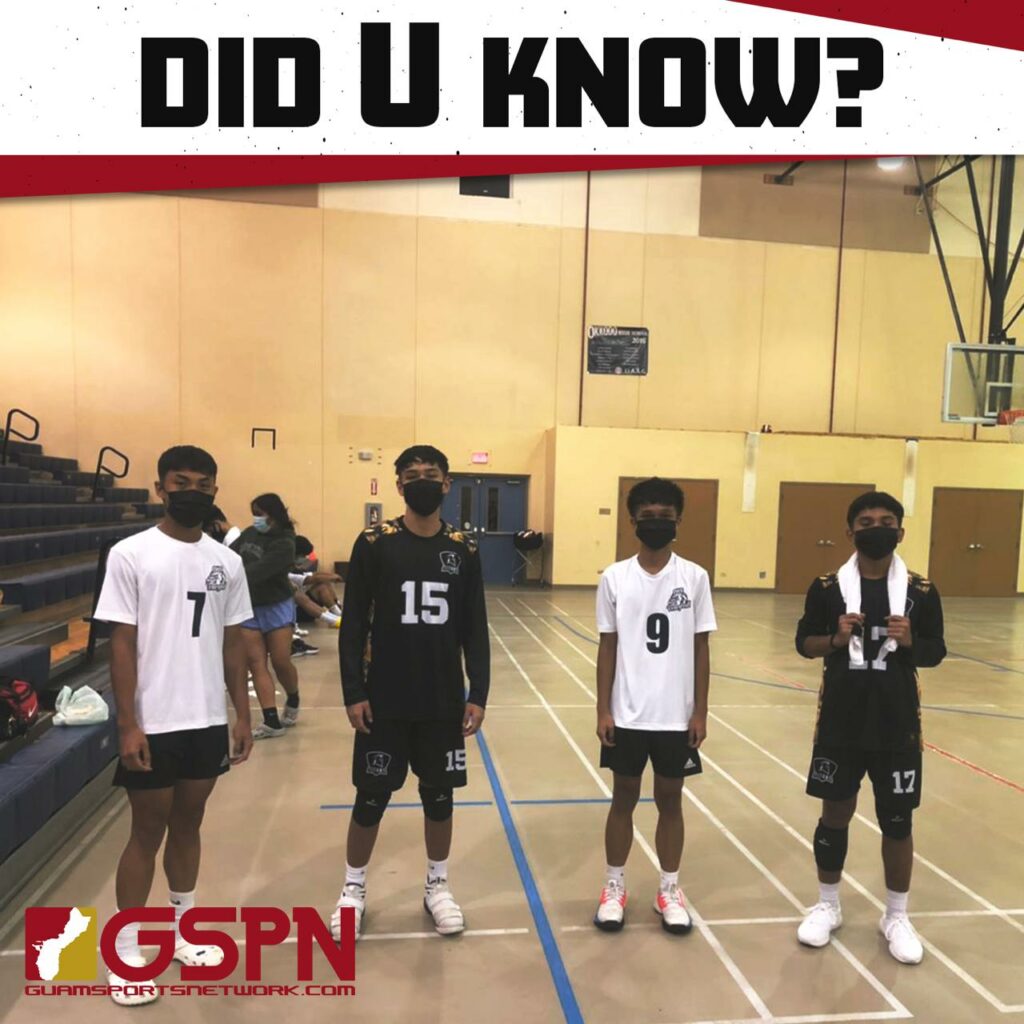 COMING SOON …
FIBA Asia Cup Qualifiers
June 16: Guam vs Hong Kong
June 18: Hong Kong vs. Guam
UFC Fights
June 13: Frank Camacho vs. Matt Frevola
June 20: Roque Martinez vs. Josh Parisian
July 25: Trevin Jones vs. Tony Kelley
QUICK HITS
Ivan Sablan took home the Mel Davis Junior Golf Tournament title (Boys 15-18) with rounds of 78-73. Markus Nanpei (77-78) and Eduardo Terlaje (79-74) followed behind two strokes back at GICC.
Photo L – R:  Mel Davis (GJGL Coach), Nanpei, Sablan, Terlaje and Jovy Lacson (GJGL Tournament Director)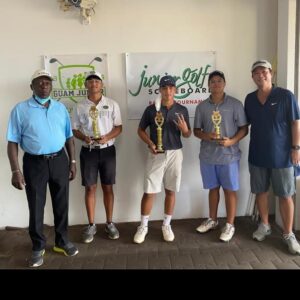 ——————————————————–
Pro rugger Zach Pangelinan suffered a leg injury on his way to a try in the Houston SaberCats match vs. the L.A. Giltinis on Saturday in Major League Rugby action. The 32-year-old fullback in his fourth year with Houston is recovering and said he will be back on the pitch soon.