Are you gearing up for this weekends Payless Kick The Fat 5k fun/run/walk? In honor of the largest annual 5k on Guam, take a look into the story behind three of the events most consistent participants, and some of Guam's most recognized runners!
Marie Benito
1. How will you be faster this year?
Marie – After years of pounding…farther and faster has taken a backseat to trying to run smarter. I still love to race, but getting faster is no longer my main objective. Staying injury-free is the only way I can continue to do that. With that said, I'm going to try to listen to my body more, maybe include some active stretching which I've neglected for years, and throw in more recovery time.
2. What's your best memory of the Kick the Fat 5k?
Marie – The race is huge now and that adds to the excitement. But I remember the early years of the Kick the Fat 5K. The race first kicked off in order to promote Kraft low-fat cheeses and deli meats. A whopping 700-800 people showed up and that was huge back then. I believe the cotton t-shirts featured a hot dog coming out of a container (Horizon Lines was the other big sponsor). And the post race events had deli meats and cheeses served up with dinner rolls. The race has come a long way, but it had the makings of a great event even back then.
3. Why do you run?
Marie –  I run because it has become a way of life for me. I've always liked the outdoors and running in particular. In my youth and before I hit the streets  of Guam, I'd run around a small paved track in our neighborhood. It took 10 laps to complete a mile. I did a lot of laps after school and loved the feeling. Of course, the beauty of running on Guam is that you can enjoy it year round. It's a great way to relax and appreciate your surroundings, and everyone can enjoy it. All ages and abilities are able to participate at the same time. That is difficult to say of most other sports. It can be enjoyed relatively cheap and without major equipment. Running shoes and watches can be expensive, but there are many worthy and moderately priced ones that will do the job just fine. The post race festivities are some of the best. Awesome prizes, refreshments, and people. Race fees are pretty inexpensive compared to some races in the Mainland. Few races out there will have dry-fit shirts, friend rice, lots of fresh fruit, and all the drinks. You can do it solo or with friends. I think that about sums up why I like to run.
Ben Middlebrooke
Answers to the questions.
1. How will I be faster this year?
Ben – I will train hard and long, and I will push myself to do my best.
2. Best Kick The Fat memory.
Ben – Honestly, the whole event is very memorable, but  I'd say the most memorable thing to me is the friendliness of the environment.
3. Why do I run?
Ben – Because I love doing it and it keeps me ready and in shape.
Rhea Macaluso
1. Our theme this year is what will make you faster than before? Provide an explanation of how you will be faster in KTF 2015
Rhea – My 14 month old baby Myles is my inspiration. Knowing he will be waiting for me at finish line. Why wouldn't I run fast to see him?
2. Best kick the fat memory
Rhea – I have two memories. Last year my husband David and I pushed Myles during this race. We were able to enjoy the fireworks together, take pictures and captured memories. Also during the  2010 Kick the Fat race, my parents, who are runners too, came from the Philippines to visit and was able to run Guam's biggest 5k on island. My mom ended up placing in her division.
3. Why do you run?
Rhea – I run because I enjoy it and it helps me stay fit and healthy. I also enjoy it because it is something the whole family can do together. Both my husband I love to run and we are exposing our son to the sport. When he gets older, maybe he will run too. Running the races helps out many charitable organizations too!

QUICK HITS
Guam MTB National Championship: Edward Oingerang and Jennifer Camacho are your 2023 MTB national champions. Oingerang finished the course in 1:13:24 while Camacho won her second straight title in 54:08.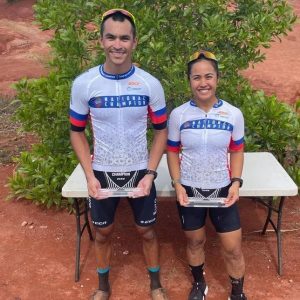 ——————————————
Kobe Miyashita, with St. John's coach Arvin Flores, was named the 2023 IIAAG Middle School Boys Volleyball MVP!