By Patrick Lujan 
How many athletes from Guam can say they are national champions?
Other than recently-crowned NAIA wrestling national champion Jose Rapolla Cruz III, we can't find another one.
Cruz won the NAIA national title in the 184-lb. weight class as a senior at Embry-Riddle Aeronautical University on March 7 in Topeka, Kansas.
The Santa Rita native who attended Harry S. Truman Elementary and Oceanview Middle School finished his senior year with a 32-2 record. He handed his championship opponent his first loss of the year.
"Man this kid has worked so hard and has been so focused," coach KC Rock said in a university report. "He seems to never get rattled. In his quarter final match he fell behind 6-1 and acted like it was no big deal. He just fought his way back and won in overtime. He is so dang strong! I have never coached a kid who is that strong. I'm so proud of him and what he has done as a father (of Jose Cruz IV), a student and a wrestler."
Cruz moved back to Grants Pass, Oregon when he was in 7th grade when a maternal grandparent passed away. He started playing sports in 8th grade and clung to wrestling where he was a two-time state runner-up. He experimented with baseball while living on Guam.
Cruz didn't have any plans of going to college, but Embry-Riddle offered him a 'pretty good scholarship' to wrestle. He went on to compete in the NAIA championships all four years, finishing as high as 4th place his junior year before finally winning it all this year. He will be getting his degree in global security and intelligence in May.
GSPN caught up with our national champion as he shares his experience of being the top collegiate wrestler in the nation at the NAIA level.
GSPN: How often do you come back home?
JC III: I come back home every summer and sometimes for Christmas.
GSPN: How did it feel when they raised your hand as the national champion?
JC III: A huge weight was lifted from my shoulders. All the hard work, double day practices,  6am practices, being a student athlete, and technique sessions paid off in a major way.

GSPN: You could very well be the first ever national champion from Guam. How does that sound?
JC III: I love giving back to the island and making my island proud of our Chamorro culture. If I am Guam's very first national champion, I am very blessed to have been that individual.

GSPN: What are your future plans after graduation both professionally and in wrestling?
JC III: I plan to move back to Guam where I have a job lined up with G4S. I also would like to help out the wrestling community and represent Guam in the Olympics and help coach at local schools and perhaps set up wrestling clinics.
GSPN: Finally, tell us about the tattoo on your left leg.
JC III: The tattoo on my leg was done by Chris Donatao who was the owner previous owner of Tribal Images in Agana, it is the Guam seal wrapped in a bone style hook. The tattoo behind my leg is a whale tale resembling strength done by Ian Bradley at Black Sand Tattoo in Mangilao. The tattoo on my arm resembles my family and my son with various hooks, tribal and a Roman Numeral also done by Ian Bradley.  
NOTE: His father Jose R Cruz Jr. still lives in Santa Rita and his paternal grandparents are Jose R Cruz Sr. and Consuelo Cruz. His mother is Debbie Cruz, currently living in Kansas. His maternal grandparents are former Guam residents Richard and Lisa Green.

QUICK HITS
Guam MTB National Championship: Edward Oingerang and Jennifer Camacho are your 2023 MTB national champions. Oingerang finished the course in 1:13:24 while Camacho won her second straight title in 54:08.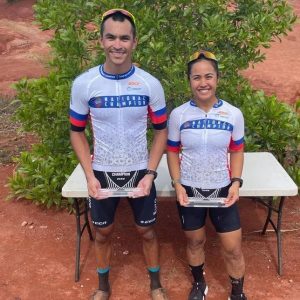 ——————————————
Kobe Miyashita, with St. John's coach Arvin Flores, was named the 2023 IIAAG Middle School Boys Volleyball MVP!