PRESS RELEASE – March 5, 2015
Baseball on Guam has been on the decline in popularity recently. Games, however, are still watched at Paseo Stadium in Hagåtña with feelings of nostalgia by many island residents. The stadium lights up East Hagåtña Bay and signal to some that for a few hours, the game is still being played as it has been for more than 100 years, since the sport arrived with the Americans to Guam.
For the first half of the 1900s, it was the only sport played in any widespread form, and until the 1990's, it was the most popular sport on Guam. Chamorro boys in the first half of the century had no organized baseball, but still played in their villages using sticks for bats, fruits for balls, and no gloves.
For female baseball players, there has rarely been any meaningful playing opportunities. Currently, there are less than 12 girls who play at the high school level or with youth teams; most of these participants receive little to no playing activity and forced to play softball. Guam does not possess the resources to properly conduct a women's baseball clinic, as there are no qualified individuals to perform this duty.  We are proud to announce that is going to change and opportunities will now be available!
Next Level Sports Performance, along with Guam Baseball Academy plans to facilitate a first ever Guam Women's Baseball Clinic. This FREE clinic will be held at the historic Paseo Stadium and assist women as well high school youth in learning the skills necessary to participate in the sport in which playing will be new to most of them.
Ozzie Sailors, Baseball For All Player Development Coach (see bio below) will conduct the Guam Women's Baseball Clinic, providing the technical leadership instruction and player training. This free clinic is limited to 50 players only! You may register by calling the number provided or emailing the coordinator directly or signing up at Strike Zone Batting Cages located across from Micronesian Mall (2271 Army Drive, Tamuning). Registrants will receive confirmation and further information from the coordinator concerning this 1st ever event.
What: Guam Women's Baseball Clinic
When: May 23-25 9am-3pm
Where: Paseo Stadium
Who: Women 16 Years and Above (Limit 50)
Why: Guam Women's Baseball Cup Development (August Women's Baseball Tournament)
Contact: Brad Hewitt, Clinic Coordinator, Vice-president Guam Amateur Baseball Association
787-4880 (cell)
[email protected] (email)
Ghazaleh "Oz" Sailors
High School
-Lettered High School Varsity Baseball at San Marcos High School in Santa Barbara, CA
-March 5th 2011, starting pitcher for SMHS in first high school game in history where two females pitched against each other.
-2011 All-League Honorable Mention
-Member of Team USA-Women's National Team 2010 and 2011
-University of Maine at Presque Isle 2011-2015
-2012: Baseball Rookie of the Year
-2013: First woman to pitch in NCAA Division baseball game
-First woman to be winning pitcher in history of the USCAA
-UMPI Al Arman Make a Difference Award winner
-2015: UMPI Senior Captain
-Only female currently playing college baseball in United States
College Summer Baseball
– Played for Yorkton Cardinals in Western Major Baseball League (Canada) 2011-2012
– Played for San Francisco Seals in Far West Baseball League 2013-2014
– First Female to play in National Baseball Congress World Series 2014
– Player/Coach for 2014 Baseball for All USA all-star team in Korea
– Current Baseball for All player representative and board member
– Professional Baseball Offers

QUICK HITS
Guam MTB National Championship: Edward Oingerang and Jennifer Camacho are your 2023 MTB national champions. Oingerang finished the course in 1:13:24 while Camacho won her second straight title in 54:08.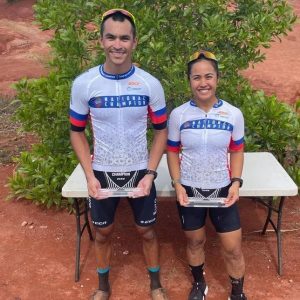 ——————————————
Kobe Miyashita, with St. John's coach Arvin Flores, was named the 2023 IIAAG Middle School Boys Volleyball MVP!