By Jay Leon Guerrero
Gold has eluded the Guam Men's Basketball team for 36 years, the talent was always there but the X-factor to take them to the top position on the medals podium was inexistent. Team Guam was always stacked with quickness, scorers, shooters, and great backcourt defenders which got them to the championship game for the last four Pacific Games. But the outcome of each championship game was a silver medal.
"We really have to get that monkey off our back. We always made the championship game but came up short," said former national team player and current head coach EJ Calvo. "It was as little as a rebound here or a defensive stop in the paint that we didn't get that contributed to us not getting the Gold."
Being from a smaller island and a smaller selection pool, Guam was unable to win the battle of the boards and find that shot blocker to help protect the paint during crucial moments of the game.
Big Help In The Middle
Enter 6'10" center Jonathan Galloway. Galloway, at just 19-years-old, was selected to play for Guam in the upcoming Pacific Games. The basketball competition in the Pacific Games is now used as a FIBA world qualifier and only the top two teams in the Games will advance to play against other qualified nations around the world.
Due to the fact that the Pacific Games for Basketball is a World Qualifier, countries will play under FIBA eligibility requirements. After GNOC granted a concession just for these games, Galloway was permitted to play for Guam along with 6'7″ Tai Wesley, who was born on Guam.
Being of half Chamorro decent, Galloway qualified to play for the Guam team despite not living on the island. "My mom is full Chamorro (Gina Quinata Galloway) and our family is from the village of Barrigada," said Galloway.
"I'm happy to be here. I've been hanging out with my cousins, uncles and aunties," said Galloway. Galloway arrived on June 24th from California where he plays basketball for UC-Irvine.
"I really wanted to play for Guam at the Micronesian Games but that didn't work out," said Galloway. "But I'm glad to be on this team, everything is going well with the coaches and my teammates," said Galloway.
Scorers Joe Blas, JP Cruz and Willie Stinnett will enjoy having Galloway on the squad. Stinnett said that Galloway and Wesley will help the team especially with shot blocking and rebounding. Each member on the team will play different roles and this is probably one of the deepest teams to go to the Pacific Games.
Blas and Cruz are pure scorers and will look to make buckets for Team Guam. Stinnett, Reggie Rechebong, John Chaco and Vince Estella can do it all from knock down the outside shot, initiate the fast break and shut down the opposition on defense.
Note, with the addition of Wesley and Galloway, these players can play their natural positions instead of guarding bigger power forwards or, at times, 6'9″-plus centers.
"Vince, John, Seve (Susuico) and Mike (Sakazaki) will at times play more of a stretch four position where they can pop out and knock down long jumpers," said Calvo. "More like the role of a Draymond Green from the Golden State Warriors."
Susuico and Sakazaki will probably benefit the most from having the big guys on the roster. Both at 6'4″ and 6'5″, they can now play forward instead of center. The advantage is that they will not be undersized and using too much energy on defense holding off larger opponents which may be costly to their offense.
Guards Kyle Husslein and James Stake will now be able to attack on the fast break and have open looks. According to Calvo, Galloway and Wesley can hit the speedy guards, which also include Cruz and Blas, on the outlet pass because they can see over the defense and make the pass.
Stake, who is deadly from beyond the arc, may be the recipient of 3-point second chance shots from offensive rebounds. 6'1″ Husslein is the youngest player on the team and also the quickest, he will use his speed to lead the break.
Collegiate experience
"On a side note, we have seven players who have played or are currently playing Division I or II college basketball. A Guam team has never had that many players exposed to collegiate level before," said Calvo.
"Jonathan is working really well with the team and I'm excited for our future. The three younger players currently playing college basketball are Jonathan, Kyle Husslein and Michael Sakazaki, so we have a bright future," said Calvo.
"I'm not really nervous at all; I'm ready, I've been waiting a while to give this a go," said Galloway.
"Besides working out with the team, I really had fun at the beach. The water here is so clear and everyone is friendly. I also went around the island with my family and went to GPO and the Micronesia Mall," said Galloway.
Galloway said he will spend some time on Guam after the Games but will return to school soon after to work out with his college team at UC-Irvine.
Now that Guam is bringing the total package to the Games, now is the time to execute. "On paper, we have all the tools but we must go to work and take care of business. We are prepared, but we do know that the other countries have done the same," said Calvo.

QUICK HITS
3rd place: Big ups to the Para Todu Rugby Club for finishing 3rd out of 16 teams in the Manila 10's Rugby Tournament today. Biba Guam Rugby!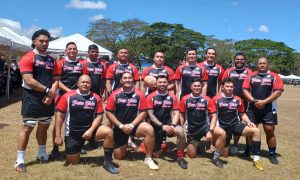 ——————————————
Guam MTB National Championship: Edward Oingerang and Jennifer Camacho are your 2023 MTB national champions. Oingerang finished the course in 1:13:24 while Camacho won her second straight title in 54:08.