By Patrick Lujan
They may be past their prime, but they still got game.
The Filipino Sports Association of Guam (FSAG) hosted a group of former stars from the Philippine Basketball Association Saturday night in a PBA Legends vs. FSAG All-Stars Friendship Game at the Phoenix Center.
In front of a packed crowd of over 1200 fans, the FSAG All-Stars came from behind to beat the Legends 96-93 in overtime.
"I'm happy but tired," said crowd favorite Marlou Aquino. "I'm just glad that we can make the Filipino people here happy."
Aquino and fellow Legend Kenneth Duremdes are two of the PBA's 40 Greatest Players named this past April.
The Legends, as compared to their prime years, were much slower, played lower to the ground, had some off shots here and there, but once a pro always a pro as they displayed flashed of years past.
Aquino and Duremdes led the Legends with 20 and 19 points, respectively.
Three members of the Pacific Games gold medal team for Guam – Joe Blas, John Chaco and James Stake – started for the FSAG All-Stars.
The All-Stars came back from two 12-point deficits in the first half and trailed 72-61 early in the fourth quarter only to storm back late to send the game into overtime.
The All-Stars jumped out of the halftime games on a 9-4 run to take their first and only lead 52-45 on an Oscar Espinosa trey, but the PBA stars slowly came back behind the hot shooting of Vince Hiton that saw their lead jump back to 72-61.
FSAG had a chance to win it in regulation when trailing 87-85, Blas penetrated the lane and dumped it off to big man James Collins underneath for the bucket and the foul with 3.2 seconds on the clock. Collins missed the free throw, but two offensive rebounds couldn't find the bottom of the bucket.
The All-Stars' legs were evidently much more fresh than the retirees in the extra period as they managed to take the victory.
"It was fun to play against these stars from the PBA," said Chaco, who was an instrumental player off the bench for Team Guam in Papua New Guinea. "They still got it. I don't think it ever leaves."
"This was just for fun," added Blas. "We knew it was for charity so we wanted to go out there and put on a show.They're big and smart. You can tell they were good back in their days. They are still good, skill-wise, but they just don't have the bodies anymore. But they are good players."
The love for Guam
Prior to the game, Legends player Vince 'The Prince' Hiton told the crowd that it was his third trip to Guam playing basketball since 1994 and said, "It's like a mini Philippines, but a little more organized."
Another Guam returnee Bong Hawkins said it was an easy decision to take the trip here when asked to come for the game.
"I love Guam. The people here are so welcoming and it's really a nice place," said 'The Hawk'.
The other known PBA Legends were Bal 'The Flash' David, Noli Locsin and Poch Juinio.
Proceeds of the event will go toward the American Red Cross, Guam Cancer Care, Guam Diabetes Association and Erica's House of Guam, according to FSAG officials.
PHOTO GALLERY:

2022 GSPN I MÅS METGOT COMPETITION
I Mås Metgot Athlete Spotlight: April Flores
2022 GSPN I MÅS METGOT COMPETITION
I Mås Metgot Athlete Spotlight: April Flores
2022 GSPN I MÅS METGOT COMPETITION
I Mås Metgot Athlete Spotlight: April Flores
QUICK HITS
Guam boys Kekoa Toves and Matias Calvo went head-to-head on the rugby pitch as American International College took on Dartmouth College, both top-ranked men's rugby programs in the country.
Calvo (FD) is the captain of Dartmouth and scored, but Toves (Sanchez) and his AIC squad came away with the win in Springfield, Mass.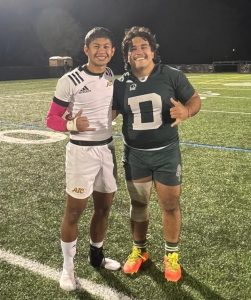 ———————————————–
1LT Belizabeth Nicole V. Rengiil is known to be the first female from Guam and Palau to make the All-Army Women's Rugby Team. She is an active duty Signal Officer with the US Army and is stationed at Joint Base Lewis-McChord in Washington.
Her team won the Armed Forces Women's Rugby Championship with a 4-0 record.
Belizabeth is the daughter of Edwin and Juliana Rengiil with siblings Johanna and Edwin-Isaiah Rengiil from Mangilao.