By Robert Balajadia
Guam's best young ladies of softball are getting ready to venture off in the 2015 Little League World Series in Delaware behind head coach Jessilyn Balajadia. The team leaves on July 31st with a 14-women squad and some of the best high school talent from the 2015 season. Teams competing will be within the ages of 18-16 years old.
"Most of this team has been playing for a while, but we're still trying to develop the spark in communication. We're getting there and it's getting better, but we'll figure it out, we got this," said Jasmine Balajadia.
It has been a long time coming for Jas Balajadia having seen her older sister, and now head coach, compete in the last Little League World Series when their mother Angela was the head coach. From watching big sister play to her time now, Jaz is ready.
"The competition when my sister was playing was intense and the games were hardcore. Teams out there were doing anything and everything they could've done to win, but our team should do fine out there," she added.
The teams make-up has a wealth of Southern flavor, including one of the Southern Dolphins starting pitchers Myah Quenga.
"I don't know if I'm going to be starting out there, I don't ask," laughed Quenga. "This is going to be my first year pitching against that kind of talent so I'm more nervous than anything.
Quenga has been getting tips and advice from her older brother Billy, who had played for the Guam Jr. Nationals and Southern Dolphins as well. He's since joined the Marines and has been aiding his younger sibling in preparation for this milestone.
"He had me practicing every day when he was here and I was lazy, but now I'm seeing how hard you have to work to get to where you want to be," said Quenga.
Guam had been informed that they were thrown into Pool A after the Philippines team forfeited their qualifying spot. Their first game is schedule for August 3rd, but the final schedule has not been made and the team won't know exactly who they play until they arrive.
The team has been practicing at the Yona baseball field while getting time in at the Strikezone batting cages while most of the girls have been participating in outside leagues to keep their game right.
One particular member of the squad, Leona King, was on a softball hiatus for the 2015 season and opted to play rugby instead. Since then, King's game has actually improved to the amazement of her teammates.
"It's so weird," laughed King and Balajadia on King's games improvement while away. "I feel like I have to work a lot harder though since I took a year off so I'm way more motivated and determined and overall glad I'm back."
Coach Balajadia feels her team is more than ready to handle the World Series competition, especially since having played in the series herself.
"I've been getting these girls ready for fast ball because it's nothing compared to how they've been facing pitches against the Philippines or here. We weren't too prepared the last time we went out, but we've been doing much more to get these girls ready," said coach.
Complete Team Roster
#2 Pilar George
#7 Jasmine Balajadia
#8 Leona King
#9 Janise Santa Romana
#11 Jestyne Sablan
#12 Sherika Cabrera
#15 Janelle Lujan
#16 Elyze Pocaigue
#19 Trinity Torres
#20 Ayana Kaipat Ongelungel
#21 Loulana Diaz
#23 Myah Quenga
#27 Kristiana Cruz
#99 Mikayla Edward
Head Coach – Jessalyn Balajadia
Manager – Jesse Balajadia
Assistant Coach – Juan King

QUICK HITS
3rd place: Big ups to the Para Todu Rugby Club for finishing 3rd out of 16 teams in the Manila 10's Rugby Tournament today. Biba Guam Rugby!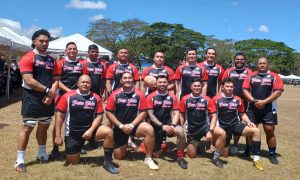 ——————————————
Guam MTB National Championship: Edward Oingerang and Jennifer Camacho are your 2023 MTB national champions. Oingerang finished the course in 1:13:24 while Camacho won her second straight title in 54:08.