By Jay Leon Guerrero
As advertised, the fans were treated to a good show at the inaugural Wendy's Boys High School All-Star Game at the FD Phoenix Center. In the main event, Fd head coach Eddie Pelkey and his all-star team called Team Supreme made a huge run in the 2nd quarter to help them hold on for the 95-76 victory over Team Elite coached by JFK's Rey Serafico.
Notre Dame's Hance Barcinas, playing for Team Supreme, took home the MVP award after making 6-of-8 field goals for 12 points and 7 rebounds. Barcinas did work in the paint in the second quarter to help Team Supreme seize a double digit lead.
Supreme's John Buan (SSHS) closed out the first half scoring 4 straight points to go into the locker rooms leading 47-28.
Team Elite opened up the second half with a trio of JFK players in Wayne Jesus, Billy Belger and Chris Conner teaming with Okkodo's Karl Melencio to cut the lead to 57-47.
Pelkey's Supreme Team countered and went on an 8-0 run with Rodney Taitague (Guam High), Aiden Ferrera (Okkodo), Devin Sudo (FD) , and Ryan Soulik (Tiyan High) each scoring to regain momentum.
Mathew Soto (GW) and Vern '#the Vern' Gustilo (Okkodo) made a strong push in the fourth quarter for the Elite squad to cut the lead to 81-65. But their efforts were erased by Supreme's Ryan Teologo (Southern), Ricky Pak (JFK), and Tristan Jose (FD).
Michael Min (St. John's) and Pak led the offense in the final five minutes for Supreme to hold on for the 95-76 victory.
Jesus and Melencio scored 16 and 15 points, respectively, to lead all scorers for Serafico's Elite Team. Belger had 10 points and 6 assists, Soto and Gustilo each chipped in 8 points for the Elites.
Taitague and Teologo each scored 14 points to lead the Supreme Team, Teologo also grabbed 8 boards. Buan, Jose, and Devin San Agustin (GW) each scored 8 points for Team Supreme. Soulik scored 7, Jujuan King (FD) and Pak each chipped in 6 points.
"We drew a five-point lead to a 15-point lead in the second quarter. In a game like this where there's not much structure, it's hard to come back from that," said Pelkey. "It was fun, the hours and hours of practice we had over Coach Serafico's team paid off," joked Pelkey.
JFK teammates and good friends Belger and Pak went against each other and said they enjoyed the game. "We are used to playing together, but it was fun against each other tonight,"said Belger.
"I have some bragging rights now because my team won this game," said Pak.
Michael Min, a freshman from St. John's, said that he is thankful something like this took place in his era. "Sponsors like Wendy's and GSPN make this all possible. It was a special occasion tonight, I'm very thankful for being a part of all this," said Min.
Min played in the high school all-star game and the Under-15 game along with his 'Fab 5' teammate Takumi 'Curry' Simon. Simon and Min played against each other in both games. "Playing against Takumi was weird because in the back of my mind, I don't have my shooter on my wing. But on the flip side, I know his game and that helped defending against him," said Min.
Min and FD freshman De'Aundre Cruz led Team Guam Blue to a 95-68 victory over Team Guam White in the Wendy's Futures Game. Min had 24 points, 10 assists, and 6 rebounds, Cruz had 18 points and 8 rebounds for the Blue Team. Simon scored 17 points for the White team.
The Futures game, featuring Guam's best under-15 players was played prior to the High School All-Star game. Members of the U-15 team will represent Guam in a regional tournament in July in Saipan.
MVP moment
Barcinas celebrated with family members and friends after GSPN announced he was the MVP. "It felt great playing with the best high school athletes from Guam," said Barcinas. "Coach Pelkey had a good strategy tonight, I was actually coached by his dad (Bob) at ND as well. This is one of the biggest basketball games I've been in, thank you GSPN".
During intermissions, GSPN held a celebrity free throw contest featuring local UFC fighters Jon 'The Heat' Delos Reyes and Jon 'Super Saiyan' Tuck. Each fighter had a minute to sink as many free throws as possible. When the buzzer sounded, it was Tuck who came out on top making 10 shots compared to JDR's 7. Both fighters supported the Guam National Basketball Team and wore their fundraising shirts.
The National Men's and Women's basketball team took part in a skills challenge against each other. There were four teams (one male and one female per team) that were required to make lay-ups, free throws, and three pointers in a head-to-head speed match up.
The team of Earvin Jose and Kali Benavente eliminated the team of Willie Stinnett III and Alina Bonto in the first round. The Jose/Benavente team went against the team of Michael Sakazaki and Destiny Castro after they defeated the team of James Stake and Joy Pangilinan in the first round.
Jose and Benavente made their shots and held on for the win against Sakazaki and Castro for the victory. The crowd got a glimpse of the team that will represent Guam at the upcoming Pacific Games to be held in Papua New Guinea in July.
At halftime, there were five contestants chosen by 'The Heat' to have a shot, literally, at winning $200 courtesy of Buddy's Home Furnishings. Contestants came close, but were unable to drain the half court shot.
Buddy's Home Furnishings did not leave without making a donation, the company instead donated the $200 prize money to the U-15 National Team.
Jun Espaldon from Wendy's was glad with the event and said he is looking forward to more events. "I'm thankful for the turnout. This was our first time doing this and we didn't expect such a packed gym. Pat (Lujan) made the event fun; there was great music and it was an entertaining basketball game to watch," said Espaldon.
PHOTO GALLERY:

QUICK HITS
Guam MTB National Championship: Edward Oingerang and Jennifer Camacho are your 2023 MTB national champions. Oingerang finished the course in 1:13:24 while Camacho won her second straight title in 54:08.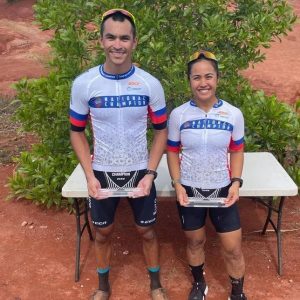 ——————————————
Kobe Miyashita, with St. John's coach Arvin Flores, was named the 2023 IIAAG Middle School Boys Volleyball MVP!