By Jose Terlaje
In the ten years of high school rugby's existence, the St.John's Knights have refrained from entering a team in both the varsity and junior varsity division, until now.
This season, the St.John's Knights entered a Junior Varsity team into the league and it's only fitting that their two head coaches, Jacob Flores and Vern Lukeijak, were part of the championship-winning Simon Sanchez Sharks' class of 2005 when rugby first become a high school sport.
The team was started by a student very interested in playing rugby named, Rocco Flores. Rocco got a petition together with signatures of students interested in playing. When the petition got enough signatures, it was presented to the school board and was eventually approved. The school was then tasked with finding a coach.
Coache Flores and Lukeijak heard about the coaching opportunity from other local rugby players that were approached about coaching the team but didn't have the time. The two friends then decided to give it a shot.
"We really wanted to spread the sport and share the knowledge about what we've learned and gained in our ten years of playing. We love playing rugby and really wanted the boys to learn about the sport enjoy it, and then hopefully they will love the sport as much as Vern and I do," said Coach Flores when asked about his goals when he was given the job as coach for St.John's.
Although it is expected for most teams new to a sport to have a hard time coming together and being victorious, that is not the case for St.John's. The Knights are currently 4-2, having only lost to Okkodo and GW. The team consists mostly of underclassmen and their progress is remarkable for a team of boys that just started playing the sport.
"As coaches we weren't too sure what to expect. It was pretty challenging in the beginning, trying to prepare a group to be able to compete in a sport they've never played before. We ended up finding out that we had a bunch of good and smart kids that loved learning to play and it all just came together. Of course the boys were really nervous at first. We did lose to GW in our first game but it helped the boys get those jitters out and since then we've been doing really well," responded Flores when asked about his first experiences coaching the team and witnessing them play for the first time.
The success of the team so far has really sparked interest in the sport throughout the school, encouraging more students to come out and play in the seasons to come. Flores added that it may take some time but his team does intend on putting together a varsity team as well, hopefully as soon as next year.
Flores also stated that he is very proud of his team. "We were just looking to make sure these guys had fun playing. We didn't expect so much when it came down to winning or losing games but the boys are doing a lot more than what we have asked for and it makes me happy to be able to successfully teach something I love to people who didn't know a thing about it and get positive results."
As the season progresses, the Knights are working toward winning the remainder of their games and hopefully finishing as the top Junior Varsity team. As sports fans at GSPN, we are happy about the Knights' decision to enter a Junior Varsity team into the league, expanding the variety of competition in the league. Hopefully their team will put forward a Varsity team very soon but until then you can catch them in action this Wednesday, February 18 at Guam High School's football field. First games start at 4 pm.
Knights Rugby Roster
Thomas Untalan- Center
Thor Jensen- Prop
Sean Juego- Prop
Alu Concepcion- Prop
Noah Sablan- Prop
Jp Errett III- Wing 
Alex Errett- Fly half
Xavier Kirksey- Wing
Edward Santos- Hooker
Jin Shin- Hooker
Peter Park- Center/Wing
Nick Rhee- Prop
Rocco Flores- Scrumhalf
PHOTO GALLERY BROUGHT TO YOU BY:

QUICK HITS
Guam MTB National Championship: Edward Oingerang and Jennifer Camacho are your 2023 MTB national champions. Oingerang finished the course in 1:13:24 while Camacho won her second straight title in 54:08.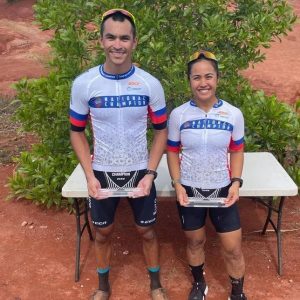 ——————————————
Kobe Miyashita, with St. John's coach Arvin Flores, was named the 2023 IIAAG Middle School Boys Volleyball MVP!