PRESS RELEASE – Nineteen year old Kyle Husslein born and raised on Guam continues to prove he has what it takes to compete in college basketball. Standing at 6'2  weighing in at 185 pounds and gifted with explosive athleticism makes him a threat on the court as seen in his breakout game on February 17.
Husslein is currently a freshmen attending and playing for the University of Redlands Bulldogs men's basketball team who recently hosted an exciting Southern California Intercollegiate Athletic Conference (SCIAC) showdown against the No. 22 Chapman University Panthers at Currier Gym. The Bulldogs came away with the victory 62-59. "This was definitely my breakout game of the season," said an excited Husslein via phone.
Husslein buried a clutch three-pointer and made back to back free throws to help the Bulldogs maintain the lead in the win. With the starting point guard out sick, Husslein knew it was his job to step up in the game and the team who has nicknamed him "Guam" was not disappointed. Playing 17 minutes he put up impressive stats shooting 62% from the field, 100% at the charity line and contributing 4 rebounds. "Patience, training and hard work on and off the court has prepared me for this moment," said Husslein.  He goes on to say that the Panthers coach validated his moment congratulating him on making back to back free throws under pressure in a tight game.
​With his college season coming to an end basketball does not stop for Husslein who will be heading to Guam in May to prepare and train with the men's national team for the upcoming 2015 South Pacific Games being held in Papua New Guinea.
"This game was good for me as the college season comes to an end. My attention turns to the South Pacific Games this summer and I've always dreamed of representing Guam and will continue to work hard to be at my best," said Husslein.

Foody's 5 Fun Facts
ND Royals Volleyball Setter Gabrielle Piper
DID U KNOW?
Guam National Track & Field sprinter and St. John's Cross Country/Track Star Madison Packbier is the daughter of former Track Star Tara Steffy granddaughter of GNOC's Bob Steffy.
COMING SOON …
– 1st Quarter High School Sports Kicks Off
– FIFA: Guam vs. Maldives Sept. 5
– Submit VI on Sept. 6
QUICK HITS
Former JFK All-Island lineman Christopher Parker transfers to De Anza College in Cupertino, CA. De Anza finished last season 10-1 and won the American Conference Championship Bowl. Good luck Chris!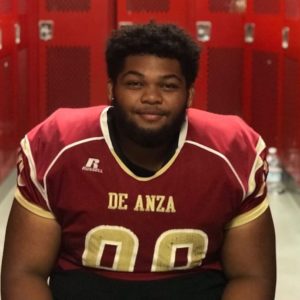 —————————————————-
Die-hard Rams fan Kenny Artero is in Hawaii to catch his beloved team play the Cowboys at Aloha Stadium in a preseason NFL game. Artero got a chance to meet Hall of Fame running back and Rams legend Eric Dickerson.