Guam has struck Gold in the Pacific Games for the first time since 2007.
In its first ever appearance in the Pacific Games, the Guam Shooting Team earned Team Gold Monday in Papua New Guinea in the 10 meter event.
17-year-old Amalia Duenas took the female bronze, giving Guam a total of four medals in the early going of the Games. (see team preview here)
Maria Cenzon, Hope Delos Reyes and Duenas contributed to the medal.
The team was not available for comment, but Federation President  Ralph Sgambelluri said that he was proud of the team. "We have come a long way and it shows that hard work will be rewarded."
In just their second international tournament abroad, the team picked up their pieces from their first event, the East Asian Games in Tianjin, China. The shooters came up huge for Guam's first Pacific Games Gold medal.
"Honestly, people were talking about us after the poor performance at the East Asian Games. We were more of a joke, but I have to thank the team and their family members for sticking to it," said Sgambelluri.
"I'm going to be the best I can, I'm really excited to represent Guam," said the bronze medal-winning Duenas before leaving to PNG.
"I'm also thankful that the team was able to compete. With the typhoon coming on Saturday, we were stressing if we would make the competition. It was good that United Airlines moved the flight to Australia to earlier in the day so Shooting and Rugby could get to PNG," said Sgambelluri. If the teams left later than Saturday, the team would have missed their competition today due to flight availability.
On Sunday, Guam won two bronze medals: team triathlon and Kimberly Taguacta in the female weightlifting snatch competition.
Other Action
Swimmer Benji Schulte took the silver in the 100m breaststroke, this after breaking the Pacific Games record in the event earlier in the morning during preliminaries.
The men and women's Va'a team advanced to the final leg of the 1500 meter races, though the men were the only ones to medal, grabbing bronze in the event. The ladies finished 5th place in the tough final leg.
The women's basketball team battled the host team Papua New Guinea for 10 minutes of extra action before falling 98-89 in double-overtime. Destiny Castro exploded for 40 points in the loss.
Both overtimes featured back and forth play before the ladies of PNG closed out the final two minutes from the free throw line and 2-point shots.
The men's basketball team improved to 2-1 in Pool A action with a resounding 135-41 win over Kiribati. Joe Blas led with 22 points and big man Jonathan Galloway had 21 points on 9-of-10 shooting. Six players scored in double figures for Guam. Guam shot 59% from the field and 51% from 3-point range.
In weightlifting, Krystal Madden finished 8th out of 9 in the women's 58kg snatch. Amy Reyes was 7th out of 10 in the 63kg division. The men's 69kg snatch had Zachary Bonanno and Krysthian Villanueva coming in 13th and 14th. Paul Claros came in 8th of 11 in the 77kg division.
Swimming Results
50m Backstroke Finals: Jagger Stephens 7th (28.68 sec)
50m Backstroke Prelims: Jagger Stephens 7th (28.38), Tanner Poppe 15th (33.39), Tommy Imazu 16th (33.80)
100m Breaststroke Finals: Benji Schulte 2nd (1:03.42)
100m Breasstroke Prelims: Benji Schulte 1st (1:04.62), Tanner Poppe 11th (1:19.73)
100m Freestyle Finals: Pilar Shimizu 6th (1:01.79)
100m Freestyle Prelims: Pilar Shimizu 6th (1:01.15), Mineri Gomez 14th (1:08.33), Amanda Poppe 16th (1:09.22)
200m Freestyle Finals: Benji Schulte 7th (1:58.02), Jagger Stephens 8th (2:03.82)
200m Freestyle Prelims: Benji Schulte 6th (1:58.19), Jagger Stephens 7th (2:00.64)
400m IM Finals: Amanda Poppe 7th (6:17.18)
400 IM Prelims: Amanda Poppe 7th (6:16.26)
4×100 Freestyle Men's Prelims: Guam 4th (3:38.56)
GUAM MEDAL COUNT
1 Gold, 1 Silver, 4 Bronze

2022 GSPN I MÅS METGOT COMPETITION
I Mås Metgot Athlete Spotlight: April Flores
2022 GSPN I MÅS METGOT COMPETITION
I Mås Metgot Athlete Spotlight: April Flores
2022 GSPN I MÅS METGOT COMPETITION
I Mås Metgot Athlete Spotlight: April Flores
QUICK HITS
Guam boys Kekoa Toves and Matias Calvo went head-to-head on the rugby pitch as American International College took on Dartmouth College, both top-ranked men's rugby programs in the country.
Calvo (FD) is the captain of Dartmouth and scored, but Toves (Sanchez) and his AIC squad came away with the win in Springfield, Mass.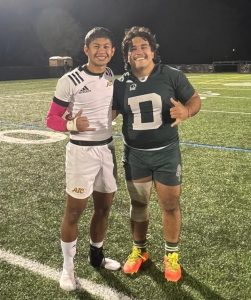 ———————————————–
1LT Belizabeth Nicole V. Rengiil is known to be the first female from Guam and Palau to make the All-Army Women's Rugby Team. She is an active duty Signal Officer with the US Army and is stationed at Joint Base Lewis-McChord in Washington.
Her team won the Armed Forces Women's Rugby Championship with a 4-0 record.
Belizabeth is the daughter of Edwin and Juliana Rengiil with siblings Johanna and Edwin-Isaiah Rengiil from Mangilao.