By Jay Leon Guerrero
The Guam Taekwondo Federation will be sending three 20-year-olds to compete in Papua New Guinea for the Pacific Games to be held from July 4-18. Amber Toves, Joseph Ho, and Alexander Allen will represent the Federation accompanied by coach Mike Ho.
"We had three 15-year-olds on the roster but they were not allowed to compete in the Pacific Games," said coach Mike Ho. According to Mike Ho, the team of six were ready to go until the Pacific Games Combat Commission stated that minors were not allowed to compete due to their age and the possibility of them getting hurt. But when one door closes, another door opens.
"They will go to the Korea Taekwondo Open in the end of July instead," said Mike Ho. "They have been training so hard and did the fundraisers to go to Papua New Guinea for the Games. They will instead use the funds for the Korea Open trip and compete in their age division group (youth/cadet)," said Mike Ho.
Toves, who will go in her first competition abroad, said that she was sad because the only other female, Jeong Inn Park, will not be able to go with her.
"I'm sad because my training partner (Park) won't be able to go but at the same time I'm excited for her to compete in Korea," said Toves.
Joseph Ho, Mike Ho's son, and Allen are both peaking in the sport and are eager to bring their experience to the Pacific Games. Allen, who will be competing in the under-80 kilogram division, was the only athlete from Guam to bring home a medal (silver) in the 2013 East Asian Games.
  "I've been reviewing all my passed events over and over again and Im finding ways to improve. I've been working on my technique and strategy," said Allen.
Allen said that his weight division will be tough, but he will do his best to win five matches to get to the medals stand and hopefully a gold medal. Joseph Ho, who medaled (bronze) at the Mini Pacific Games two years ago in Wales and Futuna said that he is also at his peak.
"I've learned to fight against taller opponents. I've also gotten stronger and faster since the East Asian Games and Mini Pacific Games," said Joseph Ho.
"I'm kind of nervous and really excited at the same time. But I'm in my prime so I'm going to do my best," said Joseph Ho. The group has been working vigorously to make sure they are ready for the Games.
"They practice 6 times a week here and they will do light sparring and weigh cutting weeks before they leave," said Mike Ho. Mike
Ho will have his athletes simulate the competition to help prepare them physically and mentally. "I've tried it before and the two boys won medals (both bronze) at the Mini Pacific Games," said Mike Ho.
Toves said that she has been training for the sport for three years and is curious to see how she fares against competition. "I'm excited to represent Guam, but at the same time I'm scared," said Toves. "It's an honor to compete with the rest of the athletes. Everyone is trying to get the same thing and we all want to have the honor title for Guam,"said Allen.

QUICK HITS
3rd place: Big ups to the Para Todu Rugby Club for finishing 3rd out of 16 teams in the Manila 10's Rugby Tournament today. Biba Guam Rugby!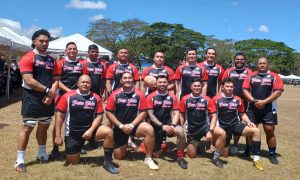 ——————————————
Guam MTB National Championship: Edward Oingerang and Jennifer Camacho are your 2023 MTB national champions. Oingerang finished the course in 1:13:24 while Camacho won her second straight title in 54:08.