[useful_banner_manager_banner_rotation banners=72,74 interval=10 width=120- height=600 orderby=rand]
By Robert Balajadia
The average male Shark on Guam can run a 3.1 mile race course in roughly 18 minutes or less.
The notion of Sharks doing anything out of water is a head scratcher, but that's not the case with the 2015 Simon Sanchez Sharks boys cross-country team, who are currently undefeated (8-0) this season and are on pace to bring in the teams first title since 2004.
A milestone was set for the Sharks after getting their first victory over the JFK Islanders in over a decade (since 2004) in Week 3 of the young season.
"Beating JFK was a huge milestone for us, but we didn't get too excited and we went back to work the next day. We want to win it all in the end, and a win is a win, but we want to win it all and we're just focusing on that," said Shark Evander DeGuzman.
Beating the Islanders set the tone for the season, but the turning point for the team mentally was in the first couple of weeks of the season after head coach Jin Han didn't quite feel the boys were elevating themselves to the level he befitted.
"Having been coaching these some of them for three-four years, there are no more excuses for these guys. Coach Rudy Villegas and I set out a goal to fight for the championship this year and I felt early on we weren't focused on that. We had a team meeting and I set it straight. Since then, they've been on point and coming out hard all season," said Han on the coaching turnaround.
Sanchez does not present the leagues fastest runner, but cohesiveness of their lead 10 have been the secret to their success, which isn't much of a 'secret'.
"Our pack is getting closer after every meet and we're all getting faster too. Outside of practice we all hangout and that has helped us all get on the same page as far as how good we want to be as a team," said runner Aaron Castro.
Although, they do posses the speedy John Garcia, who has finished as the Sharks top runner all season, setting precedence for his team to follow suit.
The now senior has been a runner all but his freshman and junior year and he's now got a real shot to go out on top.
"I wasn't a runner back then, I only started running three years ago. I ran my first 5k at 23 minutes, but then I hit 19 in my first cross country meet and I felt confident," said Garcia.
The motivation to the top starts at practice for the Shark Boys for two reasons. One, the Sharks don't have an actual track to practice at and are grass running for two-plus hours everyday. Two, they are all self motivated and are fully aware that the cross-country championship cold spell can end in 2015.
The 'Group A' of Shark runners also consist of speedsters Castro, DeGuzman and Anthony Castro, who round out the Shark Boys top five during any meet.
How often do the Sharks practice in water for their runs? None, obviously, they aren't literal Sharks.
"We do have beach runs and sometimes we stay back to take a dip, but that's all," confirmed Castro on swimming not being a part of training.
Advantage Han
Sharks coach Han is a legend of Guam Basketball, but he is also a legend in the likes of the Sanchez coaching ranks. He wears his passion for his team on his sleeve and in many ways it has helped.
"He pushes us to limits we didn't know we could reach," said DeGuzman on coach Han. "Everything we do in practice and in our workouts are prepped for race-like situations, so when he's being vocal, it's all about being strong mentally."
Basketball conditioning has also greatly helped the Shark runners, and Han is a product of that as well with a handful of the Shark ballers on the team.
Han isn't just passionately yelling for his team to succeed on the sidelines, he's out in different areas of the course pumping up his teams spirits, along with their volume thresh hold.
"That's just how my personality is and I just feel like I'm in that moment with them. That's how I coach in basketball as well, and these guys are all used to that," said Han on the passion.
For Han, the toughest part of being a Sharks lifer is now a family matter given his oldest daughter Jenna Han is running track as a freshman for the St. John's Knights.
The young Jenna isn't just running, she's winning. Han was only recently defeated against the JFK Islanders, going unbeaten until earlier this Monday.
The Sharks competed against the Knights in Week 1 and for the first time ever Jin had a reason to cheer for the opposing team.
"It's tough. I've got to put on my coaches hat on one end and my dad hat on the other. Trying to wear both hats are a struggle and it's strange seeing her on another team. I wish I could be more involved as far as helping her improve, but she's doing a great job at St. John's and succeeding in the program they got going for her. I'm just glad that she's doing well," added Han.
All Island Or Nothing
With the All-Island meet looming in the coming weeks, the Shark Boys are more focused than ever to put a golden star-fish atop their 2015 season.
"We're really confident that we can win the championship and we need to stay focused. We've been working hard since the season started and we just need to keep it up till the end," said Garcia.
"I'm really proud of this team on how far we've come from last year. We're a more consistent team and I feel we can really take it all this year," added Castro.
"A lot of the teams have been improving each week consistently, but anyone can take it in All-Island. We're trying not to get too ahead of ourselves and we're just taking it all in day-by-day," commented DeGuzman on the seasons end.
The final race will be at the Okkodo Track next Saturday, but the Sharks have one more scheduled meet until then where they will host the Harvest Eagles.
For spectators at the races, don't get thrown off by the tall guy in the Sharks jersey standing in the middle of the course. That's just coach Han giving his team the proverbial emotional encouragement they need to finish the race, from first to last Shark finisher.
The Shark Boys
John Garcia
Aaron Castro
Anthony Castro
Evander DeGuzman
Raymond Cruz
Andrew Baranda
William Sablan
Joseph Laxamana
Roland OCampo
John Buan
Jethro Capati
Michael Castro
Eron Sanchez
Harold Gaerlan
Anthony Gallego
Kristian Cercado
Aydin Marquez
Renz Santos
Toby Nicolas
PHOTO GALLERY BROUGHT TO YOU BY:

QUICK HITS
Guam MTB National Championship: Edward Oingerang and Jennifer Camacho are your 2023 MTB national champions. Oingerang finished the course in 1:13:24 while Camacho won her second straight title in 54:08.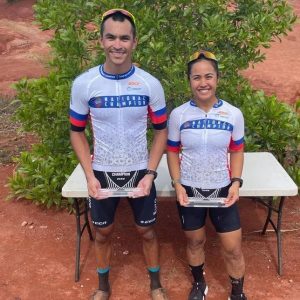 ——————————————
Kobe Miyashita, with St. John's coach Arvin Flores, was named the 2023 IIAAG Middle School Boys Volleyball MVP!