[useful_banner_manager_banner_rotation banners=72,74 interval=10 width=120- height=600 orderby=rand]
By Patrick Lujan
19 kills from superstar athlete Destiny Castro and the GW Geckos are no longer undefeated.
A week after suffering a major upset at the hands of the Harvest Eagles, the Notre Dame Royals stood fast on their home court in Talofofo to knock off the Geckos 24-26, 25-22, 25-13 Friday night in the IIAAG Girls Volleyball League.
The Royals are now 8-1 while the Geckos fall to 7-1.
"Destiny carried the team and it wasn't just the kills," Royals head coach Mike Rabago said. "Today was probably the best I've seen her on the volleyball court, as far as attitude."
Listen to the broadcast of the game here
1st Set
It was tight early on as both teams tried to shake off the big-game jitters. The Geckos led by as much as six at 22-16 on a Jasmine Almoguera kill before the Royals reeled off four straight points to make it close.
ND tightened the match before a Castro hitting error ended the set at 26-24 GW.
"Destiny even took the hit for that," Rabago said about the set-ending error."She took responsibility for that and we moved on."
"We weren't down about that set because it was close," the senior star said. "I just had to regroup my team and settle down."
GW – ace (3): C. Quinata 3; blocks: o; service errors: 3; unforced errors: 8; kills (7): Si. Duenas 3, Almoguera 2, S. Quinata 1, C. Quinata 1.
ND – ace: (1): Paulino 1; blocks: Castro; service errors: 3; unforced errors: 11; kills (9): Castro 6, Stanley 2, Brennan 1.
2nd Set
The Talofofo gym was quiet early on as early ND miscues allowed the Geckos to take an 8-2 lead.
"That's when I told my team that we had to pick it up," Castro said about that early deficit.
And pick it up they did.
The Geckos' staunch defense started to weaken as four straight Castro aces woke up the crowd and brought the Royals to within 12-11.
It was a tight fight until ND's diminutive setter Mames Blas came up big with a huge block when the score was tied at 20-20 to swing the momentum. Another clever Blas play two plays later on a reverse dink guided the Royals to even the night at 25-23.
"Mames can turn a bad pass into a good set," Rabago added about his court general. "She spread the ball evenly today and she actually made the GW defense work hard."
GW – ace (1): S. Duenas. blocks: 0; service errors: 0; unforced errors: 8; kills (6): C. Quinata 3, S. Quinata 1, Almoguera 1, Si. Duenas 1.
ND – ace (7): Castro 4, Brennan 3; blocks (2): Stone, Blas. service errors: 4; unforced errors: 10. kills (8): Castro 6, Stanley, Blas.
3rd Set
The final set was a delight to watch as both teams played phenomenal defense. The best rallies of the night happened here.
The big difference was the Royals committed only two unforced errors as opposed to 21 combined in the first two sets.
And Castro only got stronger as Blas kept feeding the hot hand to the left wing as she swung away.
ND jumped out early and never looked back as they played nearly flawless while GW seemed to tire.
It was pretty much over when libero Caly Chargualaf delivered an ace right through the heart of the Geckos defense. GW couldn't recover as they suffer its first loss.
"Our style of play right now is pretty modern with three-man blocks and stuff and our speed is a little bit quicker, so you have to match it," Rabago said about the confidence in his game plan.
"This was a huge win for us," Castro added."We played very well tonight, especially in that third set."
GW – ace: 0; blocks (1): S. Quinata; service errors: 4; unforced errors 7; kills (8): C. Quinata 4, Si. Duenas 2, Almoguera, Sa. Duenas.
ND – ace (3): Paulino, Castro, Chargualaf; blocks (1): Castro; service errors: 1; unforced errors: 2; kills (9): Catro 7, Brennan 2.
In the exciting undercard, the Royals took out the Geckos 16-25, 27-25, 25-21.
OTHER GAME
(V) Harvest def. St. Paul 20-25, 25-13, 25-18 (believed to be the first winning season in school history for the Eagles)
(JV) St. Paul def. Harvest 25-12, 16-25, 25-22
PHOTO GALLERY BROUGHT TO YOU BY:

2022 GSPN I MÅS METGOT COMPETITION
2022 GSPN I MÅS METGOT COMPETITION
2022 GSPN I MÅS METGOT COMPETITION
2022 GSPN I MÅS METGOT COMPETITION
2022 GSPN I MÅS METGOT COMPETITION
2022 GSPN I MÅS METGOT COMPETITION
COMING SOON …
GNYFF Championship Saturday
2nd Annual Greg D. Perez Fishing Tournament on Saturday
GML Playoffs
1st Quarter Sports
QUICK HITS
Team Onslaught represented Guam at the National X-Ball League paintball tournament in Sacramento, CA. The squad finished in 3rd place out of 12 teams in the Division 5 category.
Front L-R: Frankie Borja, Robert Delos Reyes
Back L-R: Marvin Reyes, Ericka Camacho, Gavin Santos, Nick Rivera, Nikki Tan, Adrian Mora, Ralph Sgambelluri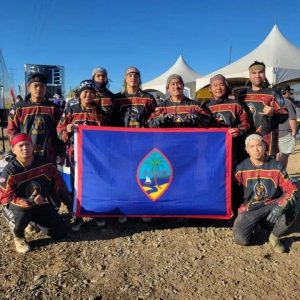 ———————————————–
Purebred Jiu-Jitsu Guam adds three more to their black belt stable. Daniel Cayanan, Cameron Mantanona and Peter Ungacta received their black belts on Saturday from Professor Stephen Roberto.