[useful_banner_manager_banner_rotation banners=72,74 interval=10 width=120- height=600 orderby=rand]
By Michael Cruz
No team on Guam has won more overall football titles than the George Washington Geckos.
They have won a title in every decade dating back to the 1970s. The most notable of the GW tradition was the five year reign GW had from 85-89. GW won five straight titles, compiled a record of 46-4 and won 27 straight games from 87-89.
Ryan Rios and the late Michael C. Hocog were two players on that team coached by Loring Cruz. Rios was a junior and Hocog was a senior. Both played linebacker and terrorized opposing offenses. "He was sleek, quick, and a real grinder" said Rios recalling playing with Hocog.
Post High School
Rios and Hocog were reunited as teammates when the Guam Football League started in 1989. In 1992, Miller became the official sponsor which is now the current MFL. Both Rios and Hocog played as teammates and were able to have numerous winning seasons. Both settled down and became family men.
Hocog eventually retired after a successful career in MFL. Rios as everyone knows on Guam is still going as the Chairman of the Board today. Rios and Hocog were close in high school and still hung out after as adults. Ryan is Kelvin Hocog's godfather who was born in 1997. Rios started to coach at his alma mater GW as an assistant in the late 90s. He took over as Head Coach in 2004 and has established himself as the winningest active coach on island.
Michael Hocog was a young single father with a five year old daughter Naudia. In 1992, through mutual friends he met Therese Borja and started a family. The family of three grew eventually to six. Ashley was the first born daughter in 1993. In 1995, the first son was born and he took his father's name Michael.
At 10 months old he loved potatoes and was given the nickname 'Boise'. Kelvin was born in 1997 and would be given the middle name 'Wolfgang' for its uniqueness. Damon was final of the Hocog clan and was given the middle name Kane.
2005-2006
The Hocog family went through tragedies starting in late 2005. Therese's father was diagnosed with cancer. He passed away in May 2006. The following month Michael was diagnosed with cancer and was sadly it was incurable. Michael wanted to make the last month of his life count.
He got in contact with Ryan Rios and he asked for him to teach his three sons the game of football. Michael also wanted to solidify his relationship with Therese through marriage. After 14 years, raising five children and many memories, Michael and Therese were married on June 27, 2006. On July 3, 2006 Michael passed away at the age of 39. It was the most challenging year of Therese Hocog's life losing the two most important men in her life and the kids losing their father as children.
2011
The Hocog's endured on with the help of friends and family. During the summer of 2011, 'Boise' decided to play football for the Geckos. He had experience with contact playing Rugby, but football was a new challenge. Ryan Rios started molding 'Boise' and saw his aggression and inserted him at Nose Guard.
The Geckos rolled the rest of the season finishing 8-0 and beating Guam High 14-0 in the finals. Guam High had five players on that team that played college football. 'Boise' was selected as Defensive MVP that season racking up numerous tackles just like Michael Sr. did back in the 80s. Damon Kane also started playing youth football that season as well and Kelvin was on GW's team as a freshman.
2012-2015
The Hocog brothers returned in hopes of repeating as champions. The regular season had its highs and lows. The lows were losing to Guam High and then Okkodo for the first time. Guam High finished undefeated and the Geckos at 4-2. 'Boise' again repeated as Defensive MVP for the league and Kelvin made 2nd team linebacker. In the playoffs, GW was down 7-0 in the 4th quarter against FD with 'Boise' limping at the end of the 3rd quarter.
The Geckos offense rallied with 13 points and 'Boise' made an interception when Friars quarterback Tyler Okiyama was leading the offense into scoring position. With the win, GW moved on to the semifinals against the undefeated Guam High Panthers and Offensive MVP LJ Aguon. The Geckos rallied for a 4th quarter comeback to beat GH 21-20. The finals versus Sanchez was the best championship game played this decade. The Sharks though, came out on top. Here is the article from that epic game.
http://www.gspnlive.com/2012/live-updates-geckos-vs-sharks/
The Gecko defense was led by defensive MVP Michael 'Boise' Hocog who had a commanding 17 tackles. Aiding him was All-Island first team linebacker Frank Troy, who had seven tackles while teammate Kelvin Hocog had seven as well. Michael and Kelvin would play their last high school game together as a Gecko. Meanwhile, Damon Hocog finished his Matua season losing in the championship game to the Hal's Angels.
http://www.gspnlive.com/2012/angels-take-matua-title/
The 2013 season returned Kelvin with new addition Damon as a freshman. The Geckos finished with a respectable 3-3 record and #4 seed. They would again face in the semifinals the Panthers who were the #1 seed. They returned LJ Aguon, Tegan Brown, and new offensive MVP Juwan Jacobs. The Geckos were again down, except it was 20-0 going into the 4th quarter. Then the miraculous happened for the 2nd straight year. Kelvin Hocog stated the battle cry:
"I did it for my team, we've worked hard all season. You just have to have the heart, if you have the heart then you will be the better player. I told my team that I don't try for third place and if you don't want it, get off the field now," stated Hocog on his 4th quarter heroics.
http://www.gspnlive.com/2013/geckos-shock-panthers-24-20/
GW's Cinderella run would come to an end as the Sharks repeated as champions winning 22-0. Kelvin Hocog finished off his junior year winning rugby co-MVP and leading GW to the Rugby Championship. In 2014, Kelvin still had unfinished business his senior year and returned for a championship run. Damon returned as a sophomore ready to step up at defensive tackle.
The Geckos rolled through the regular season and championship finishing 7-0 and was ranked the #1 Pacific team by the Stars and Stripes. Kelvin was awarded defensive MVP for the league and Damon was awarded 1st team defensive tackle. Kelvin finished his senior campaign again winning co-MVP in Rugby and leading GW to back to back Rugby titles. Damon was a 2nd team lock.
Damon is the last of the Hocog boys playing in the GW program. He returned his junior and was recently awarded defensive MVP for the league. He wants to be the best of the Hocog trio. I asked Coach Rios if he could play college football and Rios said, "If he bares down and hits the weights."
Hocog is 5'9 and 170 lbs. The Hocogs are the epitome of the GW Warrior mentality. Undersized but tremendous heart, hard work, and skills to compensate for football measurables.
Michael 'Boise' Hocog
Age: 20
Occupation: 1 on 1 school aide at Agana Heights Elementary.
GSPN: What kind of impact did GW football and Coach Rios have on you?
Boise: "Being on the GW football team had a major impact on my life by helping me gain so much experience in sport and being a part of a brotherhood where we all have each other's back on and off the field. It also made me strive to do better in my education. I'm proud to be an alumni of George Washington High School."
"Coach Rios had such a major impact in my life. He taught me to be a better leader and help my fellow teammates. He also helped me improve my skills which is how I got the MVP title back to back. My father wasn't there to guide my brothers and me in football which was his favorite sport. So as a promise to my father, Coach Rios guided us instead. He made us become better players in the game as well as better people in life."
Kelvin Wolfgang Hocog
Age: 18
Occupation: Kelvin has enlisted in the United States Army.
GSPN: What kind of impact did GW football and Coach Rios have on you?
Wolfgang: "At first, I hated football and Coach Rios, but if it wasn't for football or Coach Rios I wouldn't be playing the sport I fell in love with. I wouldn't have the brothers I made on the field. Not only the brothers on the field but I wouldn't be as close to the ones at home as I am now. My brothers and I always fought for some reason and sometimes for no reason other than just to fight. But Gecko football made us close. Now, we can talk to each other and mess with each other without fighting. Something my dad wanted from us. Coach Rios taught me a lot. He taught me more about my dad and everything I know about football. And playing football made me learn why my dad loved the sport. I even learned what I want to do with my life."
Therese Hocog
GSPN: What kind of impact did GW football and Coach Rios have on you?
Therese: "Where do I start? Okay, it was just the idea in the beginning for them to play football, but when they found out that they all will be attending George Washington High School they all wanted to carry on what their father Michael Castro Hocog started and wanted them all to be, better than he was in that game. Unfortunately, my husband Michael C. Hocog passed away before they could even be introduced into the sport and as they started the sport they had doubts about becoming great, but everyone in my husband's family and his friends that he played with during his time had a big influence in my children's life. Coach Ryan Rios is one of my husbands close friends who made a promise to my husband that promise was to teach his children the sport guide and care for them like his very own."
"So first on the field was our oldest son Michael C. Hocog II, who was to lead the path for his two brothers, Kelvin Wolfgang Hocog and Damon Kane Hocog. In the years of 2011 and 2012 our son Michael, who we call Bosie, started football making MVP in his Junior and Senior year. Kelvin started playing in 2012, being a freshman he played with his older brother and together winning championships for GW in 2014-2015. Kelvin made MVP, and now coming from behind is the youngest of the clan Damon who started playing in 2011 outside of GW 2015 now a junior at GW his wish is  to be greater that his brothers. Coach Ryan Rios is the person to thank for everything, without his love for the sport time and dedication my children Boise, Wolfgang and Kane won't be where they are at today. Thank You Coach Rios for keeping your promise and leading my boys in the right direction. And now Damon Kane Hocog also made MVP!!"
Coach Ryan Rios
GSPN: What did Michael Hocog's friendship mean to you, being a godfather to Kelvin, and coaching all three boys?
Ryan: "I was close to him during high school, and after, we all hung out as a group. It wasn't till he was sick when he asked me to coach his kids. It really hit me when I started to coach them from Boise first, then Kelvin, and now Damon. Their dad was their mentor or base and losing their father was a big hit in their emotions. They were raw in team sports. Here I was, a guy that knew their father during his younger year's with a lot of memories. Once in a while I'd tell them stories."

QUICK HITS
Guam MTB National Championship: Edward Oingerang and Jennifer Camacho are your 2023 MTB national champions. Oingerang finished the course in 1:13:24 while Camacho won her second straight title in 54:08.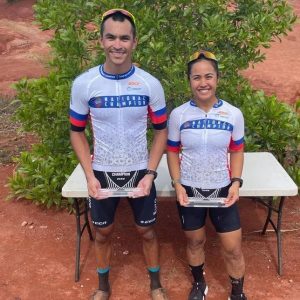 ——————————————
Kobe Miyashita, with St. John's coach Arvin Flores, was named the 2023 IIAAG Middle School Boys Volleyball MVP!