By John Baza
The Okkodo Bulldogs looked to defend their home court against the visiting Harvest Eagles this Friday night in IIAAG girl's high school volleyball playoffs action. The Eagles, who notably beat the top ranked ND Royals later in the regular season, hounded the Bulldogs as they refused to go down easily. But the home team Bulldogs were able to pull through with a (25-12, 25-21, 25-23) victory, winning in straight sets.
Final set
The start of the set was steady with both teams trading kills, but it was the Bulldogs who would take the lead and pull away (7-2).
Much like they did in the previous sets, the Eagles closed the gap (7-6) off of team play, but the Bulldogs broke away led by a couple of hits from Mojas (15-8).
Harvest's middle blockers Phoebe Palisoc and Eliza Miller were key for the Eagle's defense as they pestered the Bulldogs' hits on multiple plays.
It wasn't long before the Eagles found themselves inching closer after a kill from Stephani Agarpao and a Palisoc block (18-14).
The Bulldogs' Cepeda was determined to prevent another relapse however, as she fired in another corner shot followed by a block (22-17). But the Eagles came up clutch in the final plays off of an ace from Alyssa Quichocho and a Brandi Tkel kill that found both teams tied at 23-all.
It was the Bulldogs who would strike first to take game-point advantage, eventually taking the set in dramatic fashion thanks to Jachelle Saludo who fired in the game-winning ace to win this nail biting set, 25-23.
With the win, the Bulldogs advance to the semifinals.
Opening set
The Bulldogs took the early advantage, jumping to a 7-2 lead after a kill from Sirena Cepeda. Harvest displayed their defensive capabilities early on after a block from 21, but a kill from Celine Amparo (13-2) forced a timeout from the visiting team.
Looking to spark from offense for her team was the Eagles' Quichocho as she notched in a kill, but the Bulldogs' Caren Mesias and Nica Mojas fired in kills from all angles as their team went on a run to make the score 18-8.
The Eagles continued to defend the Bulldogs' attack but struggled to make progress as the home team rode the momentum and cruised to a 25-12 taking of the first set.
Second set
It was the Eagles who would jump to a quick 3-0 lead in this set, but this was short lived, as Okkodo would eventually reclaim the lead after a nice corner shot from Cepeda (6-4).
Intense and close action ensued before the Bulldogs found themselves going on a small run behind a pair high-flying kills from Mojas, both from the same spot (11-6).
Harvest would go on a run of their own after a block at the net and a kill from Alyssa Quichocho boosted their spirits and tied up the game at 12-all. Though trailing for most of the set, the Eagles showed resilience, as they were able to rally back after nearly every attempt the Bulldogs made break away.
The Eagles showcased their defensive abilities once again as they stopped the home team at the net several times, highlighted by blocks from Stephani Argapao and Brandi Tkel as well multiple digs from Tasi Castro.
The last few plays of the set left fans on the edge of their seats with the game tied at 19-all, but Okkodo's Cepeda and Jestyne Sablan were able to blast in clutch kills to close out the set 25-21.
Other Scores
#1 Notre Dame def. #8 St. John's 25-20, 26-24, 25-20
#2 GW def. #7 Southern 25-23, 25-19, 25-12
#3 Academy def. #6 JFK 25-20, 25-17, 25-16
#4 Okkodo def. #5 Harvest 25-12, 25-21, 25-23
Up Next
Semifinals on Tuesday 6 pm
Okkodo @ Notre Dame 
Academy @ GW
PHOTO GALLERY BROUGHT TO YOU BY:

Foody's 5 Fun Facts
ND Royals Volleyball Setter Gabrielle Piper
DID U KNOW?
Guam National Track & Field sprinter and St. John's Cross Country/Track Star Madison Packbier is the daughter of former Track Star Tara Steffy granddaughter of GNOC's Bob Steffy.
COMING SOON …
– Marianas Open Aug. 31
– FIFA: Guam vs. Maldives Sept. 5
– Submit VI on Sept. 6
QUICK HITS
Former JFK All-Island lineman Christopher Parker transfers to De Anza College in Cupertino, CA. De Anza finished last season 10-1 and won the American Conference Championship Bowl. Good luck Chris!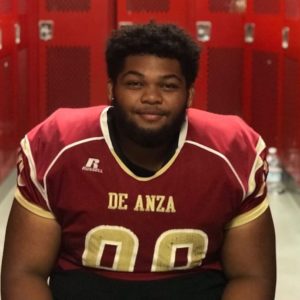 —————————————————-
Die-hard Rams fan Kenny Artero is in Hawaii to catch his beloved team play the Cowboys at Aloha Stadium in a preseason NFL game. Artero got a chance to meet Hall of Fame running back and Rams legend Eric Dickerson.