By Jay Leon Guerrero
The bank was open late Thursday night at the Calvo's Field House. Down 47-45 with two seconds left on the clock, Bank of Guam's Conrad Berg found teammate Ryan Treltas open at half court and Treltas took two dribbles away from the defenders and threw up a 35-foot prayer. It seemed like eternity in the eyes of opposing team players from Team PDS as they watched the shot "bank" in off the backboard for the heartbreaking 48-47 loss in the basketball recreation division playoffs.
"After the timeout, the game plan was to get the rebound if they were to miss the free throw and get up a fast shot. After the free throw, Conrad gave me the quick pass and I looked for the opening and took the shot," said Treltas. "Thankfully for us it went in and I'm glad to get the win."
PDS, a top seed in their division, will have to wait till next year after suffering their second loss in the double elimination format. "PDS played really well, they are a great team," said Treltas.
Up by as much as 12 points, PDS looked to easily advance; but missed free throws down the stretch were the Achilles heal for the higher seeded team.
The game went back-and-forth in the first half with PDS clinging to a slim one point lead at the break. John Mangonon and Kaipo Sotelo ignited a 12-1 PDS run to start the second half. Jorge Paxtian made a three-pointer and Joshua Madrid from PDS followed up with a fast break lay-in to cap off the run to go up 37-25.
Glen Gogue led the Bank of Guam comeback after he ended the PDS run with a three-pointer. Berg followed up going 4-4 from the charity stripe to chip away at the PDS lead. Brian Aflague completed the BOG 10-0 run hitting an open three-pointer to put the green machine back in the game.
Mangonon ended the PDS drought converting on the "and 1" lay-in followed by two free throws by Sotelo to go up 46-42 with 30 seconds remaining.
On the ensuing possession, BOG burned a lot of time on the clock before an open Treltas hit a big time three-pointer with 10 seconds remaining to cut the lead 46-45.
BOG then fouled Mangonon to stop the clock. Mangonon missed both free throws but was recused by teammate Frank Duenas who hustled for the offense board, his eighth rebound of the game.
Duenas was immediately fouled and made the first, but missed the second free throw as Berg collected the rebound and found Treltas open at mid court for the game winner.
Mangonon led all scorers with 18 points, Sotelo had 12 points and 8 rebounds. Paxtian had 9 points and 10 rebounds for PDS.
Treltas led the offense for Bank of Guam making 4-6 shots from three-point land for 12 points, Symon Madrazo scored 10. Gogue had 9 points, Berg had a game high 7 assists to go along with his 6 points and 6 rebounds for BOG.
In the winners bracket games, the UOG Tritons remained undefeated with the 62-43 victory in the recreation division. Dinnery Lorenzo and Jon Manglona each hit three-pointers to start off the second half for the 35-32 lead.
The Coldstone lead was temporary after UOG's Eric Reyes went on a tear in the second half for the victory. Reyes made 3 three-pointers in the second half and scored a team high 17 points to help his UOG pull away late in the second half. Reyes had 17 points for UOG.
Lorenzo scored 20 points to lead all scorers, Manglona chipped in 11 for Coldstone who suffered their first loss of the playoffs. Coldstone will take on Westin next in an elimination game.
In other elimination games, Docomo defeated ST Corp 66-48. Jan Flores scored 20 points for Docomo, teammate Jason Toves scored 16. Edgardo Baza and Mike Bork each scored 18 points for ST Corp.
Triple J kept their playoff hopes alive with a 51-37 victory over Cost-U-Less. Rickson David had 14 points for Triple J, Anthony Blaz scored 9 points for Cost-U-Less.
PHOTO GALLERY:

Foody's 5 Fun Facts
Harvest Eagle Trinity Terlaje
DID U KNOW?
FD senior Matt Fegurgur first dunked a basketball in his freshman year when he was 6'4″. The now 6'9″ center looks to dominate high school hoops.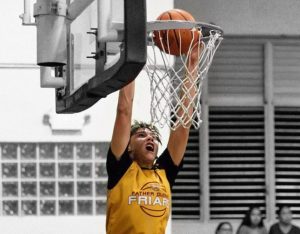 COMING SOON …
– Rizin 21: Aguon and Martinez
– FIBA Asia Cup: Guam vs. New Zealand, Feb 23
– Zach and Larry Return to Guam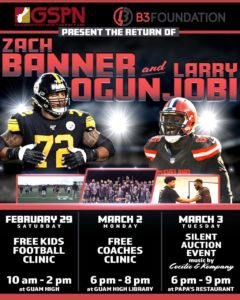 Brawl MMA March 13
QUICK HITS
190 runners took part in the 48th Hafa Marathon (half marathon).
Here are the top 5 finishers:
Ryan Matienzzo 1:13:17
Kris Lawrence 1:24:12
Taiga Sato 1:25:05
Chris Rasmussen 1:26:48
Carlos Leon Guerrero 1:28:46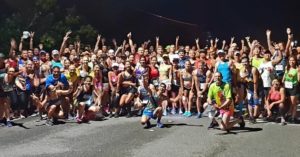 —————————————————-
Guam flags were waving in Clearwater, Florida in support of Bubba Nickles and Team USA in their Pre Olympics Softball Tour.