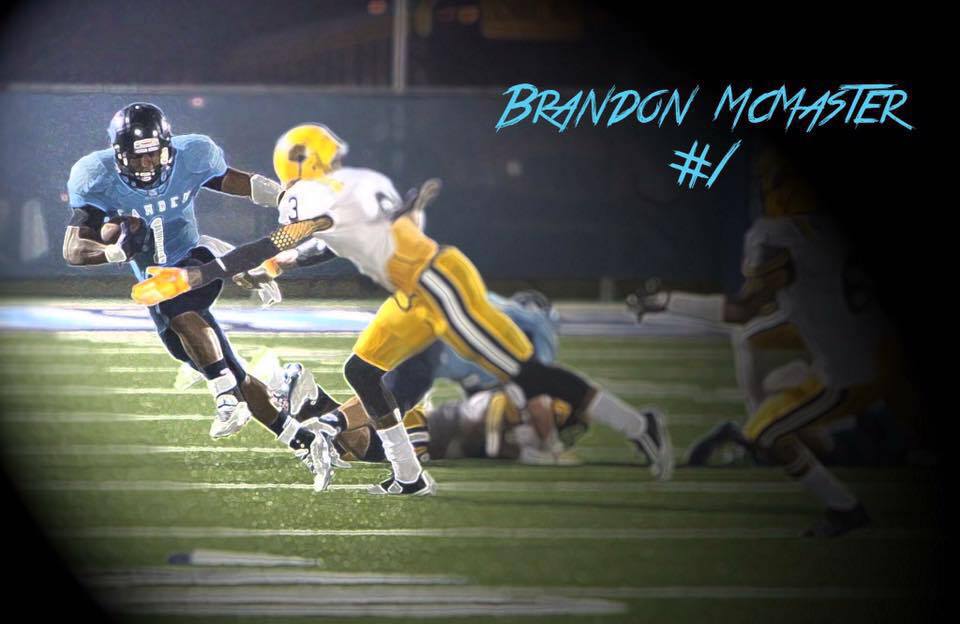 [useful_banner_manager_banner_rotation banners=72,74,79 interval=10 width=120- height=600 orderby=rand]
By Michael Cruz
If the name Brandon McMaster looks familiar it should be to the fans who followed the Guam Youth Football League (GYFL) to the Guam Youth National Football Federation (GYNFF) for the past seven years. McMaster was the starting running back for the Gatorade Guam Giants. The Giants beat the GTA TeleGuam Raiders for the Metgot Championship 26-13 in 2010.
Since then, McMaster had left Guam due to his family's being in the military. They relocated to South Georgia in Kingsland, GA. His hard work ethic comes from the values instilled by his parents. In 2011, the end of his 6th grade year, he was already embracing the grind stating on Facebook 'I GO HARD NO DAYS OFF'.
Football is pretty serious in the State of Georgia. Middle school football is common and players learn playbooks to prepare them for high school and strength and conditioning is a part of the lifestyle too. Brandon followed this regiment and played two years of football in middle school. By the end of his 8th grade year he was benching 225 lbs.
Brandon entered Camden County as a freshman looking to make an impact for the Wildcats. He started at running back and strong safety with the freshman team. McMaster was next moved to junior varsity during the regular season. By the end of the season, he was on varsity finishing with 62 yards rushing as a true freshman.
The Wildcats finished 10-2. His sophomore season, Brandon set the bar higher and became the starting running back. He finished the season with 98 carries for 866 yards and 6 touchdowns leading the team. Brandon also had 100 yards receiving leading the team as well.
The Wildcats started strong going 5-0, but went 0-5 in arguably the toughest region in the state of Georgia. Four of their five losses were by six points or less. McMaster also was active in the football camp circuit. He won the 9th grade MVP at the NUC 2014 Five-Star Showcase in Orlando, Florida. McMaster was already 5'8 and 193 lbs.
Enter his junior year, McMaster was a returning First Team All-Region Running Back. He was now 5'9 and 200 lbs. His strength and speed increased overall with impressive numbers as follows: 40 Yard Dash (4.53) 5-10-5 Shuttle (4.35), Bench Press (350) Squat (495), and Vertical (31). The Wildcats improved with more experience and it showed on the field. They went 9-0 and faced Colquitt County who was also 9-0 with the winner between the two would become Region Champion.
Brandon had a great game rushing for 15 carries for 101 yards and a touchdown. Colquitt County won the game 33-14 and went on to win state and finish in the top five nationally. Camden County finished 10-2 and won one game in the playoffs. Brandon finished the season with 793 yards rushing, 130 yards receiving, and 9 touchdowns.
[youtube id="d3fQ1010qPQ" width="620″ height="360″]
Rising Junior
Brandon was selected to the Georgia Rising Junior All-Star Game. The game consists of 90 of the best players in the Class of 2017. McMaster turned heads in practice and on one play he had a big hit against Richard LeCounte III who is verbally committed to Georgia and holds numerous SEC offers.
https://twitter.com/pmaharry/status/682018868353699840
The play was memorable enough for LeCounte to comment about it on social media and to Richard's credit he never missed a rep. Georgia Strong.
https://www.dawgnation.com/football/recruiting/5-star-uga-commit-lost-a-tooth-at-practice-but-never-missed-a-rep
The game was played on December 31 and McMaster played well. Playing for Team Dedication, Brandon ran for 9 carries for 35 yards and 1 TD in a 21-18 loss to Team Commitment. His teammate included Cam's little brother Caylin who of course plays quarterback. With one year left to play high school, Brandon may just turn enough heads to have a chance to play on Saturdays. From the GYNFF to the SEC or ACC?
http://www.ncsasports.org/football-recruiting/ga/kingsland/camden-county-high-school/brandon-mcmaster3
NOTES: Former All-Island players Quintin Iriarte, Jesse Karl Cruz, and RJ Rokop played for the Raiders. Former Friar player Tyler Okiyama was Brandon's QB. Brandon also had current Guam High all-purpose back Juan King Jr. on his team as both scored touchdowns in the championship. Juan is now a junior and is one of the IIAAG's best when healthy. Brandon played in the GYNFF from 2008 and 2010. He also played with the Southern Cowboys junior peewee team.

QUICK HITS
Guam MTB National Championship: Edward Oingerang and Jennifer Camacho are your 2023 MTB national champions. Oingerang finished the course in 1:13:24 while Camacho won her second straight title in 54:08.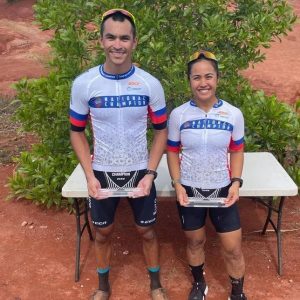 ——————————————
Kobe Miyashita, with St. John's coach Arvin Flores, was named the 2023 IIAAG Middle School Boys Volleyball MVP!