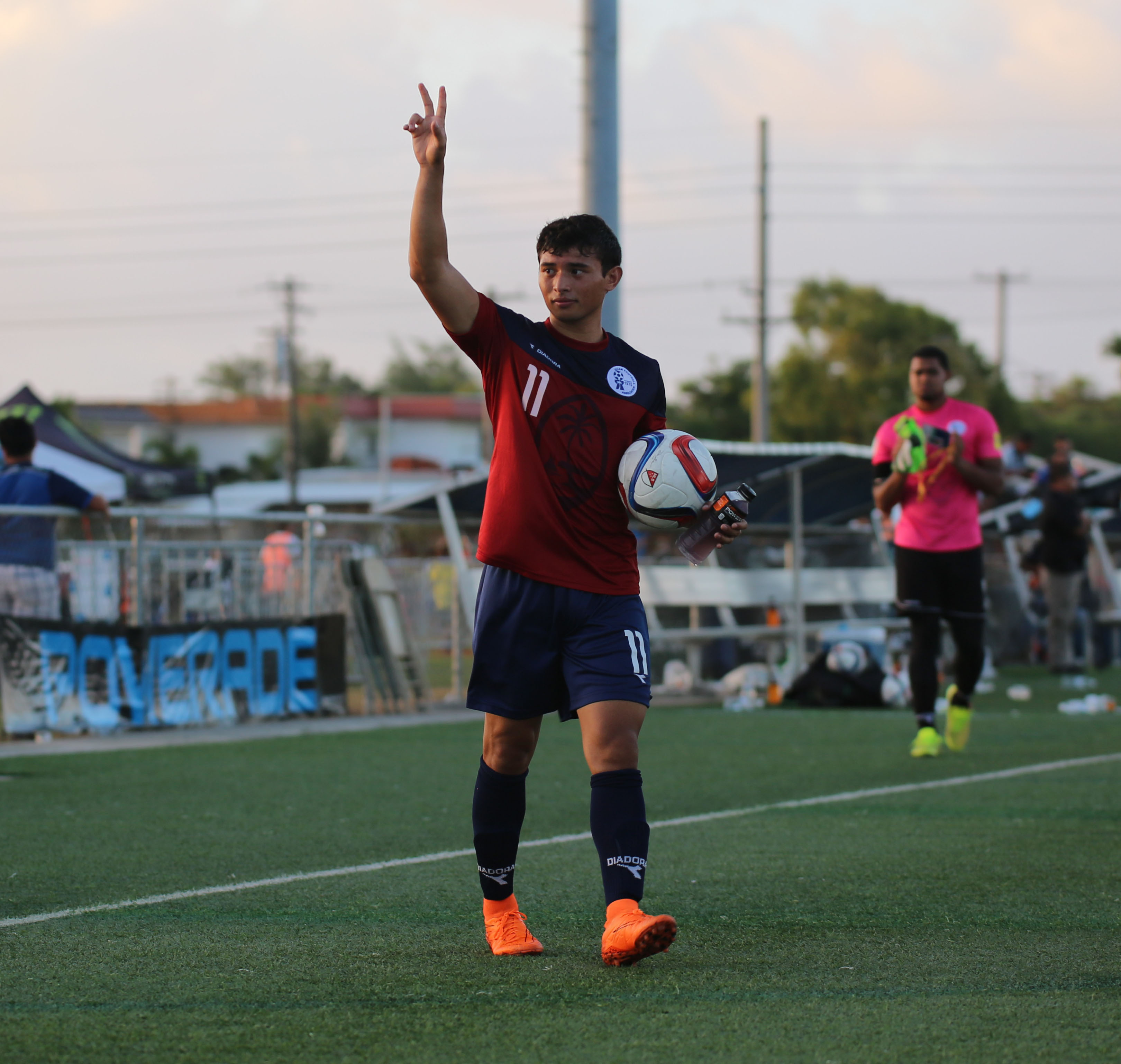 [useful_banner_manager_banner_rotation banners=72,74,79 interval=10 width=120- height=600 orderby=rand]
PRESS RELEASE – For Malojloj resident and Matao wing back Dylan Naputi, 2016 will be the year he takes the next step to realize his childhood dream – playing soccer professionally – when he suits up for VC Fusion in Ventura, Calif. in March.
"I'm very excited for this opportunity – since playing soccer in my youth league days, my dream was to play soccer professionally," Naputi said. "It has taken years of being committed to development in the sport – never giving up and striving to be better each time I get on the field – to get where I am today. Playing in international matches with the Matao under head coach Gary White and alongside professional players has helped me grow as a player technically and tactically, as well as on and off the field.
"I also give credit to Guam Football Association and GFA President Richard Lai for opportunities through its national program, and of course, my family – most especially my parents – for their constant support. My dad (Vince) was the one who pushed me to become a better player and helped me make the decision to play professionally – he put in hours and hours of training with me. Also, I wanted to be better than what my dad was at soccer – that also was a drive for me to become better," added Naputi, who turned 21 on Jan. 4.
Naputi currently is on the Matao roster for Guam's series of matches in the 2018 FIFA World Cup Russia and AFC Asian Cup UAE 2019 Joint Qualification Round 2. He most recently played in Guam's home match against I.R. Iran – Asia's No. 1-ranked team – on Nov. 17, entering as substitute in the second half. The team will play its final fixture of Round 2 on Mar. 24 against Oman in Muscat, after which Naputi will travel to Ventura, Calif. to begin playing for VC Fusion.
White introduced Naputi to VC Fusion CEO and close friend, Ranbir Shergill, and also assisted with Naputi's transition to the club, which plays in the Southwest Division in the U.S. Premier Development League's Western Conference. VC Fusion was conference champion in 2009, the same year the club was crowned PDL champion. The team also is a two-time Southwest Division champion, winning in 2010 and 2012. The PDL is the fourth tier of the U.S. soccer league system behind the MLS, NASL, and USL.
"I'm obviously very pleased with Dylan's overall development and commitment to the sport and look forward to seeing him emerge an even better, faster, and stronger player with VC Fusion," White said. "From the start, the message has always been clear to all players vying for spots on the Matao roster – in order to be considered, players must be constantly pushing themselves to play at higher levels. Taking full advantage of this opportunity will be paramount to Dylan's future success in the sport.
"Certainly more doors of opportunity will open not only for Dylan, but for other talented and deserving players from Guam," White added.
Naputi started playing soccer when he was four years old when his parents registered him to play for the Tigers in the Robbie Webber Youth Soccer League. He briefly moved to Boise, Idaho with his family when he was 10 years old and played for the Boise Capitals and Les Bois United. He returned to Guam after four years in Idaho and joined the Orange Crushers, before finishing out his youth league days with the Wings Football Club. Naputi currently plays for the Strykers FC in the premier division of the Budweiser Soccer League, after playing previously with Cars Plus and Fuji Ichiban/Table 35 Espada FC.
Naputi was first called up to the Guam men's national team while still a student at George Washington High School and scored three international goals before his high school graduation in 2013. Naputi scored his first goal in 2011 at the Pacific Games in Noumea, New Caledonia in Guam's 2-0 victory over American Samoa. He later scored twice for Guam in 2012 – once in the Matao's 3-0 victory against Macau in the 2012 Philippines Football Peace Cup in Manila, Philippines, as well as the lone goal in Guam's 1-1 draw with Chinese Taipei in the EAFF East Asian Cup semifinal round in Hong Kong.
Naputi also captained Guam's U18 men's national team in the 2013 EAFF U18 Youth Championship held in Guam.
In order to prepare for the next level in his soccer career, Naputi is putting in two solid workouts daily, with morning runs and personal fitness training later in the day, while the Matao is on break. Beginning Jan. 11, Naputi will re-join the Matao training squad in evening sessions. Naputi hopes that through success with VC Fusion and the Matao, he will eventually earn playing spots on higher-ranked professional club teams in the U.S. or abroad, including the J-League, Japan's professional league, he said.
Naputi is the oldest son of Vince and Elaine Naputi and has one older sister, D'Ana, and one younger brother, Xavier.

QUICK HITS
Guam MTB National Championship: Edward Oingerang and Jennifer Camacho are your 2023 MTB national champions. Oingerang finished the course in 1:13:24 while Camacho won her second straight title in 54:08.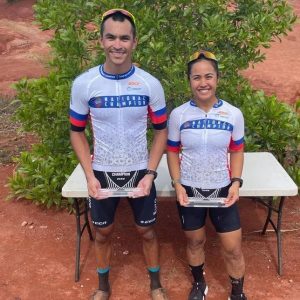 ——————————————
Kobe Miyashita, with St. John's coach Arvin Flores, was named the 2023 IIAAG Middle School Boys Volleyball MVP!