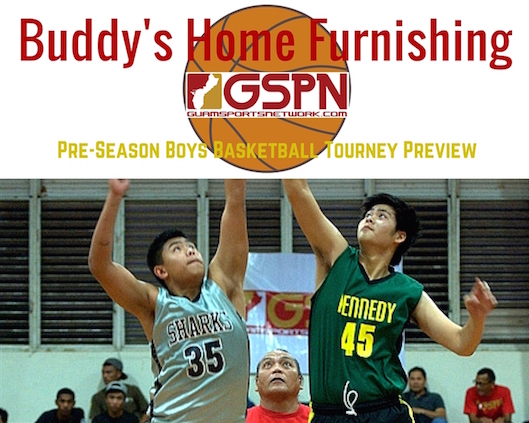 [useful_banner_manager_banner_rotation banners=72,74,79 interval=10 width=120- height=600 orderby=rand]
By Robert Balajadia
Tip-off is just two days away for the 2016 Buddy's Home Furnishing and GSPN Pre-season Boys Basketball Tournament with 10 teams ready to shake off the early season rust. The Southern Dolphins and Tiyan Titans were the only two high school teams to opt out of the 2016 tourney.
The tourney will officially begin on Wednesday at the St. John's gym with the home team Knights set to square off against the ND Royals at 5:30 pm followed by a barn burner between the JFK Islanders and Okkodo Bulldogs. The conclusion of the tourney will also be next Wednesday with the Exhibition Game between Team Kali vs. Team Destiny set to go before the finals.
Teams
Group A  – FD Friars, GW Geckos, St. Paul Warriors, St. John's Knights, ND Royals
Group B – JFK Islanders, Okkodo Bulldogs, Sanchez Sharks, Guam High Panthers, Harvest Eagles
GROUP A
FD Friars
Head Coach – Eddie Pelkey
The runner ups in 2015 after winning the title in 2014, the Friars have retooled their uber talented roster. Most teams would consider a 2nd place finish a successful season, but the Friars instead considered last year a disappointment given their talent filled roster. The best on paper didn't quite function the same on court with 12 players deep that could have been starters on any other roster in the league. 2016's team is a much different look with a blend of young talent and a few of Pelkey's veterans set to compete with the best in the league.
GW Geckos
Head Coach – Lawrence Luces
The defending champions of the first ever GSPN pre-season tournament have every intention of retaining their title after finishing amongst the leagues best in the 2015 regular season. The Geckos will have work horse Nathaniel Kyle Gaitan and scorer Devin San Agustin back for the 2016 run, but the loss of a senior talent like Matt Soto and the two towering Alegre twins will be a tough group to replace. No matter who is on the roster, the league always considers the purple and gold a dangerous team.
St. Paul Warriors
Head Coach – Neil Pineda
2015's second round playoff exit foreshadowed a rather strong season from the St. Paul Warriors. The height lost from big men John San Andres and Isaiah Ewert have been replaced with the athletic bigs of Ethan and Errol Alegre. Guard Chris Monk is also returning, giving the boys in blue a handful of capable athletes.
St. John's Knights
Head Coach – Fred Peters
No team benefitted more from the pre-season tournament in 2015 than the St. John's Knights. Coach Peters wasn't sure if his team would be ready for the varsity division, but the pre-season tourney matured his group of freshmen into an upstart team that took the league by storm. With each of his freshmen five returning in 2016, the Knights behind guard Michael Min and Takumi 'Curry' Simon are out to start winning now rather than later.
ND Royals
Head Coach -Lawrence Broussard
The underdog ND Royals relied heavily on their bigman Hance Barcinas last year and nearly came away with a playoff upset over the St. Paul Warriors. Barcinas will be joined by younger brother Holden to anchor the Royal front court that is full of scrappy guards. ND will be in the mix of teams that will benefit greatly from the early season experience.
POOL B
JFK Islanders
Head Coach – Rey Serafico
The target on their backs doesn't get much bigger for the defending champion Islanders who won their first basketball title in nearly a decade. JFK entered the pre-season strong and only got stronger as the season went on. Losing senior Ricky Pak to graduation is a big loss of leadership for JFK, but sharpshooter Billy 'The Kid' Belger has assumed the Islanders alpha role. The Islanders aren't ready to give up their IIAAG title anytime soon and adding a pre-season title in 2016 will be the first step to their plans to repeat as regular season champs
Okkodo Bulldogs
Head Coach – Desmond Mandell
Since the school opened in 2008 the Okkodo Bulldogs have never not been a competitive basketball team. The school breeds basketball talent and 2016 is going to showcase a wealth of new faces with first time head coach Desmond Mandell. #TheVern Gustillo will lead the team in his final year after the team lost 2015 MVP Karl Melencio to graduation. The Bulldogs are a group with good chemistry they aren't planning on dipping out of the competitive 2016 season.
Sanchez Sharks
Head Coach – Jin Han
No team spends more time under a coach than the Sharks do under head coach Jin Han. After spending an undefeated cross-country season with Han in the 1st quarter, the group will once again suit up for a strong basketball run. The Sharks were also a team that go better as the pre-season tourney went on and proved to be a much tougher opponent in the regular season. Guard John Buan will lead the Sharks with the Castro brothers set to give the team depth. No one is taking the Sharks lightly in 2016.
Guam High Panthers
Head Coach – Joe Taitano
The King brothers Jujuan and Juan are back after spending one year with the FD Friars. The return is most welcomed for the Panthers after also getting back legendary head coach Joe Taitano for the 2016 season. The Panthers' gritty group didn't stack up as many wins in 2015 as they would have liked, but 2016 appears to be more promising. Guard Rodney Taitague is also prepped for a big return after turning in a strong 2015 season.
Harvest Eagles
Head Coach – Stephen Yates
Guard Kobe Sotello is as good as any in the league and he leads a young Harvest team that is basketball hungry. The Eagles are still out to climb the atop the basketball ranks and the 2016 tourney will be a stepping stool for the young group. They did manage to come away with strong pre-season tourney wins in 2015, but that didn't translate into a winnings season as they'd hoped.
Tourney Schedule
Wed: SJ vs. ND 5:30 pm
Wed:  JFK vs. Okkodo 7:05 pm
Thurs: GW vs. SP 5:30 pm
Thurs: SS vs. Guam High 7:05 pm
Fr: Harvest vs. JFK 5:30 pm
Fri: FD vs. SJ 7:05 pm
Sat: ND vs. GW 9 am
Sat: Okkodo vs. SS 10:35 am
Sat: SP vs. FD 12:10 pm
Sat: Guam High vs.Harvest 1:45 pm
Sat: SJ vs. GW  3:20 pm
Sat: ND vs. SP 4:55 pm
Sat:  JFK vs. SS 6:30 pm
Sun: Okkodo vs. GH 9 am
Sun: FD vs. GW 10:35 am
Sun: Harvest vs. SS 12:10 am
Sun: SP vs SJ 1:45 pm
Sun: JFK vs. GH 3:20 pm
Sun: Okkodo vs. Harvest 4:55 pm
Sun: FD vs. ND 6:30 pm
Mon: A3 vs. B2 5:30 pm
Mon: B3 vs. A2 7:05 pm
Tues: Semifinals A1 vs. A3/B2 5:30 pm
Tues: Semifinals B1 vs. B3/A2 7:05 pm
Wed: Team Kali vs. Team Destiny Exhibition and Finals

QUICK HITS
Guam MTB National Championship: Edward Oingerang and Jennifer Camacho are your 2023 MTB national champions. Oingerang finished the course in 1:13:24 while Camacho won her second straight title in 54:08.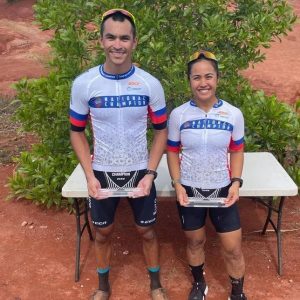 ——————————————
Kobe Miyashita, with St. John's coach Arvin Flores, was named the 2023 IIAAG Middle School Boys Volleyball MVP!