[useful_banner_manager_banner_rotation banners=72,74,79 interval=10 width=120- height=600 orderby=rand]
PRESS RELEASE – The Guam Baseball Academy is hosting seven Yomiuri Giants professional baseball players from Tokyo, Japan. The Yomiuri Giants are regarded as the New York Yankees of Japan and are also referred to as the Tokyo Giants. The Giant's players will be training on Guam from January 6 through January 20.
"Every year the Yomiuri Players come to Guam for personal conditioning training and skill work prior to returning to Japan to start the Giants spring training camp" says Bill Bennett, Guam Baseball Academy Instructor.
This past December, the Giants sent a representative to select the training ground for the Giant's Players. After visiting all the facilities available on Guam, the Giants selected the newly renovated Okkodo High School Baseball Field which is operated and maintained by Guam Baseball Academy. According to Mr. Shinouke Abe, "after visiting the Okkodo Baseball Facility I found the field in prime condition for the players to practice and is of Major League size and dimensions, the turf is ideal for our practice needs."
The Giant's Players will be working on long-throw and catch, hitting, base running, aerobic conditioning and other baseball specific conditioning drills to prepare themselves for the upcoming 2016 baseball season.
During the Giants stay on Guam the players will conduct a training session for Okkodo Students at the Okkodo Baseball Field. Students will have the opportunity to learn some basic fundamental baseball skills Yomiuri Giant style. All parties benefit from this relationship, the Giant's Players have an excellent practice facility, the students get the benefit of interaction with the players and the school gets the recognition for having a baseball field it can be proud of.
Bennett adds, "This is really a testament to the great public-private partnership between Guam Baseball Academy, GDOE and Okkodo High School.  It brings to reality the benefits and opportunities with committed organizations partnering to maintain our island's sports facilities at a high standard. This is the first of many Guam Baseball Academy events at Okkodo High School on the 2016 calendar that benefit the school, community and Guam baseball."

Athletes Birthdays by W5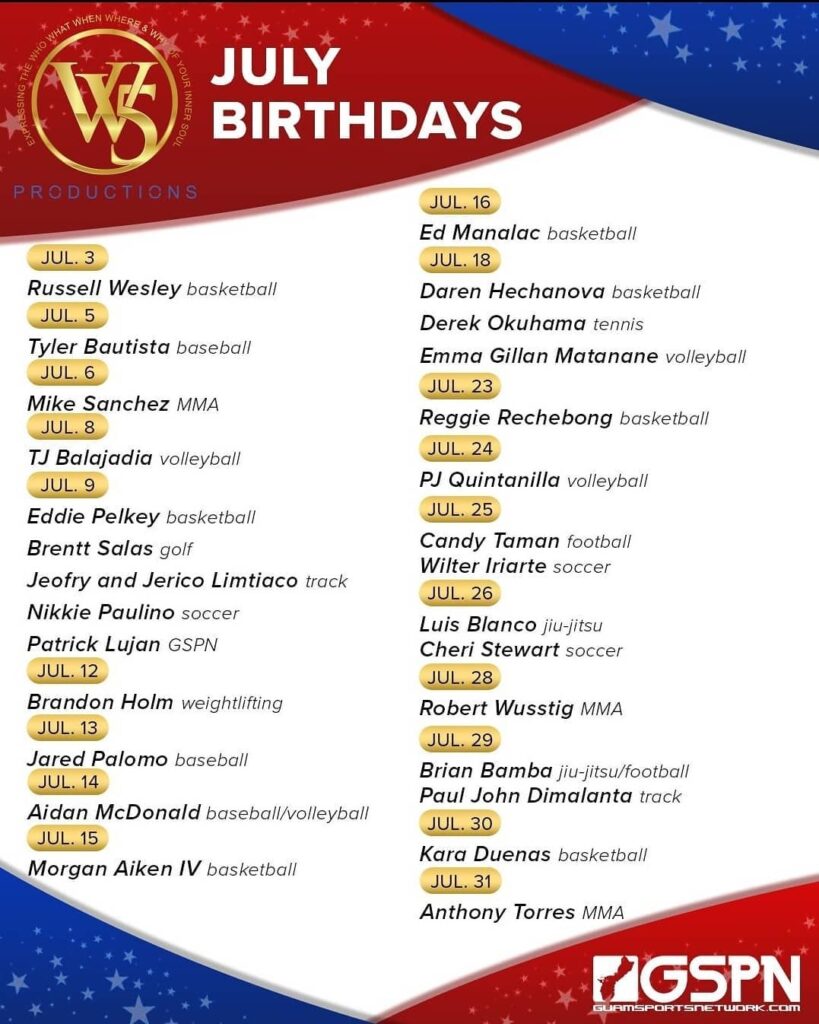 Foody's Fun Facts
Favorites From Year 2
COMING SOON …
2020 Tokyo Olympics
UFC Fight
Aug 1: Trevin Jones vs. Tony Kelley
QUICK HITS
——————————————————–
Guam's Joey Miranda met up with Chamorrita Softball Star Bubba Nickles and Olympic Teammates Dejah Mulipola and Aubree Munro out in Tokyo as we approach the Olympics!
Photo credit: GNOC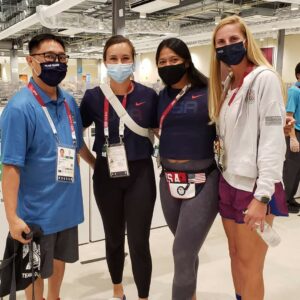 ——————————————————–
Former Guam resident Tre Taylor has committed to play cornerback for the Southwestern Junior College Jags.
Turner attended Harvest and FD before transferring to Hawaii where he played for Saint Louis, the 5th ranked team in the nation.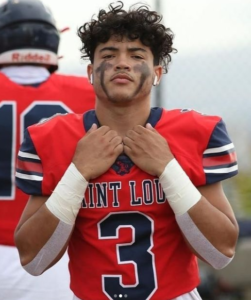 ——————————————————–
The big man Zach Banner getting to throw out the first pitch earlier today for the Pittsburgh Pirates!