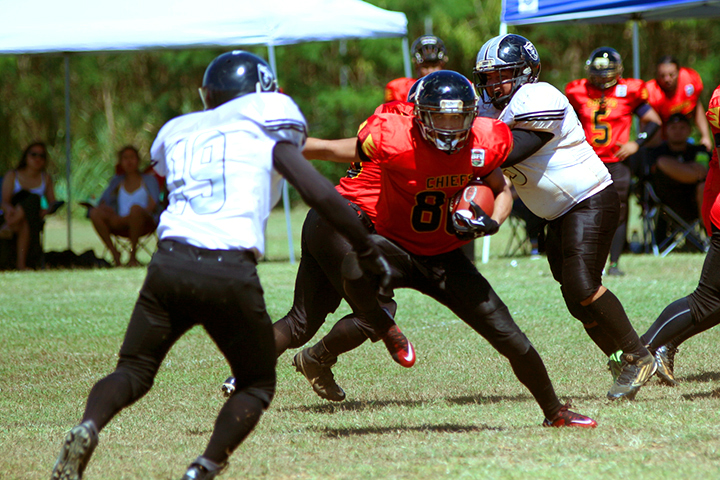 [useful_banner_manager_banner_rotation banners=72,74,79 interval=10 width=120- height=600 orderby=rand]
By John Wesley Jr.
Led by Louie Rivera's two touchdowns, the Chiefs ended the Black Raiders' Budweiser Football League season Sunday with a dominating 22-2 victory. The Black Raiders had a chance to move on to the playoffs, but needed to win by more than 20 points to do so.
Rivera and his Chiefs teammates had other plans though and despite scoring all their points in the first quarter, they did enough to earn a first round match-up against the two time defending champion IT&E Silver Raiders.
The Chiefs came out guns blazing and jumped to an early lead when Rivera scored his first touchdown. After a bad snap by the Raiders, Rivera picked up the loose ball and took it to the house.
"I was just thinking, run," said Rivera, adding that nobody was going to stop him from making it to the end zone.
Rivera would hit pay dirt again in the opening period, when he caught a 10-yard pass from quarterback Leeray Zaptos. The Chiefs' Tom Medler converted their 2-point conversion attempt on a rush to go up 14-0. Medler also scored the third and final touchdown when he busted through pylon from ten yards out.
The short-handed Raiders put up a valiant effort, holding the Chiefs scoreless for the last three quarters. They got on the scoreboard when Zachary Lambert and Calvin Muna converged on a safety. That would be their final points as the loss leaves them on the outside looking in for the playoffs.
"I wanted us to play hard today," said Rivera after winning the Wendy's Player of the Game. "I'm hoping we can take this win as momentum heading into Friday."
Saturday game
After leading the entire game against the IT&E Raiders, the Micronesia Renewable Energy Hal's Angels couldn't stop the defending champs in the last minutes of the game. The Raiders squeaked by with a narrow 28-21 victory to secure the number one seed in the post season.
Playoffs
The first game of the playoffs will be Friday, January 29 at Angels Field. Game time is 7:30p.m.
PHOTO GALLERY BROUGHT TO YOU BY:

QUICK HITS
The Guam Smokin' Hot women's softball team captured first place in the Asia Cup Softball Championships 2023 in Bangkok, Thailand.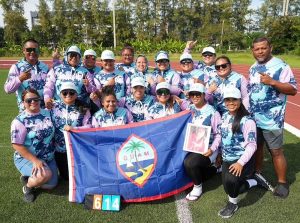 ——————————————————-
Roque Martinez gets the unanimous decision win Saturday night in his debut fight in South Korea's Black Combat promotions.
The 37-year-old controlled the tempo all three rounds and bloodied his opponent with some 3rd round ground and pound.