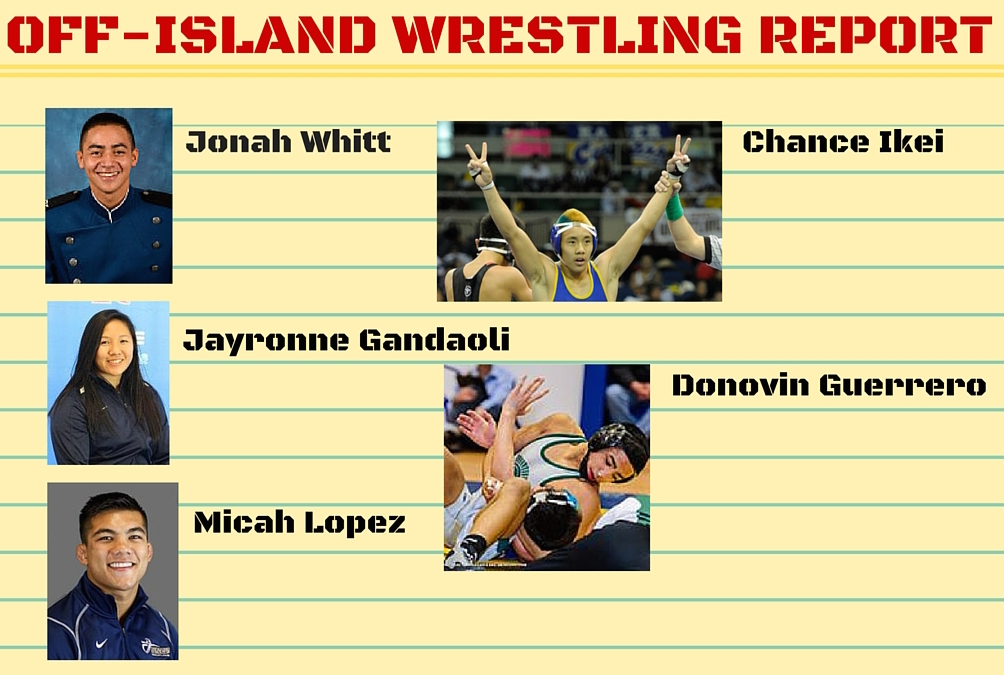 [useful_banner_manager_banner_rotation banners=72,74,79 interval=10 width=120- height=600 orderby=rand]
By Michael Cruz
The high school wrestling season on Guam ended in the 2nd quarter. However, the season is still ongoing for wrestlers in college and high school that have Guam connections stateside. Seven former prep athletes from Guam schools are wrestling collegiately and four high school wrestlers stateside will contend for state championships.
College
Matthew Aguigui – Campbell 2o15 – Warner Pacific (NAIA) – Aguigui's family is from Agat. He placed 2nd as a senior at the Hawaii State Championships in 2015. He is redshirting this season.
Pavin Blas – FD 2014 – Warner Pacific (NAIA)-Blas as a senior finished 3rd at All-Island in the 126 lb. division. He is redshirt freshman and wrestles at 133 lbs. He is the backup to redshirt freshman starter Alex Usura. Blas wrestled in a dual meet in Portland, Oregon.
Nainoa Calvo –  FD 2015 – Stanford (Division I) – Calvo made the wrestling team as a walk-on and wrestled in his first collegiate match on November 1. He won the IIAAG All-Island Wrestling Championship at 160 pounds in 2014.
Jonah Whitt – St. Thomas 2014 – Air Force Academy (Division I) – Whitt is former 3 time all-island champ who wrestled for Simon Sanchez. Whitt is a freshman and wrestles at 141 lbs.
Micah Lopez – Harvest 2013 – California Baptist (Division II) – Lopez is a former All-Island champion at FD. Lopez has record of 3-4 which includes two pins.
Jayronne Gandaoli – Academy 2015 – King University (NWCA) – Gandaoli has won numerous titles on Guam and off-island for wrestling and Brazilian jujitsu. King is the defending national champions and currently ranked #1 with a team record of 15-1.
Jovan Ignacio – Sanchez 2014 – The former standout football player and wrestler for the Sharks is wrestling for the Iowa Lakes Community College Lakers. He is a freshman and has competed in about six to seven matches this season at 197 lbs. and above.
High School
Chance Ikei – Chandler 2016 – Ikei has Guam roots from his mom's side Racquel Dizon Ikei. His dad is Chad Ikei who trains football players in high school to the NFL. He took up wrestling in 8th grade on Hawaii. Fast forward four years later and he has won two Hawaii state titles and has an offer to wrestle at Arizona State. He is wrestling his senior year in Arizona for better competition and to prepare for collegiate wrestling. Wrestles at 132 lbs.
Donovin Guerrero – De La Salle 2016 – Guerrero's family is from Malesso and he started wrestling in elementary school. Has been wrestling varsity since his freshman season. Currently ranked 3rd in the state of California. Has made the state tournament three years straight and is the two-time defending North Coast Section Champion winning at 106 lbs. and 113 lbs. respectively. Is wrestling at 120 lbs. with aspirations of bringing home a CIF state title in 2016. Check out the feature on the young 'Island Boy' HERE.
Dwayne Guerrero – De La Salle 2019 – The younger sibling is also making a name for himself as a true freshman. Currently, ranked #24 in the state at 113 lbs. and has a good chance to make state tournament.
Slater Cruz – Lee County 2016 – Cruz placed 3rd at the Georgia State Tournament at 132 lbs. as a junior. He returns for his senior year with the goal to bring home a state championship.

QUICK HITS
Guam MTB National Championship: Edward Oingerang and Jennifer Camacho are your 2023 MTB national champions. Oingerang finished the course in 1:13:24 while Camacho won her second straight title in 54:08.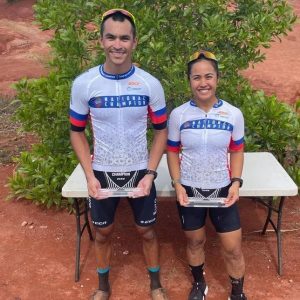 ——————————————
Kobe Miyashita, with St. John's coach Arvin Flores, was named the 2023 IIAAG Middle School Boys Volleyball MVP!