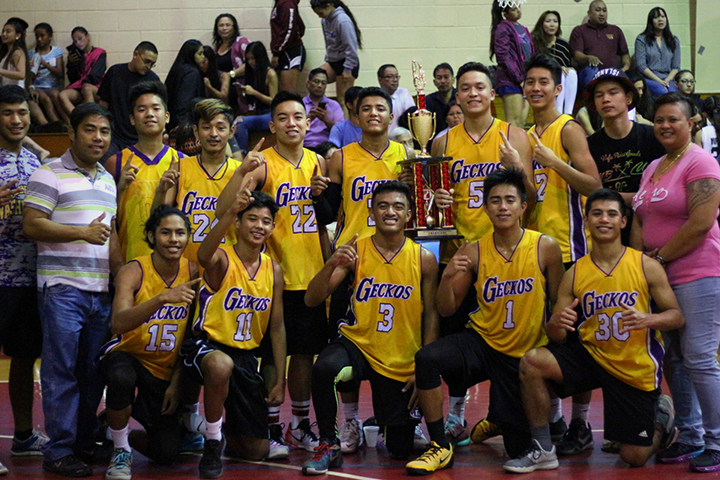 [useful_banner_manager_banner_rotation banners=72,74,79 interval=10 width=120- height=600 orderby=rand]
(Catch the live audio broadcast with Robert Balajadia HERE)
By Jay Leon Guerrero
For the second straight year the GW Geckos defeated the Okkodo Bulldogs in the pre-season basketball championship game. The Geckos went on scoring spurts in the second and fourth quarters to win the Buddy's Home Furnishing boys preseason basketball tournament 66-51 over the Bulldogs.
After losing their opening game to a buzzer beater against the St. Paul Warriors, the Geckos won five straight games en route to the championship. The Geckos are now instant contenders going into the high school regular season which starts next week.
GW started the contest with a 10-2 lead sparked by the play of GSPN all-tournament team member Nathaniel Kyle Gaitan. The Gecko sophomore sensation ignited the offense making 3-of-5 field goals which included a 3-pointer to take the early lead.
The Bulldogs bounced back to tie the game at 13-13 by the end of the period with Vern Gustilo hitting a deep 3-pointer and Aiden Ferrera converting a lay-in just before the first quarter buzzer sounded.
The Geckos exploded in the second quarter with 21 points with their hot shooting from behind the arc. Devin San Agustin and Jacob Frias each made two 3-pointers in the quarter to go into the locker room with a commanding 34-21 lead.
In Okkodo's previous game against the Pool B top seed JFK Islanders, the Bulldogs trailed by double digits at halftime and rallied back for the win. Just as they did in their previous game, the Bulldogs slowly chipped away at their deficit after halftime.
Austin Blaz and Nate Lorenzo hit shots in the third quarter to slowly chip away at the Gecko lead. Ferrera also scored in the quarter to cut the lead to 7 points before picking up his fourth foul which forced him to the bench.
The Gecko players were in the stands watching when Okkodo got hot against the Islanders and did not allow them to make any comeback in the final period of regulation. GW's Noah Blas scored on fast breaks, Gaitan made acrobatic shots in the paint and Frias hit another three-pointer with four minutes left to push the lead to 15 points.
Gustilo hit a pair of three-pointers in the final period but San Agustin answered with a three-pointer of his own to secure the win. San Agustin led the Geckos with 18 points, 6 rebounds and 2 blocks. Frias scored 14 points and dished out 4 assists, Blas had 9 points and 4 rebounds.
"We knew they were a very strong second half team based in what they showed against JFK. The game plan was to stay composed and keep playing good defense," said San Agustin.
"Last year we started strong to begin the season and then started to slow down as the season ended. This season, we are going to try and push all the way to the end by playing tough defense," said Gaitan.
Gustilo led the Bulldogs with 18 points and 4 dimes. Ferrera had limited playing time but managed 10 points and 9 rebounds. Blaz 10 points and 4 assists, Lorenzo had 6 points and 9 rebounds.
Gaitan flirted with a triple-double recording 16 points, 14 rebounds and 7 assists. The sophomore sensation said his team is happy with the pre-season championship but the ultimate goal is to help GW win a high school championship.
"We still have areas we need to improve and defense is definitely something we need to work on," said Gaitan.
"We learned much from this pre-season tournament. Every school has a strong team, the competition is heavy here," said San Agustin.
Team Kali vs Team Destiny
A pair of decorated female basketball stars will graduate high school this year and GSPN decided to have them play one more game under the spotlight.
Academy's Kali Benavente and ND's Destiny Castro played one last game to end a chapter in their successful high school careers. The Guam National Team members and good friends took the court for a first ever high school stars exhibition game called Team Kali vs Team Destiny.
At the end of the game, Team Kali won 51-47. In this particular contest, winning or losing did not matter. Both teams shared high fives and jokes before, during and after the game. The fans were treated with some fancy dribbling and creative passes by both team captains as the crowd cheered for both sides.
Both girls were named team captains and had an opportunity to choose their respective team in a game to be played prior to the Buddy's Home Furnishing pre-season boys championship game.
Team Kali:
Bila Aguon, G (GW)
Y'lisiah Jorda, G (Tiyan)
Chloe Miranda, G (St. Paul)
Nica Mojas, F (Okkodo)
Anita Onedera, G (JFK)
Kiersten Pangelinan, F (Academy)
Mia San Nicolas, C (Academy)
Marlisah Tenorio, PF (Southern)
Team Destiny:
Britney Bailey, C (Guam High)
Shania Bulala, G (Okkodo)
Meaghan Cruz, PF (Academy)
Jenna Han, G (St. John's)
Kimberly Malalis, G (Southern)
Joy Pangilinan, G (St. Paul)
Cianna Reyes, G (JFK)
Team Destiny led 24-15 at halftime using their size advantage to get second chance points. Castro played quarterback dishing out assists to Meaghan Cruz, Shania Bulala and Ciana Reyes to seize the early advantage. Britney Bailey also scored in the first half and helped inside with offensive rebounding before taking a seat on the bench due to foul trouble.
Benavente led the charge in the second half to help her squad back into the game. Marlisah Tenorio and Mia San Nicolas scored in the paint to help swing momentum in favor of Team Kali. St. Paul senior Joy Pangilinan scored a lay-in and hit a 3-pointer to put Team Destiny back up by seven points.
Underclassmen Y'lisiah Jorda and Chloe Miranda each hit 3-pointers for Team Kali to erase Pangilinan's efforts as the game went down to the wire in the closing minutes.
Tenorio and Anita Onedera scored in the 90 seconds of regulation to put Team Kali up for good. Tenorio scored a game high 21 points to lead all scorers. Benavente scored 9 points and dished out 6 assists in the victory.
Castro scored 13 points and had 6 assists to lead her team. Pangilinan scored 12 points, Cruz scored 10 points for Team Destiny.
PHOTO GALLERY BROUGHT TO YOU BY:

QUICK HITS
Guam MTB National Championship: Edward Oingerang and Jennifer Camacho are your 2023 MTB national champions. Oingerang finished the course in 1:13:24 while Camacho won her second straight title in 54:08.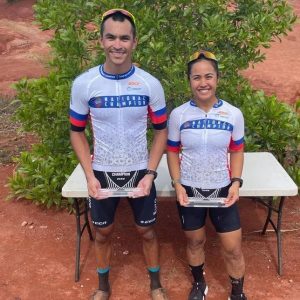 ——————————————
Kobe Miyashita, with St. John's coach Arvin Flores, was named the 2023 IIAAG Middle School Boys Volleyball MVP!