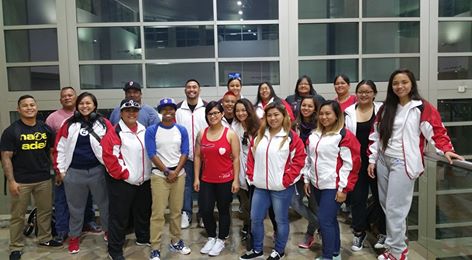 [useful_banner_manager_banner_rotation banners=72,74,79 interval=10 width=120- height=600 orderby=rand]
PRESS RELEASE – Guam Women's Baseball Association is proud to announce that Lady Guahan left from Guam International Airport early Thursday morning for an international women's baseball tournament beginning Friday February 19th to Monday February 22nd in Hong Kong, known as the Phoenix Cup.
The Phoenix Cup, sanctioned by the international governing body of baseball, the World Baseball Softball Confederation, is organized by the Hong Kong Baseball Association, sponsored by Asia Insurance and is in its ninth year of providing women with a high level of international baseball competition.
Lady Guahan was created from a group of former childhood baseball and accomplished softball players to play in the Guam Women's Baseball Cup in 2015. Since then, the ladies have formed their own association and become sanctioned as the national women's baseball team representing Guam under the Guam Major League, INC. and the Guam National Olympic Committee.
After the Guam Women's Baseball Cup, the team has remained together, adding key players and practicing hard to be a better group of players by focusing on baseball techniques to prepare for competitive international tournament events.
Teams participating in the 2016 Phoenix Cup include Japan's Venus Stars who have 6 players from the world number 1 national team of Japan on their roster. Also from Japan is the Far East Bloomers, who participated on Guam in August 2015. Korea is represented by 2 teams, NineVics who have players from Korea's national team on their roster and BULSAJO, an all-star team made of the best women baseball players from around Korea.
China is represented by Shanghai Super Girls and is the only women's baseball team in China. Australia is represented by their national women's baseball development team. The Singapore Panthers will be making their 3rd appearance. Also participating in the 12 team tournament are 2 teams that played on Guam in August 2015, Taiwan Sunflower and Taipei Vanguard. Finally, host Hong Kong is placing 2 entrants. The national team of Hong Kong, The Allies and national development team Hong Kong Bravos.
Association Vice-president Brad Hewitt says "Participating in the Phoenix Cup will allow the players to grow as athletes, provide an opportunity to interact with elite female baseball players from around the world, help improve our association, and increase the number of players in the sport of women's baseball on our home Island of Guam."
Lady Guahan will play a double header on Friday in pool play. The first game will be at 2pm Guam time against Australia. The 2nd game will follow vs Singapore at 430pm Guam time.
For more information about the 2016 Asia Insurance Phoenix Cup and to follow Lady Guahan via live scoring, please refer to their Facebook Page https://www.facebook.com/hkphoenixcup/timeline or the official website: http://phoenixcup.hkbaseball.org/load.php?link_id=99925
Team Roster
General Manager: Lillian Quintanilla, Manager: Pat Fejeran, Head Coach: Coby Barnes, Coach: Peter Taimanglo, Coach: Eric Cepeda
Players: Margaret Cepeda, Sirena Cepeda, Tiania Chaco, Tamara Concepcion, Estafanie Cordero, Ashley Curz, Larissa Dirige, Tamisha Fejeran, Merced Flores, Maynesha Villagomez, Meagan Maratita, MeiLani Quintanilla, Briana Sablan and Paulina Quintanilla.

Athletes Birthdays by W5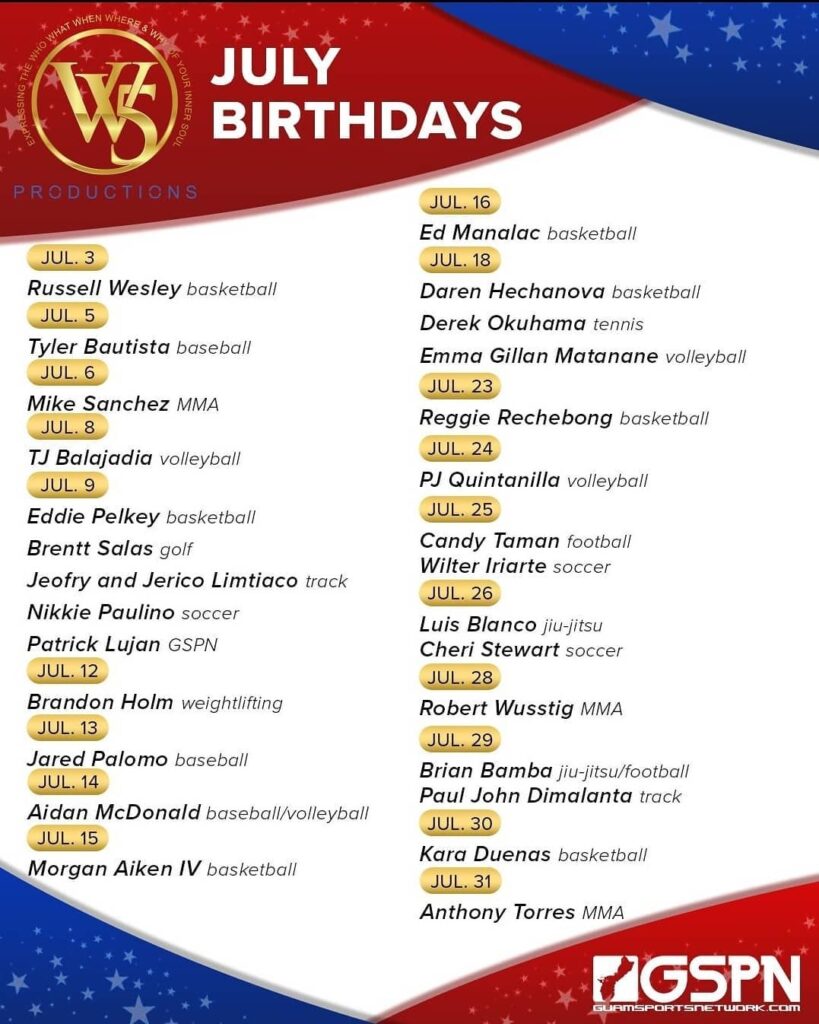 Foody's Fun Facts
Favorites From Year 2
COMING SOON …
2020 Tokyo Olympics
UFC Fight
Aug 1: Trevin Jones vs. Tony Kelley
QUICK HITS
——————————————————–
Guam's Joey Miranda met up with Chamorrita Softball Star Bubba Nickles and Olympic Teammates Dejah Mulipola and Aubree Munro out in Tokyo as we approach the Olympics!
Photo credit: GNOC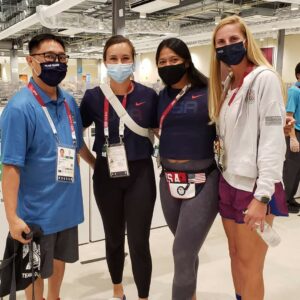 ——————————————————–
Former Guam resident Tre Taylor has committed to play cornerback for the Southwestern Junior College Jags.
Turner attended Harvest and FD before transferring to Hawaii where he played for Saint Louis, the 5th ranked team in the nation.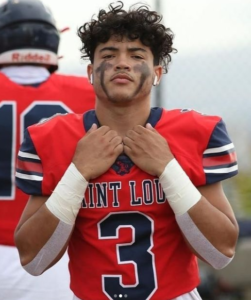 ——————————————————–
The big man Zach Banner getting to throw out the first pitch earlier today for the Pittsburgh Pirates!