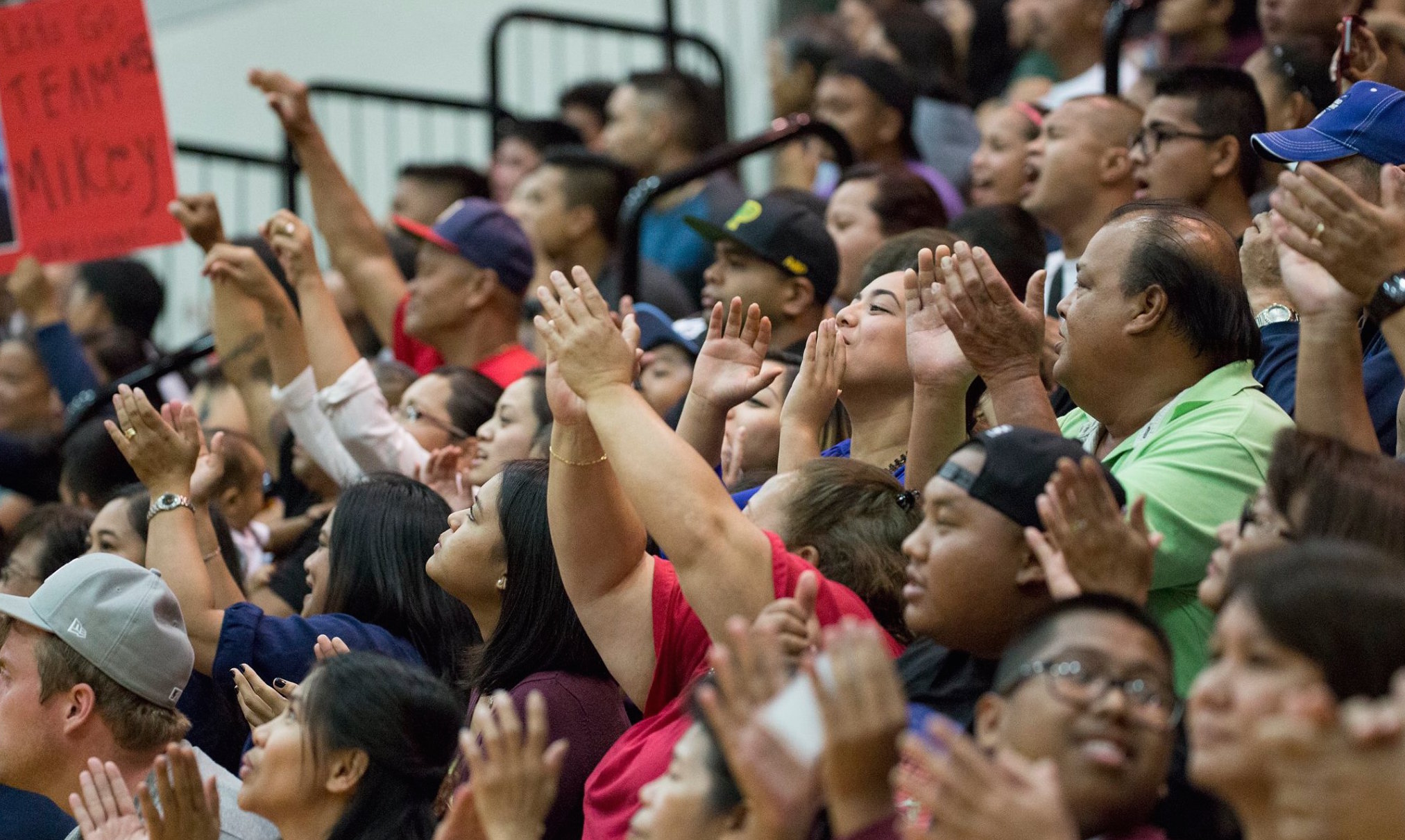 [useful_banner_manager_banner_rotation banners=72,74,79 interval=10 width=120- height=600 orderby=rand]
By Robert Balajadia
After three major instances and more than a handful of minor mishaps involving fans and the referees this boys basketball season, the IIAAG is taking a stand against the 'fans vs. officials' aspect in high school sports.
"This is all uncalled for and we don't need this stuff. Guam, we are better than this. Let's step up to the plate and let the kids play the games!," said IIAAG President Martin Boudreau in an interview with GSPN's Patrick Lujan during the halftime of the live audio broadcasted game between the GW Geckos and Guam High Panthers this past Tuesday. (Entire podcast HERE)
Guam's passionate parent fanbase and one bad call from a game official is a definite recipe for disaster. Fans have grown a certain animosity towards some of today's officials, so much so that fans already start shaking their heads when they see which officials walk into the gym.
"We understand that fans believe the refs make bad calls, but every level of officiating from you to professional makes mistakes. They make a lot more correct calls than wrong calls," added Boudreau.
The infamous meeting between the Okkodo Bulldogs and St. Paul Warriors on January 26 earlier this season was the first major instance involving the fans and the referees. The game was called off early in the 4th period which led to two fan ejections as well as a player ejection.
"Fans have to understand that they are there to watch the game, cheer their teams on and they have to let the officials make the calls and let the game go on. Please don't harass the officials and especially don't enter the court because you interrupt the game and the players are the ones who are going to suffer from this," said Boudreau.
One of the parents/fans ejected from the Okkodo vs. St. Paul game received a season-long suspension and won't be allowed to attend any basketball games until next boys basketball season. The player received a suspension for four games, but more importantly, the Bulldogs took the loss with over five minutes still to play only trailing by two points.
The following week, a situation after the game where a parent was accused of verbally attacking a ref at the ending of a game between Guam High and JFK was another incident that drew negative attention even after the school, under assistant coach and AD Ben Leon Guerrero, his team address their fans prior to the game that going after the official would have lofty punishments and consequences.
As for what's currently being done, Boudreau is calling aide from the schools to help prevent further situations.
"I've been talking to all the schools involved, including the Marianas Sports Officials, the basketball group mainly because that's where most of the trouble is happening. I have preached to the schools that when they are the home team that they are not there to watch the game but to make sure everybody is safe," added Boudreau.
The tolerance level has already proven low with crowd involvement throughout the league when Sanchez Athletic Director Randy Kakigi stepped in to assist the referees in throwing out a couple of rowdy students during the JFK vs. Sanchez basketball game.
With the biggest games on the horizon the passion of each fanbase is sure to heighten with a championship title on the line. That won't stop the IIAAG from stepping in, if need be, to minimize the fans involvement with a games outcome.

Athletes Birthdays by W5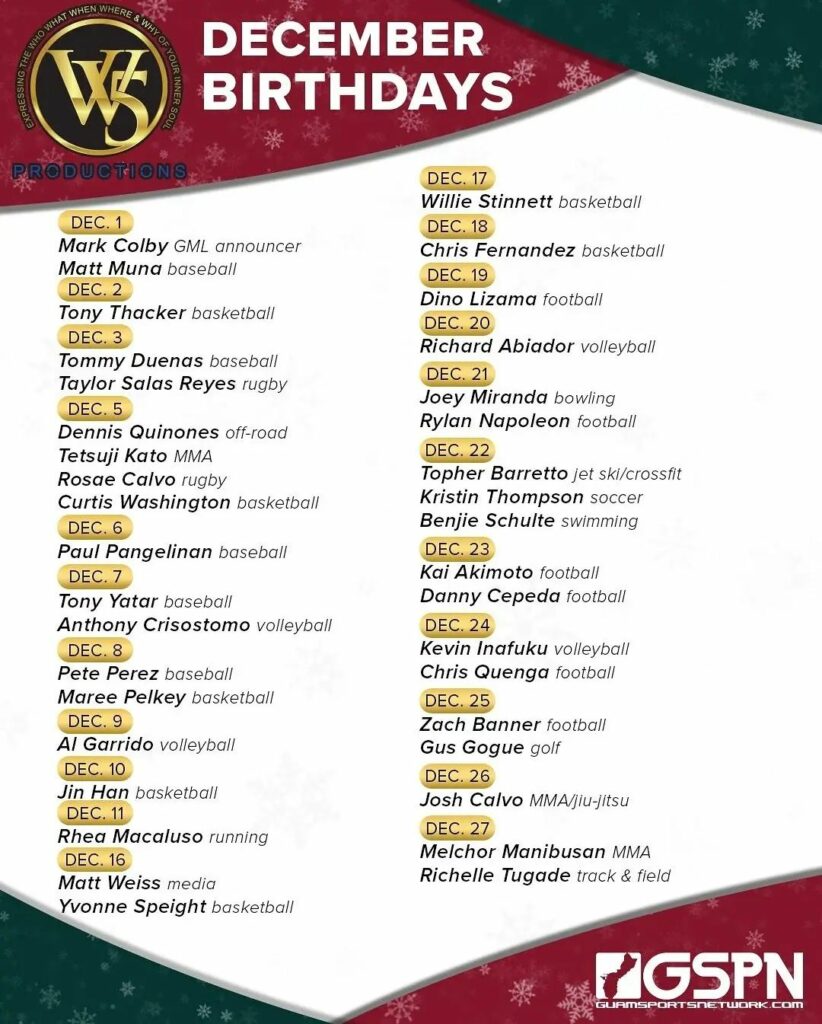 GPS Sports Calendar
SU

MO

TU

WE

TH

FR

SA
Events for December
5th
No Events
Events for December
6th
Events for December
7th
Events for December
8th
No Events
Events for December
9th
Events for December
10th
Events for December
11th
06:00 AM - 08:00 AM
Umatac
Events for December
12th
No Events
Events for December
13th
No Events
Events for December
14th
No Events
Events for December
15th
No Events
Events for December
16th
Events for December
17th
Events for December
18th
19

20

21

22

23

24

25
Events for December
19th
No Events
Events for December
20th
No Events
Events for December
21st
No Events
Events for December
22nd
No Events
Events for December
23rd
No Events
Events for December
24th
No Events
Events for December
25th
No Events
26

27

28

29

30

31

1
Events for December
26th
No Events
Events for December
27th
No Events
Events for December
28th
No Events
Events for December
29th
No Events
Events for December
30th
No Events
Events for December
31st
No Events
National Guard Athletes
Scott Eclavea
Scott Eclavea is a jiu-jitsu black belt and an accomplished MMA fighter. The Guard has given him an outlet in combatives to display his martial art skills, where he's become a head instructor for that program. Eclavea has served since coming out of high school and the Guard has only changed his life for the better.
COMING SOON …
LIVE FOOTBALL ON GSPN
Semifinals: #1 FD vs. #4 Southern (Friday 7 pm)
GSPN Preseason Basketball Tournament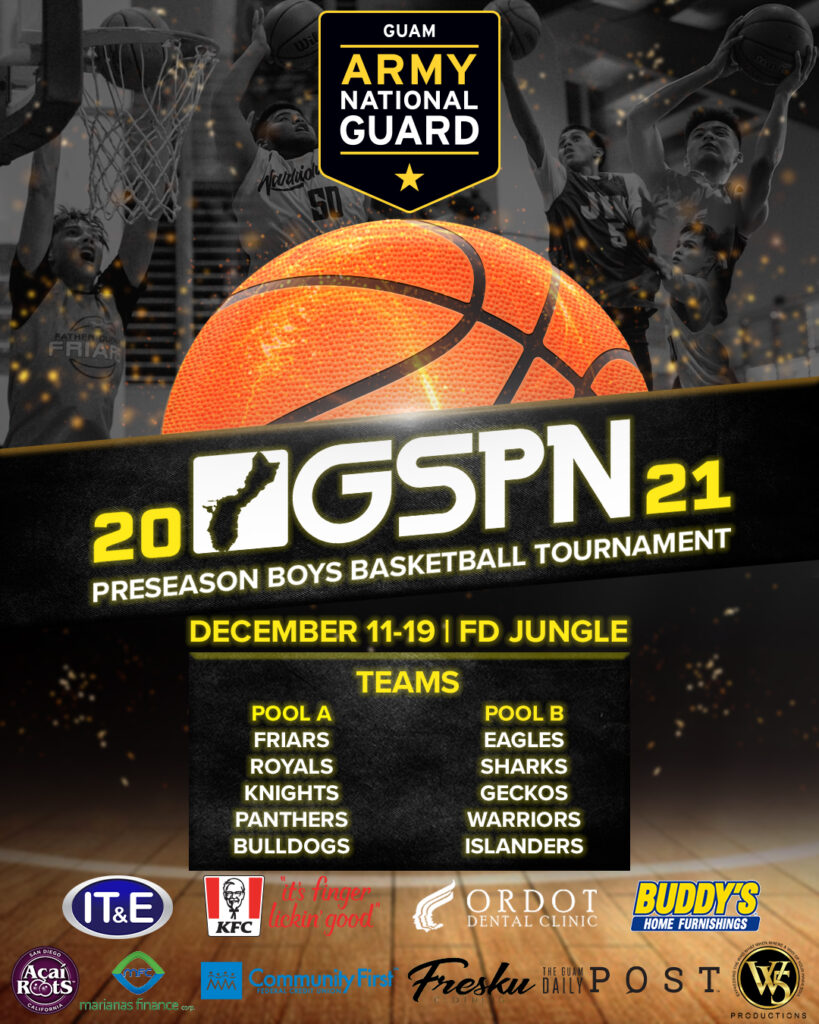 QUICK HITS
Robert Artero Maley recently captured the 182-lb. division of the Costa Mesa Classic, winning via pin in 4 out of 5 matches. Robert is a 4-year varsity wrestler at San Clemente HS (Tritons) and is currently ranked 15th in California's high school scene. He is the son of Jacque Artero Maley (AOLG 1991).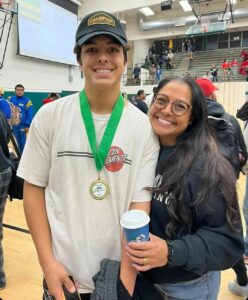 ——————————————–
Pat Taitano and Rich Abiador, teammates on the 1995 SPG volleyball team, have led their high school girls volleyball teams to the Washington State Championships in Yakima, Wa.
Taitano coaches Mt. Rainier High while Abiador leads North Creek High.
There for support is Dr. Mark Perez, a health professor at Central Washington University and a former UOG volleyball player.