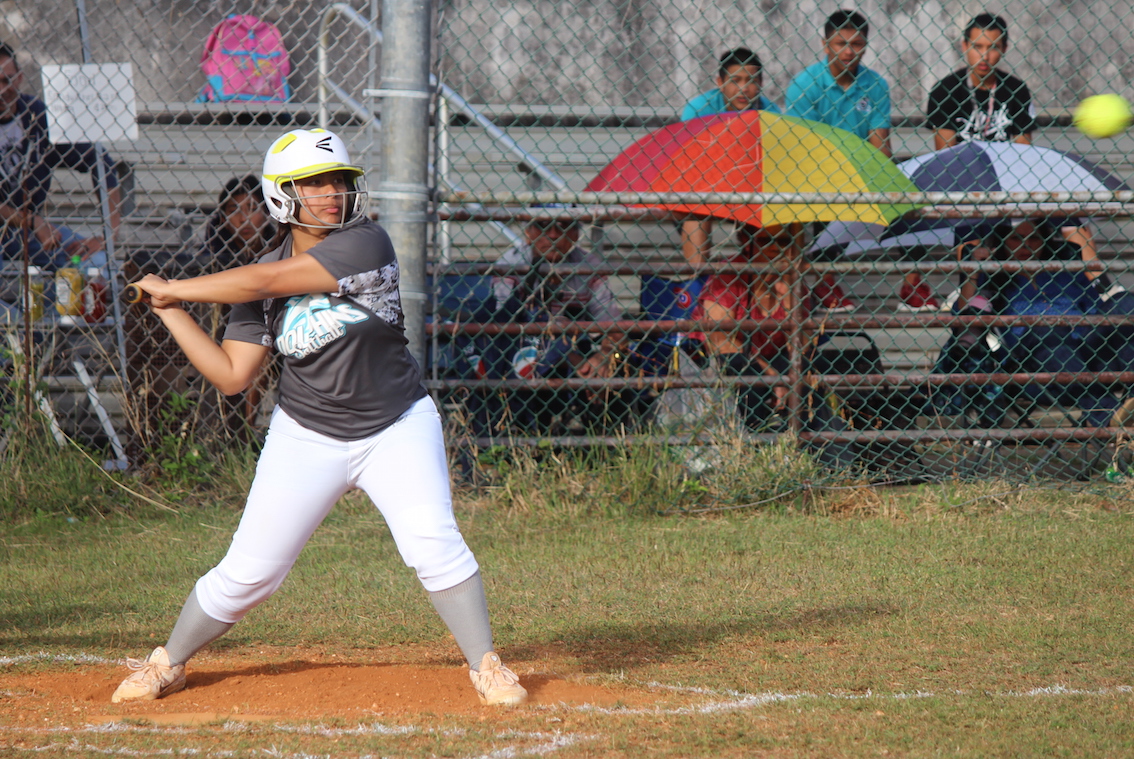 [useful_banner_manager_banner_rotation banners=72,74,79 interval=10 width=120- height=600 orderby=rand]
By Robert Balajadia
Southern Dolphin sophomore Savanah Reyes put on her superhero cape and swung her team into a clutch 9-8 victory over the visiting GW Geckos Wednesday evening in IIAAG girls softball action.
Trailing 8-7, Reyes brought in the game-tying and game winning run after smacking a 2RBI single into center field while facing a full count to stun the Geckos – who once held a 6-0 lead in the first three innings.
"Everything was on me and I told myself I better hit this ball," said Reyes, who seemed more nervous in the interview than during her at-bat with the game on the line. "I got it from my momma!," Reyes continued.
Southern keeps their unbeaten record (9-0) on the season while the Geckos fall to (6-3).
Both teams made pitching changes in the 5th inning with the best arms at the mound for each team. Southern turned to Jasmine Balajadia while GW went to their closer Sam Quinata.
Balajadia knew she had to hold down the Geckos though she did allow two runs in the 6th inning, giving GW an 8-5 advantage. Southern managed to answer the two runs in the 6th with Destiny Castro bringing in the final run of the inning to get as close as 8-7.
The top of 7th inning arrived and the pressure was on for Balajadia to keep it close.
"I was just trying my best to find the accuracy. We have a strong defense so I was trying to make my 'D' work because I know I can rely on them. It was the bottom of their line-up so I knew that we had to take advantage of that," said Balajadia.
Balajadia ended the inning by catching an out at the mound with her squad in a favorable batting line-up, herself included.
It was Quinata's turn to battle with the pressure after walking Balajadia and hitting Dolphin Ayana Ongelungel to put two runners on bases. Quinata struck out Dolphin Kristi Stone to put two outs away when Reyes stepped up to bat.
While facing a full-count and fresh off a foul ball hit, Reyes smashed the game winner, which you can see on the GSPN Instagram account @guamsportsnetwork!
The dynasty that was the five-time defending champion Dolphin softball team ended just two seasons ago. Balajadia was a part of the teams last title in 2014 and said that their quest back to softball glory is taken a more serious approach in 2016 than the years they won it.
"We had a strong team when we won the titles and, not to come off rude, but we didn't work as hard in practice because we were all veterans and returnees. This year we have new girls and we have to work harder because they are still learning how to play together," added Balajadia.
Game flow
GW jumped out to a 6-0 lead and brought the sticks early on.
Sia Duenas cashed in a 2RBI single in the 2nd inning to get GW on the board. Colleen Quinata stole home off an error to get a 3-0 advantage in the 3rd inning and Southern Dolphin starting pitcher Myah Quenga struggled by walking to runs to sink into a 5-0 hole.
Duenas brought in younger sister Samyra to go up 6-0 to end in the top of the 3rd inning.
Southern started to find their offense in the 4th inning after GW allowed two runners to score on a fielders choice. Castro's RBI single brought Southern within one 6-5 before both teams decided to retire their starting pitchers.
A scoreless 5th led to the exciting final two innings.
The Dolphins next travel to Tai to face the Academy Cougars Saturday while the Geckos will venture for a rematch with the JFK Islanders on Saturday as well.
Other Scores
JFK 15, Guam High 0
Sanchez 12, Academy 10
Tiyan 12, Okkodo 11
PHOTO GALLERY BROUGHT TO YOU BY:

QUICK HITS
3rd place: Big ups to the Para Todu Rugby Club for finishing 3rd out of 16 teams in the Manila 10's Rugby Tournament today. Biba Guam Rugby!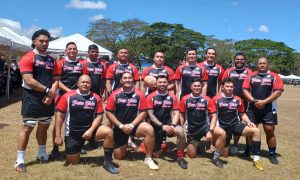 ——————————————
Guam MTB National Championship: Edward Oingerang and Jennifer Camacho are your 2023 MTB national champions. Oingerang finished the course in 1:13:24 while Camacho won her second straight title in 54:08.