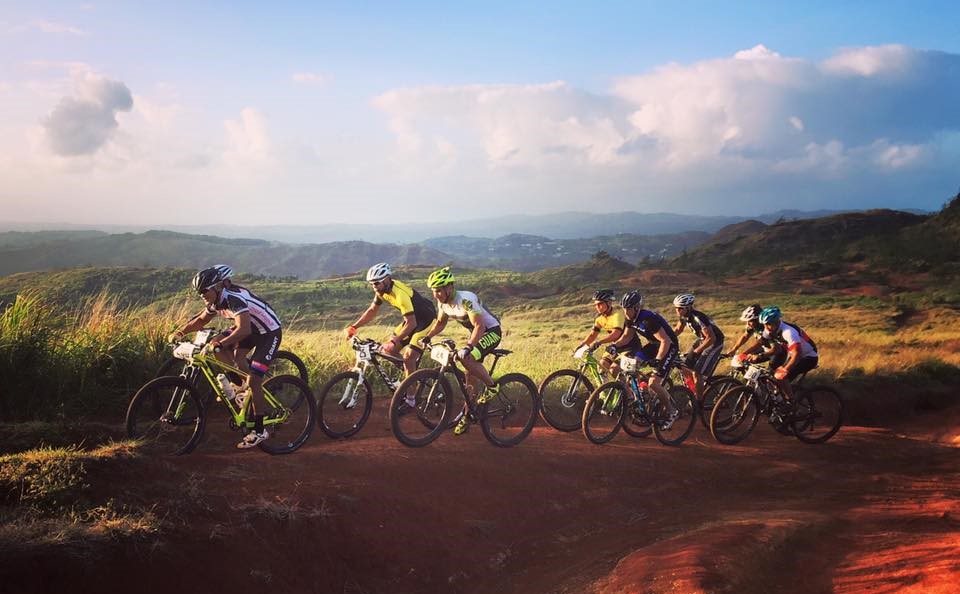 [useful_banner_manager_banner_rotation banners=74,72,79 interval=10 width=120- height=600 orderby=rand]
By Patrick Lujan
It was a new race, but a same face finished first.
In the first ever Guam National Mountain Bike Championship, it was Peter Lombard who took top honors Sunday morning at the grueling Channel 10 course in Nimitz Hill.
"GCF (Guam Cycling Federation) put together a quality championship race course and we were lucky the weather cooperated," Lombard said.
Ten riders started the four-lap race but only six finished. (See results here)
From the start, it was well-known that it would be a two-man race to the finish between Lombard and two-time Olympic rider Derek Horton as the pair jumped out in front and never looked back.
But it was Lombard, a former national triathlon champion, that broke away with a 16-second lead on the first lap and slowly stretched it over time, winning in one hour, nine minutes, 52 seconds. Horton was second at 1:11:20.
"We did four laps, I think we may add a lap or two in future races, but regardless it's a solid loop with plenty of technical sections. Two sections in particular are very challenging and we had to walk our bikes at times. I pushed hard the first lap and came out with the lead. He (Horton) kept pushing me the rest of the race, every time I felt I had a bit more of a cushion he was right there again. Training has been fairly consistent the past few weeks so I'm thrilled with the result," Lombard said.
Lombard, Horton and Patrick Camacho (top three finishers) qualified to represent Guam in the Oceania Mount Bike Championships in New Zealand next month with hopes of earning points towards the Rio Olympics this summer in Brazil.
Tara Tydingco was crowned the women's national champion despite finishing third overall on the women's two-lap event. The top two women's finishers, Mieko Carey and Jennifer Cornely, do not meet residency requirements.

2022 GSPN I MÅS METGOT COMPETITION
2022 GSPN I Mås Metgot Competition Recap
2022 GSPN I MÅS METGOT COMPETITION
2022 GSPN I Mås Metgot Competition Recap
2022 GSPN I MÅS METGOT COMPETITION
2022 GSPN I Mås Metgot Competition Recap