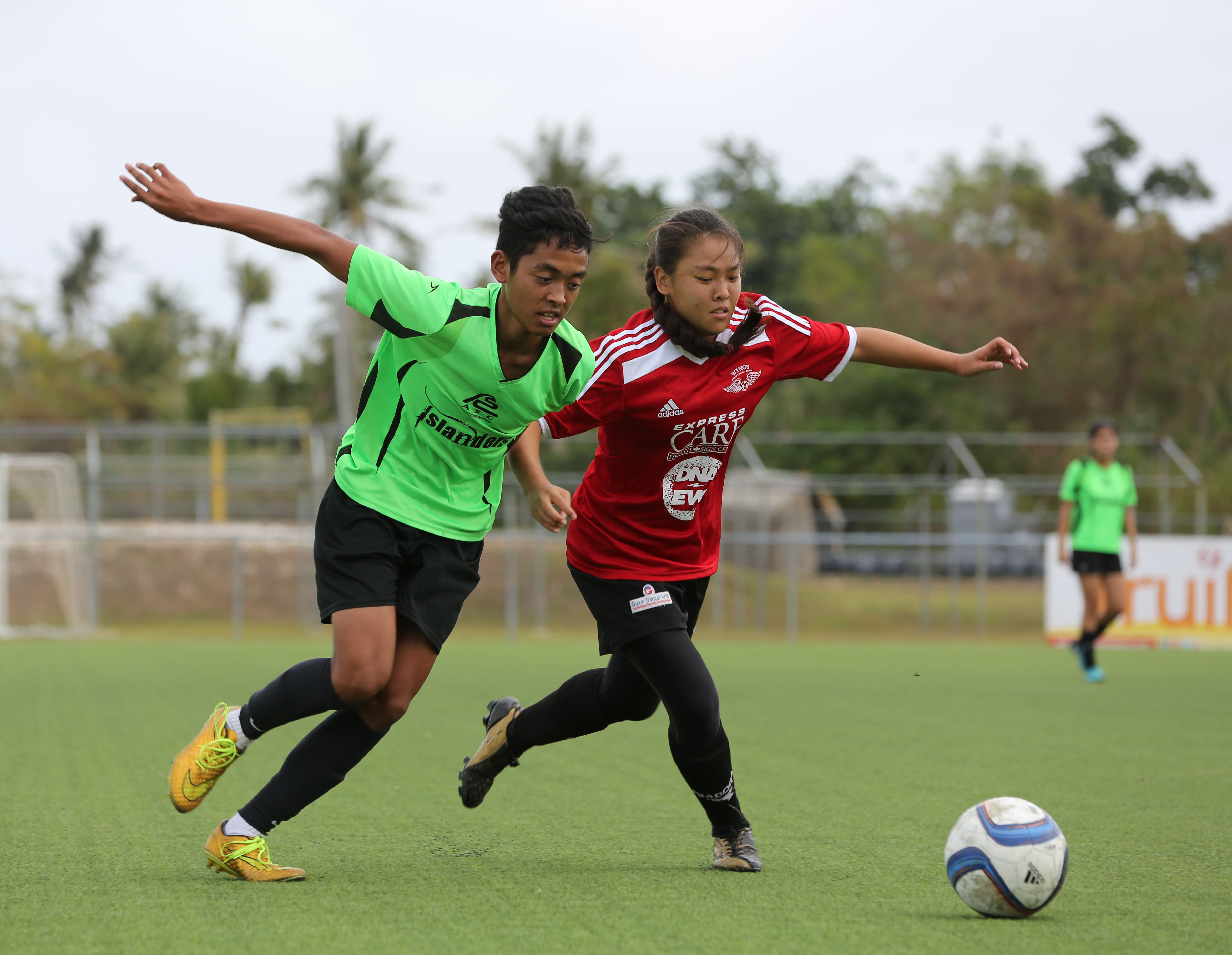 [useful_banner_manager_banner_rotation banners=72,74,79 interval=10 width=120- height=600 orderby=rand]
PRESS RELEASE – Thousands of youth soccer athletes from close to 150 teams braved windy conditions to kick off the 2016 Spring season of the Triple J Auto Group Robbie Webber Youth Soccer League Saturday at the Guam Football Association National Training Center.
For 12-year-old Mary Nacianceno of the Tumon Typhoons Soccer Club U14 team, it was her first official youth league match playing on a full, regulation-sized pitch after playing small-sided matches in previous seasons.
"I prefer playing on the full field because it is bigger and there's more space for passing the ball," said Nacianceno, a sixth grader at Luis P. Untalan Middle School. "I was excited that we would be playing on a full size field this season, although after a while, it did get tiring running so much.
"It'll help me a lot though since we play on the same size field for middle school," added Nacianceno, who also plays for the Wildcats in the Interscholastic Girls Middle School Soccer League.
The WM Engineering Strykers defeated Tumon 3-1 in the U14 division with goals from Katsu Martines, Lily Franklin, and Alexander Stenson, and two assists from Kyle Potter. Sein Dela Cruz scored Tumon's goal.
In other U14 division matches, the Tigers defeated the Southern Cobras 7-0 with hat tricks from James Lee and Raf Garcia. Kris Fernandez also scored for Tigers. Quality Distributors defeated Tsunami Sharknado 3-1 with two goals from Terrance Johnson and one from Yasmeen Lopez.
Avri Lallatin scored for Tsunami. Wings FC defeated Community First/Days Inn Dededo Soccer Club 4-1 with two goals each from Taiga Simon and Mark Iseke. John Halili scored for Dededo. ASC Trust Islanders Betde edged Guam Shipyard Wolverines 3-2 with two goals from Jonathan Sevilla and one from Joshua Bamba. Shaun Paul Martinez and Luke Reyes scored for the Wolverines.
In the U17 competitive division, the Wolverines defeated the Tigers 3-1 with two goals from Brianne Leon Guerrero and one from Randi Jo Paulino. Seung Min Kim scored for the Tigers. Islanders Betde was forced to a 2-2 draw with Wings Black. Todd Pangelinan and Gabriel Tan scored for the Islanders and Takumi Kishi and Anthony Moon scored for the Wings.
The Strykers defeated Tumon 5-0 with two goals from Bradley Dickson and one each from Xavier Naputi, Matt Deloso and Alan Thomas. Wings Red defeated the Cobras 3-0 with two goals from Jordan Jasmin and one from Derek Okuhama. Quality defeated Dededo 5-1 with a hat trick from Samuel Larkin and one each from Daniel Kim and Jason Kim. Arnold Torres scored for Dededo.
In U12 competitive division play, Islanders Betde defeated the Cobras with goals from Riley Rama, Noah Medler, Sarah Benavente, Jadyn Palomares, Jason Palomares, and E.J. Sablan. The Strykers defeated the Orange Crushers with goals from Zion Quitugua, Aidan Johnson, Kaia Malakooti, Layla Kerr, Alfy Thomas, and Nathan Sablan. Nate Morgan scored twice for Crushers.
Wings Red defeated the Wolverines 3-1 with goals from Justin Joseph, Nainoa Norton and Kanata Kishi. Isaiah Topasna, goalkeeper for Wolverines, scored on a drop-kick. Islanders Asut battled to a 1-1 draw with Tumon. Arthur Manglona scored for Islanders and Dominic Cruz scored for Tumon. Wings Black defeated Sidekick SC 8-3 with three goals from Kai Pahl, two each from Martin Iseke and Kyle Takano, and one from Jomei Onedera.
Tyler Concepcion scored a hat trick for Sidekick SC. Tsunami defeated Dededo 4-0 with two goals from Braeden Liebhardt and one each from Samuel Epidendio and Peyton Batton.
Youth league action continues Saturday. Schedules are available online at http://www.guamfa.com/all-leagues-youth-spring-results
PHOTO GALLERY BROUGHT TO YOU BY:

2022 GSPN I MÅS METGOT COMPETITION
I Mås Metgot Athlete Spotlight: April Flores
2022 GSPN I MÅS METGOT COMPETITION
I Mås Metgot Athlete Spotlight: April Flores
2022 GSPN I MÅS METGOT COMPETITION
I Mås Metgot Athlete Spotlight: April Flores
QUICK HITS
Guam boys Kekoa Toves and Matias Calvo went head-to-head on the rugby pitch as American International College took on Dartmouth College, both top-ranked men's rugby programs in the country.
Calvo (FD) is the captain of Dartmouth and scored, but Toves (Sanchez) and his AIC squad came away with the win in Springfield, Mass.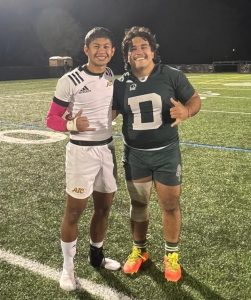 ———————————————–
1LT Belizabeth Nicole V. Rengiil is known to be the first female from Guam and Palau to make the All-Army Women's Rugby Team. She is an active duty Signal Officer with the US Army and is stationed at Joint Base Lewis-McChord in Washington.
Her team won the Armed Forces Women's Rugby Championship with a 4-0 record.
Belizabeth is the daughter of Edwin and Juliana Rengiil with siblings Johanna and Edwin-Isaiah Rengiil from Mangilao.